Farrell 50: Countdown of top CFB players begins with Nos. 46-50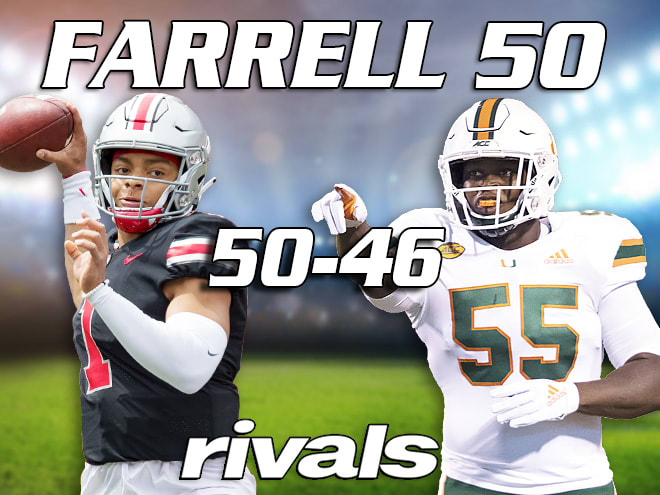 It's that time of year again, time for the Farrell 50, the ranking of the top 50 players in college football by Rivals.com National Recruiting Director Mike Farrell. We start today with Nos. 46-50, which includes a former five-star quarterback.
*****
50. QB Justin Fields, sophomore, Ohio State
The skinny: Justin Fields initially committed to Penn State, but then re-opened his process and committed to Georgia. He also considered Florida, Texas A&M and Florida State before committing to the Bulldogs. Fields saw minimal action in 12 games with the Bulldogs as a true freshman, passing for 328 yards and four touchdowns, while rushing for 266 yards and another four touchdowns. However, with the likelihood that he would back up Jake Fromm in Athens for one more season, he decided to transfer to Ohio State. He will be replacing Dwayne Haskins as the starter for the Buckeyes.

Farrell's take: Fields was our No. 2 player in the country coming out behind only Trevor Lawrence and was a very talented and special quarterback. He had good size, excellent mobility and a live arm, and he worked as well in the pocket as he did out of it. His first go-round with Georgia is not indicative of his talent level and I think he flourishes in Columbus. He could be much higher on this list by mid-season. If not for Lawrence, he would have been No. 1 in the country out of high school with ease.
*****
49. LB Khaleke Hudson, senior, Michigan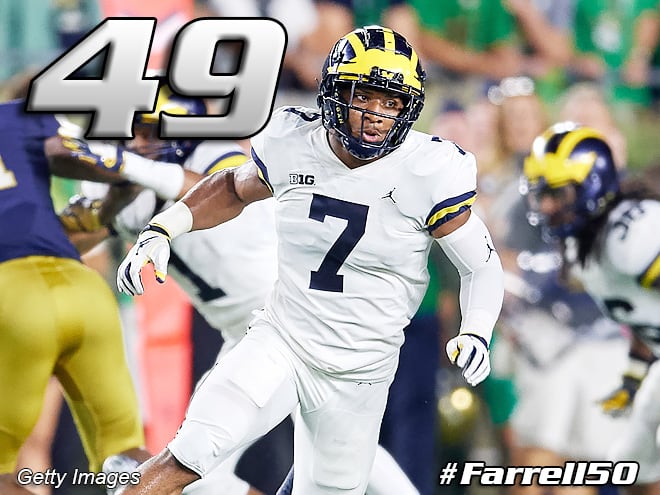 The skinny: Khaleke Hudson took official visits to Michigan, Penn State and UCLA before committing to the Wolverines in late January. He also seriously considered Pittsburgh throughout his process. While Hudson's statistical numbers diminished greatly from his All-American caliber 2017 season, he still established himself as an unquestioned leader of the Wolverines' defense. Michigan will use his versatility and athleticism this season to move him around the field, which it hopes will help re-ignite some of his previous big-play potential.
Farrell's take: Hudson was a high three-star athlete for us who could play many different positions in college and came on strong near the end of his senior season. His coming out party was at the annual Big 33 game well after our final ranking, where he showed he had just started to tap into his potential. He was always a great athlete. He just never stood out at one position until that Big 33 game and he has taken things to the next level since then despite what many feel was a down year last season. He should be back with a vengeance.
*****
48. WR Jalen Reagor, junior, TCU
The skinny: Jalen Reagor initially committed to Oklahoma during the spring after his junior season, but then took an official visit to TCU in early October. Later that month he flipped his commitment to the Horned Frogs. Reagor quietly put together one of the better seasons in the country in 2018. He finished with 72 receptions for 1,061 yards and nine touchdowns through the air, plus two rushing touchdowns. The Horned Frogs are optimistic that he has the potential to take his game to an even higher level this fall.

Farrell's take: Reagor was a huge get for TCU, a thick wide receiver with good speed and an excellent ability to adjust to the football. He impressed us at the Under Armour All-America week and we felt he could be an impact guy in the Big 12. However, he's well ahead of schedule and has become one of the elite in the conference already.
*****
47. LB Joe Bachie, senior, Michigan State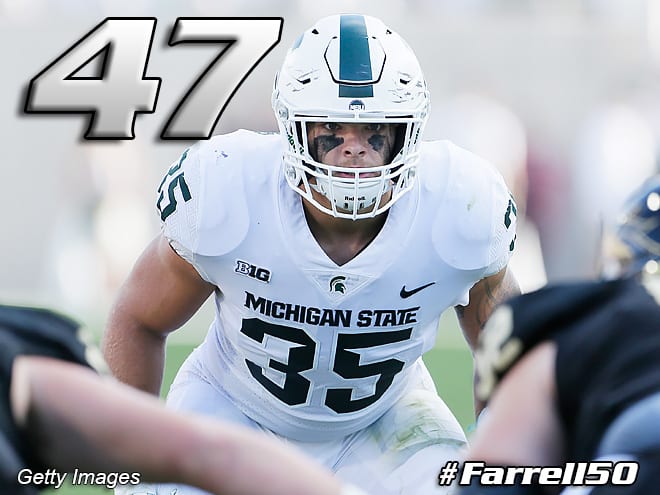 The skinny: Joe Bachie initially committed to Western Michigan, but always held out hope for a Big Ten offer. When Michigan State did offer during the spring, he quickly flipped his commitment to the Spartans. While the Michigan State offense experienced its fair share of struggles last season, Bachie helped solidify the strong defensive unit. Finishing with 102 tackles, nine tackles for a loss, one sack and one interception, the Spartans' defense has the potential to be dominant this fall thanks to the leadership of Bachie.

Farrell's take: Bachie was a mid-range three-star prospect out of high school with good size but there were questions about his range and ability to cover. He was not heavily recruited and is another good example of Michigan State finding a diamond in the rough. Now he's the leader of the defense from the linebacker position and a guy who makes a ton of plays. His instincts are excellent and he always takes the proper route to the football.
*****
46. LB Shaq Quarterman, senior, Miami
The skinny: With upward of 20 offers already on the table, Shaq Quarterman still quickly committed to the Canes after he earned his offer at a summer camp. Quarterman has been extremely productive and consistent since his arrival in Coral Gables in 2016. Foregoing the NFL Draft, he returns to Miami coming off an 82-tackle, 14-tackle-for-a-loss, five-sack and one-interception season. He should be one of the top defenders in the ACC this fall.

Farrell's Take: Quarterman was a Rivals100 prospect despite his overall lack of length because he was such a violent hitter and worked so well downhill. He was also very athletic in coverage and closed on the receiver quickly. He's been a standout since his freshman year at Miami and he's expected to take that next step this season. He's the leader of the defense.