Fantasy Face-Off: Rondale Moore vs. Laviska Shenault
*****
OVERVIEW
LAVISKA SHENAULT JR., COLORADO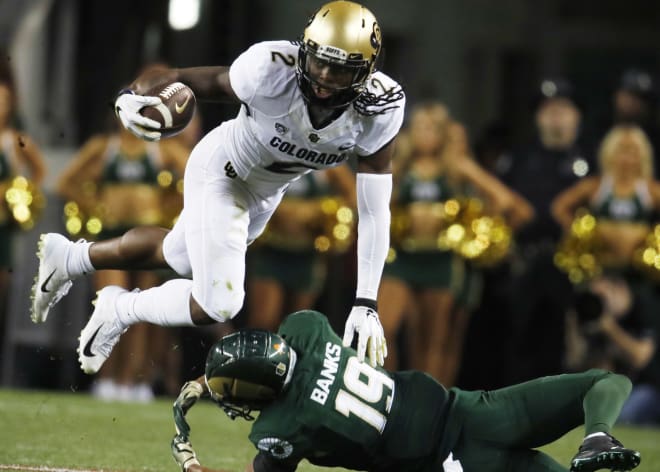 It's rare for a receiver from the Pac-12 to be in the Heisman conversation midseason but that's where Shenault found himself last year because he was doing so incredibly well. In nine games, Shenault had 86 catches for 1,011 yards and six touchdowns but injuries slowed him down the stretch. He's back healthy with the same quarterback in Steve Montez and other good receivers so double-teaming Shenault might be out of the question.
There are some issues to consider though. New Colorado coach Mel Tucker wants to run the ball in more pro-style sets. That might be the plan but the Buffaloes have questions along the offensive line and at running back, so to move the ball Colorado might have to throw it.
The schedule is not exactly a cakewalk either with Colorado State, Nebraska and Air Force before the Pac-12 schedule starts. Still, Shenault is supremely talented and now that he's healthy, Montez could be looking his way often. I'm not thrilled about a new coaching staff and a new offensive style but Tucker knows where his bread is buttered and it's on the outside with Shenault.
*****
RONDALE MOORE, PURDUE
Moore was one of the biggest surprises in college football last season, racking up 2,215 all-purpose yards, 1,258 receiving yards and 12 touchdowns, and being the catalyst behind Purdue's offense.
There are so many reasons to love him. He's incredibly versatile, shifty, tough to defend and a game-breaking playmaker. All of those strengths make Moore one of the best fantasy picks.
But there are also some things to consider. Will defenses let Moore get open as easily as last season or will they force the Boilermakers to use unproven receivers more often? How can Moore possibly post similar numbers to last season with a new quarterback taking over in Elijah Sindelar?
And Purdue's schedule is rough not only because it has talented non-conference opponents but teams with great defenses in Vanderbilt and TCU after starting the season at Nevada.
THE PICK
I would never criticize anybody for picking Jeudy, Wallace or Lamb or either of the two Clemson stud receivers in Tee Higgins or Justyn Ross. But in the case of Shenault vs. Moore, I have to side with Shenault by a smidge.
The Colorado receiver is back to full health, he has talented receivers around him to make defenses honest, he's playing with the same quarterback in Montez and the Pac-12 is an average conference filled with average defenses so a high-quality player like Shenault can exploit teams in various ways. Another huge season is expected if he stays healthy.
(Video produced October 25, 2018)