Fantasy Face-Off: Trevor Lawrence vs. Tua Tagovailoa
OVERVIEW
Arguably the two best quarterbacks in college football heading into this year, Lawrence and Tagovailoa dueled it out in the national championship game and should be right back in the College Football Playoff hunt this season. Both Clemson and Alabama are loaded on offense so having weapons won't be a problem at all.
Below, we break down each quarterback and make a determination on which one is the priority target in fantasy leagues.
TREVOR LAWRENCE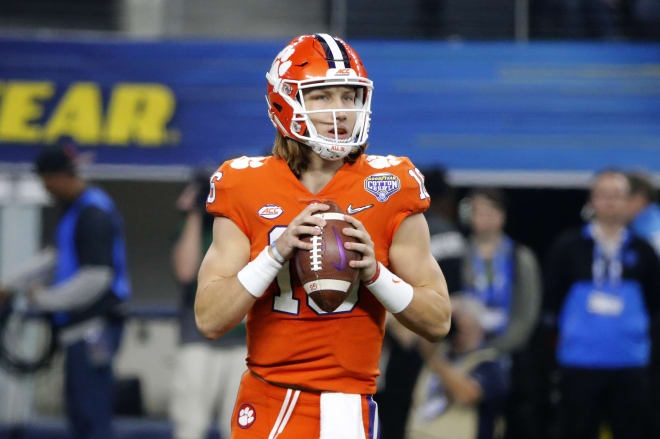 The former No. 1 overall prospect by Rivals.com threw the ball a lot last season and he was incredibly efficient, didn't make many mistakes and he had a lot of skilled receivers in the offense. Not much should change this season for Lawrence, who threw 397 times a year ago for 3,280 yards with 30 touchdowns and four interceptions. The receiving corps is loaded again with Tee Higgins and Justyn Ross coming back. Freshmen Joseph Ngata and Frank Ladson could be instant stars. Amari Rodgers continues to rehab from a knee injury and could play later in the season but he won't be available right away.
The Tigers open as 34-point favorites against Georgia Tech so Lawrence could be out of that one early but then Texas A&M and at Syracuse could be interesting games. Clemson's defensive front won't be nearly as disruptive as last season – how could it be? – so teams might be able to chew up clock on the ground but there's no question the offense led by Lawrence will put up major points.
TUA TAGOVAILOA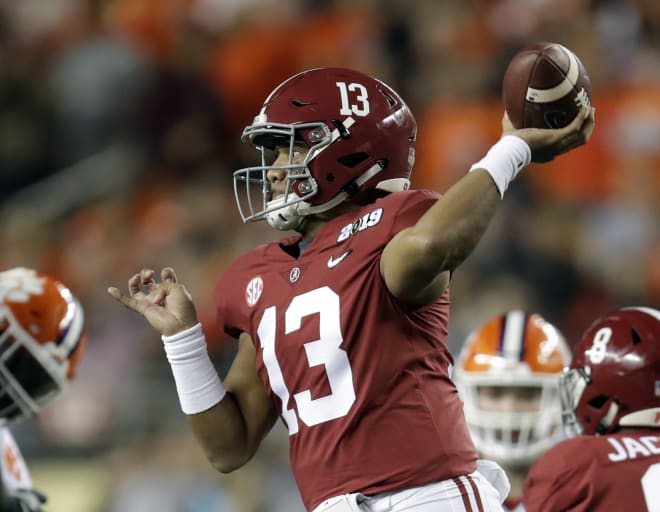 Even though Tagovailoa threw 42 fewer balls than Lawrence last season he had 13 more touchdown passes and the former four-star rushed for five scores, one more than running back Najee Harris if you can believe that. This season should be payback time for an Alabama program that feels humbled by what happened in the national title game and ready to start delivering haymakers again in college football.
Tagovailoa has probably the best receiving corps in the country with all kinds of speedy weapons who can break open the game quickly in Jerry Jeudy, Henry Ruggs, DeVonta Smith, Jaylen Waddle and others. Harris, Brian Robinson Jr. and Trey Sanders should take a majority of reps at running back but my sense tells me the Crimson Tide will throw a whole lot this season.
Last season, Alabama ran the ball 571 times and threw it 438. I'm not saying those numbers will be reversed but I wouldn't be surprised if the Crimson Tide threw the ball more often than a year ago. The schedule sets up perfectly at least until October as well with Duke, New Mexico State, at South Carolina, Southern Miss and Ole Miss in the first five games and then a bye week before visiting Texas A&M. Blowouts are coming. Not only is Tagovailoa incredibly skilled and productive, this whole team is looking to rebound from the way they lost to Clemson and my sense is Alabama is going to put up huge numbers offensively.
THE PICK
This is about fantasy football points, not who is the best quarterback in the college game, and that's why I have Tagovailoa first at the position for draft night. With his skill set and the insane amount of talent he has at receiver, plus the fact that the Crimson Tide want redemption from last season, I think he's the right pick for No. 1.
In my preseason rankings, I have Tagovailoa followed by Texas QB Sam Ehlinger, Oklahoma QB Jalen Hurts and Ohio State's Justin Fields right ahead of Lawrence in the QB rankings although I'm growing less comfortable with having Lawrence that far down the QB list as the season gets closer. He's a phenomenal talent who will put up plenty of fantasy points this season. If Clemson could get into some shootouts, which is unlikely, that could help him even more.