Fantasy Face-Off: Jonathan Taylor vs. Travis Etienne
College football season is right around the corner which means it's almost time to start drafting for college fantasy football. This week Rivals.com will break down a position battle to consider when putting your team together. Today, we move to running backs.
OVERVIEW
There are a lot of high-quality running backs in college football this season but Wisconsin's Jonathan Taylor and Clemson's Travis Etienne are arguably the two best, posting outstanding numbers last season and poised for a big 2019.
Arizona State's Eno Benjamin, Boston College's AJ Dillon and Georgia's D'Andre Swift are among some of the other top-end running backs to consider along with a few others from the Pac-12.
But we're focused on Taylor and Etienne as the leaders of this group. And here's what you should be considering as you draft your college fantasy teams.
JONATHAN TAYLOR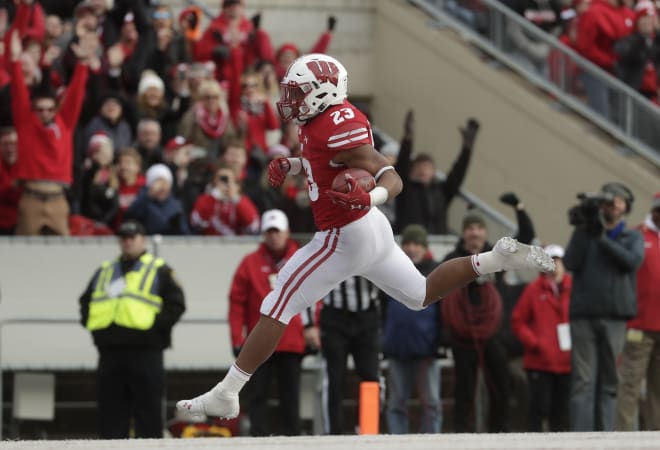 No player in college football had more carries or rushing yards than Taylor last season with 307 touches for 2,194 yards. That has to bode well from a fantasy perspective this season especially as the Badgers figure out their quarterback situation and continue to lean heavily on Taylor in the rushing attack.
Wisconsin is retooling some portions of its offensive line but I'd expect that to be no issue at all since development and skill is never a problem there.
That's not to say there aren't at least a few concerns: On more than 300 carries last season, Taylor only scored 16 touchdowns as seven college backs posted better numbers there.
The second thing to consider is this: Will Wisconsin actually lighten the workload of Taylor to save some tread for the NFL? That seems unlikely in the blue-collar thinking of Wisconsin football but it will be something to watch. And what happens if Wisconsin figures out a way to have a better passing attack, whether with quarterback Jack Coan or freshman phenom Graham Mertz?
There's a pretty good chance Taylor will be the workhorse again coming out of Wisconsin's backfield and he maybe could have more carries than last season. There are some hurdles to watch, especially if the Badgers figure out a viable passing attack.
TRAVIS ETIENNE
On only 204 carries – 103 fewer than Taylor – Etienne had eight more touchdowns and averaged an insane 8.1 yards per carry. The scary thing for opponents is that Clemson's offense could be even more potent this season and Etienne should post huge numbers again.
With quarterback Trevor Lawrence and a bevy of phenomenal receivers, the Tigers should move the ball at will and get in the end zone pretty much whenever it wants. A run toward another national title is certainly in the cards.
But when it comes to Etienne there are some worries to watch as well: Clemson's incredibly skilled offense is a blessing and a curse for Etienne. He should see his fair share of carries but the ball will be spread around and the passing attack should be phenomenal.
There is also a chance of a two-headed monster in Clemson's backfield with Etienne and Lyn-J Dixon if the goal is to not wear down Etienne too early in the season.
THE PICK
This is a super close call with no wrong answer but I'm going to side with Taylor because I think he's going to get a huge amount of carries again, focus on protecting the ball even more and should put up big stats again before heading off to the NFL.
Wisconsin's schedule definitely has some early challenges with Michigan, Northwestern and Michigan State on the board prior to mid-October. But the Badgers also have South Florida, Central Michigan and Kent State during that time so Taylor should be able to dominate early and fantasy owners should see how Wisconsin's quarterback situation settles out.