Fact or Fiction: Dante Moore's draft stock is highest in Midwest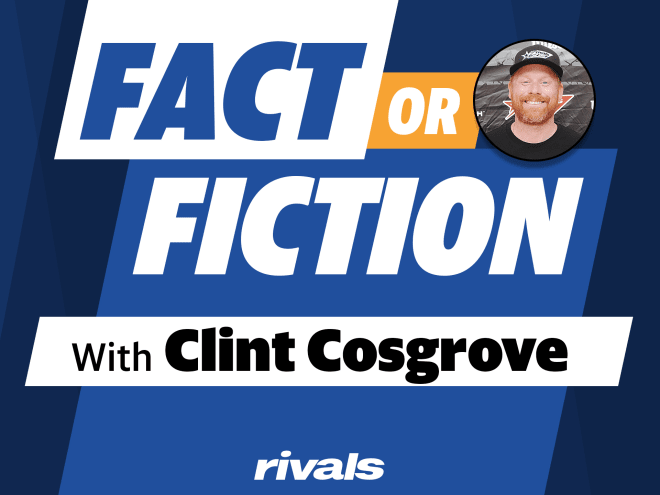 Rivals national recruiting analyst Clint Cosgrove, national recruiting director Adam Gorney, Zack Carpenter of ScarletAndGrayReport.com and Kyle Kelly of InsideNDSports.com tackle three topics and determine whether they believe each statement is FACT or FICTION.
1. The Midwest region produced five five-star prospects in the 2022 class. The region will be able to replicate that number in 2023.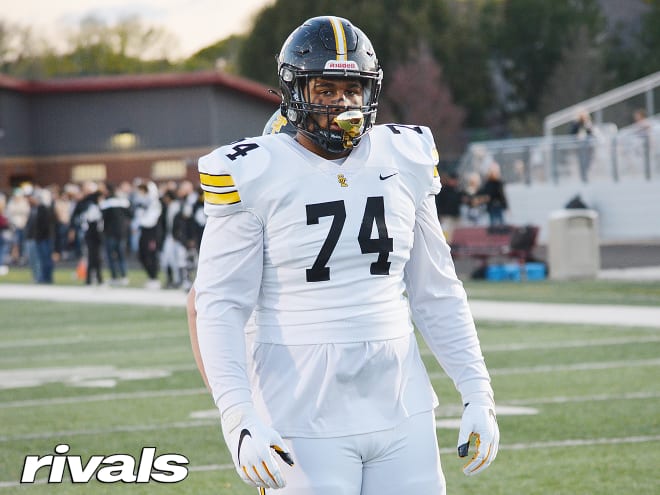 Cosgrove's take: FACT. While 2022 was a banner year for five-star prospects coming from the Midwest, I do believe that those numbers could be replicated in 2023. Had Samuel M'Pemba and Carnell Tate not opted to finish their playing days at IMG Academy, I think this 2023 class probably would have gone on to produce the most five-star prospects that we have ever seen out of the Midwest. Even with those two in Florida, there are enough fringe five-star prospects in the Midwest to replicate the five from 2022. Kadyn Proctor and Dante Moore already put the region with two five-star recruits and I don't see their rating dropping. With only 16 of the typical 32 five-star players having been named for 2023, I have a feeling the Midwest will get a minimum of three more out of a group that includes Chandavian Bradley, Charles Jagusah, Brenan Vernon, Miles McVay, Drayk Bowen and Jaxon Howard. You also have to consider fast risers such as Joshua Manning and Adepoju Adebawore, as well as the chance for an unknown prospect making a statement.
Gorney's take: FACT. We're not even taking into account M'Pemba who is originally from the St. Louis area and Tate who is out of Chicago but both playing at Bradenton (Fla.) IMG Academy and I still think there could be at least five five-stars from the Midwest in the 2023 recruiting cycle. There are already two with Moore and Proctor and then at least five other players already in the discussion, not counting someone who could emerge late as well. Notre Dame commit Brenan Vernon is not on the national scene as much as others but he's really talented. I would like Chandavian Bradley to fill out more physically but he has the length and burst to be special. And Notre Dame linebacker commit Drayk Bowen will be considered as well. As for other offensive linemen, Cayden Green is worth watching and Ohio State commit Luke Montgomery is definitely one of the most athletic players at his position nationally. That will be worth considering.
*****
2. Ohio State will finish 2023 with the top class in the Big Ten and in the top five overall.
Cosgrove's take: FACT. When you look at the historic Big Ten recruiting rankings, Ohio State's chances of landing the No. 1 overall class in the conference are about 10 times more likely to happen than not. While it looks like Penn State could give the Buckeyes a run for their money as of now, it will be an uphill battle for any other program in the conference to catch up. Especially when you consider the number of high-profile prospects that have yet to commit, but are odds-on favorites to end up at Ohio State.
With Alabama, Texas A&M, Tennessee, LSU and USC all out of the top five right now, a class that finishes top five nationally would be where the concern lies when this comes to being a fact. In the end I still think the Buckeyes pull it off as they are likely to jump at least one or two of the teams that are currently in front of them, which then gives some wiggle room for other traditional recruiting powers like Alabama to make their way in without knocking Ohio State out.
Carpenter's take: FACT. Since Urban Meyer's first full recruiting class in 2012, Ohio State has finished with the Big Ten's top-ranked class in 10 of the last 11 recruiting cycles. The only year it didn't was the anomaly of the 2019 cycle when the Buckeyes signed a class of just 17 prospects. Ryan Day's three classes have each finished in the top five overall, including the program's second-best all-time haul in 2021. I see absolutely no reason for either trend to stop in 2023, especially considering how the Buckeyes have started. They already have a top-five national class despite having just two top-100 players committed (No. 38 Luke Montgomery and No. 100 Josh Padilla). They are still heavily in the mix for about a dozen top-100 targets and are the favorites to land a handful of them, highlighted by five-stars Brandon Inniss and Carnell Tate, the nation's No. 1 safety Caleb Downs, top-70 players Tackett Curtis and Noah Rogers and several more in the Rivals250. That's all heading into a summer in which all five are expected on campus for official visits – visits that Ohio State does as well as, if not better than, any other program in the country. Another top-five class in 2023 is in the cards, and that's going to lead into a 2024 cycle where Ohio State has established itself as the early favorite to sign the nation's No. 1 class.
*****
3. Dante Moore has the highest draft potential of all Midwest prospects in the 2023 class. 
Cosgrove's Take: FICTION. While I truly believe Dante Moore has first-round potential and is one of the very best prospects at arguably the most valued position, I am not ready to say that he is definitely the guy with the highest draft potential at this moment. Quarterback is such a volatile position and there are so many variables that go into success at the college level. Even with a massive amount of success at the college level, you never know how that translates to the draft, especially at quarterback. I am on board with saying Moore is one of the guys with the highest draft potential, but I think we have to consider some guys at offensive tackle and defensive end which are usually safer to project for NFL success. I would put Kadyn Proctor, Charles Jagusah, Miles McVay, Cayden Green, Adepoju Adebawore and Brenan Vernon in the group with Moore. The one prospect who I believe could have the highest NFL draft potential, if he fills out and everything goes as planned, is edge rusher Chandavian Bradley.
Kelly's take: FACT. I will use assistance from Notre Dame publisher Eric Hansen for my explanation. Hansen has compared Moore to Ohio State quarterback CJ Stroud, and after seeing Moore at the Ohio Elite 11, there are many similarities between the two. I see Stroud as the top prospect heading into the 2023 NFL Draft, and Moore's potential could have him in similar conversations in the future. Moore has proved his rating as the top player in the Midwest thus far, and he is only going to get better from here.