Fab 15: Dynamic defenders in Dallas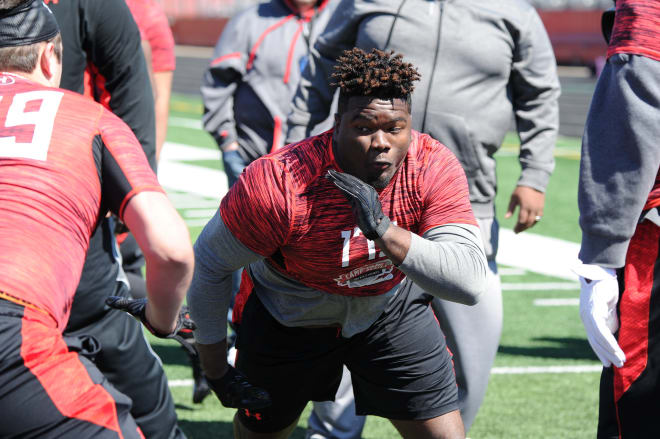 Recruiting wrap: Wilson will make his decision on National Signing Day and does not plan to announce a top group until June. He most recently visited Alabama, Florida State and LSU.
Performance: There is not much that has not already been said about the nation's No. 1 ranked prospect in the 2017 class. While prospects, especially underclassmen, are prone to up-and-down performances throughout the course of their prep careers, Wilson brings the same, dominant showing to every event. His physical skills are abundant, but what needs to be acknowledged from Saturday's performance is that Wilson was also the hardest worker in position work and took every rep he could during one-on-ones.
Recruiting wrap: Browning recently de-committed from Baylor. He is now wide open and took recent visits to TCU and Texas.
Performance: The linebacker group was deep with elite talent, and Browning's MVP award was well earned with the level of competition that we saw. When it came down to determining the position's top dog, Browning's blend of size, athleticism and quickness topped all others. The 6-foot-4, 230-pound linebacker was nearly unbeaten in one-on-ones -– an impressive feat for linebackers in a camp setting –- and he cruised through position work with polish and skill.
Recruiting wrap: Okudah has a top 10, but the team to beat in his recruitment is Ohio State. He is aiming for a pre-senior season decision.
Performance: Much like Browning, Okudah was challenged by several players for the position MVP award, but his superior blend of skill and athleticism won him the honor. Okudah has great size, measuring 6-foot-1 and weighing over 190 pounds. His listed position is safety, but he showed cornerback-level coverage ability during the one-on-one session, registering several pass break-ups. Browning has a fluid hip turn and great top end speed that he showed in drills and one-on-ones.
Recruiting wrap: Hines holds over 80 offers and listed a top 19 in January. He has no timetable for his commitment.
Performance: Hines was one of those linebackers who gave Browning strong competition for the position MVP award. Not only did the Rivals250 prospect have a great performance, but he took a ton of reps during one-on-ones despite coming into the camp with a foot injury. The issue with his foot may have slowed him slightly, but he still showed great range in coverage and looked very smooth running through position drills. At 6-foot-3 and 220 pounds, he has great size and length for the position.
Recruiting wrap: Delpit most recently visited LSU and plans to see them again in April along with Florida and USC. Those programs are among his favorites.
Performance: The first thing we noticed about Delpit when he hit the field is how tall the Houston native is for the defensive back position. That can sometimes lead to stiffness, but Delpit showed good fluidity going through position work. There were instances of playing out-of-balance during position work, but he had those ironed out by the time the one-on-one session of the camp took place, showing great coverage on short and intermediate routes as well as being able to run with receivers down the field.
Recruiting wrap: Sanogo holds offers from Indiana and Rice and recently visited Kansas, Texas and TCU.
Performance: The 6-foot-2, 230-pound Sanogo has a classic inside linebacker build, which usually is a detriment in a camp setting. However, every time we looked up, the three-star prospect was making plays in space. Physically, Sanogo looks like a prospect you throw in the middle of a front seven and watch him rack up tackles, but we were impressively surprised at his comfort in space and the speed he showed staying with running backs on deep passing routes.
Recruiting wrap: Perry landed his most recent offers from Michigan and Oregon State. He used his time in Texas this past weekend to make a visit to TCU.
Performance: Perry made one of the longest trips to arrive at the Dallas RCS, and then made it pay off with a standout performance. The 5-foot-10, 165-pound four-star is not the biggest cornerback, but wide receivers could not shake his coverage and he made more pass break ups than any other defensive back we saw during Saturday's one-on-one session. On one particular rep, Perry gave absolutely no room to the wide receiver, forcing the quarterback to not even throw the ball.
Recruiting wrap: Shelvin is committed to LSU, but is still considering Alabama, Nebraska, Ole Miss and others.
Performance: It was a battle of five-star defensive tackles and Shelvin continued to push Wilson for No. 1 with a strong performance. At 6-foot-3 and tipping the scales over 350 pounds, Shelvin gains all of the benefit his size affords without sacrificing quickness off the football. He plays with great pad level, which compounds the problems for offensive linemen trying to counter his strength and quickness. A few offensive linemen did a solid job against Shelvin, but none could say they got the better of the five-star.
Recruiting wrap: Brown committed to his home-state Oklahoma Sooners earlier this month.
Performance: Brown showed off his speed by being one of the four invitees to the iLLSPEED Finals in Baltimore after reeling off the fastest time during that event. He was a standout in position work and one-on-ones as well, displaying his speed and athleticism. Brown measured in just shy of 5-foot-10, but has a solid frame. He gets by mostly on speed and athleticism at this point in his development and will benefit from additional focus on fundamentals.
Recruiting wrap: McKinley has Florida, LSU, Nebraska, Oklahoma and Texas A&M atop his early list of favorites. His next visit is planned to Texas A&M in April.
Performance: The highest ranked underclassmen on the list, McKinley went stride-for-stride with the four- and five-star class of 2017 prospects in his position group and more than held his own. McKinley measured in over 5-foot-10 and 162 pounds, so he is not a big-framed cornerback, but what he does have is a tremendous break on the football and outstanding instincts. He was one of the stickiest cornerbacks throughout one-on-one play and cruised through position drills.
Recruiting wrap: Alabama and LSU top Allen's list of favorites, but he has no plans to make a commitment in the near future.
Performance: After working out at defensive end at Rivals Camp Series: New Orleans, Allen came to Dallas and worked exclusively with the linebacker group. The 6-foot-4, 233-pound four-star is a classic 'tweener and could project to either position in college, depending on the defense he goes to. Because his strength at linebacker is handling the point of attack and blitzing, a camp setting was not the best showcase of his skills, but the Baton Rouge native more than held his own playing in space.
Recruiting wrap: Boyce holds eight scholarship offers and recently came off a visit to Arkansas.
Performance: Boyce's stock is just starting to rise on the recruiting scene and it is easy to see why after watching him perform in Dallas. Boyce is nearly 6-feet tall and has a good defensive back frame. He was a standout in position drills, then had one of the most noteworthy one-on-one performances in the defensive backs group. Despite windy conditions. there were surprisingly few interceptions, but Boyce did haul one in and also had several pass deflections during his repetitions.
Recruiting wrap: Carper holds more than two dozen offers and currently has Miami and Texas A&M topping his list.
Performance: At over 6-foot-1 and 186 pounds, Carper was another tall prospect in that defensive back group who stood out by using his length to his advantage. As we mentioned with Delpit, height usually comes at the expense of fluidity for defensive backs and that is one area of Carper's game he will need to work on. Safety is a more likely position in the defensive backfield for him in college, though, and he does show good range in coverage and the ability to break on a thrown football.
Recruiting wrap: Harmon's only offer is from Northern Colorado.
Performance: Harmon made the long trip from California to test his mettle against the top talent in Texas, and the trip paid off for him. Harmon was specifically cited by the Rivals Camp linebackers coach as a standout throughout the day and made sure we knew who he was. The 6-foot-1, 220-pound linebacker is still flying under the radar from a recruiting standpoint, but he showed in Dallas that greater college attention is warranted.
Recruiting wrap: Bimage is committed to Houston.
Performance: With Wilson and Shelvin being interior linemen, Bimage was the class of the edge rushers at Saturday's camp. The 6-foot-3, 223-pound Houston commit plays longer than his measurables would suggest. He has long arms that he uses to keep offensive tackles from locking on and though he was giving up quite a few pounds to most offensive lineman he went against, Bimage held his own at the point of attack. Explosiveness and speed are his best assets, though, and he is destined to be a 9-technique edge rusher.