Fab 15: Lone Star State offense on display in Dallas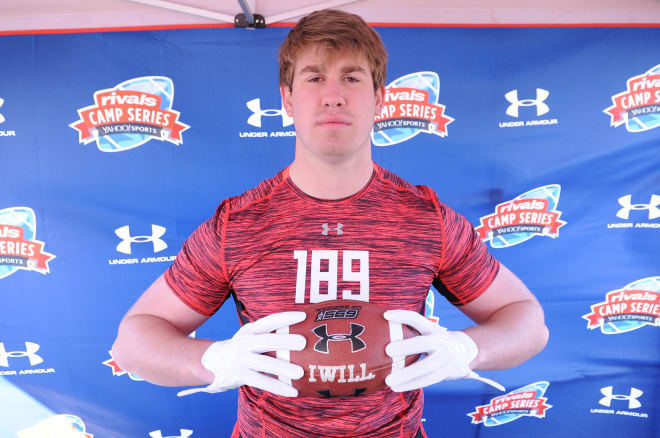 CEDAR HILL, Texas – The Rivals Camp Series Presented by Under Armour made its stop in the Dallas area Saturday, and many top prospects were in attendance. Some stars lived up to the hype, while some sleepers also made a case for a move up in the Rivals.com rankings. Here's a rundown of the 15 offensive players that caught our attention.
MORE: Rivals Camp Series | Sooner commits shine at iLLSPEED | Rivals Recap | Recruiting Notes

Recruiting wrap: Little will visit Texas, Ole Miss, Stanford and possibly others this spring and has about 15 schools in mind for his top list. He's not expected to release a top list until later in the summer.
Performance: Little was spectacular at right tackle all day and dominated the one-on-one session. His best moment was when he handled top-rated prospect Marvin Wilson on two reps using his great footwork, outstanding frame and his excellent hands to dominate those reps. It didn't matter who lined up against the four-star offensive tackle, because he handled speed guys and power guys all the same.
Recruiting wrap: The four-star running back released a top 10 this past week but Benjamin has made it clear that Iowa stands at the top of his list.
Performance: Benjamin really thrived during the one-on-one portion of camp, where he kept challenging linebackers, usually winning his reps, and just going on the attack at all times. The four-star laid out for some passes, always jumped to the front for more action and showed off nice hands, catching some tough passes in the cold weather.
Recruiting wrap: Dobbins is committed to Ohio State.
Performance: The four-star all-purpose back was phenomenal early in drills where he showed off tremendous footwork and burst. He was definitely more sudden than any running back during that portion of camp. He was nearly just as good during one-on-one drills and even if a lot of passes sailed over his head, Dobbins still easily creates separation and has nice pass-catching ability.
Recruiting wrap: Robison is committed to Oklahoma.
Performance: The wind was incredibly gusty and it was borderline frigid at camp, but Robison had no issues. His passes zipped through the air to receivers and he also made some really impressive throws, especially on out routes. The Oklahoma four-star commit really throws a fast football and it gets out quickly, but he's rarely wild. In the Sooners' offense, with his ability, that could be a pretty special combination in Norman.
Recruiting wrap: Eagles is just getting started with the recruiting process.
Performance: A big, strong receiver with excellent hands, Eagles was also a strong route runner who created separation even against speedy cornerbacks. And if he didn't, Eagles could go up and get the ball out of the air. The 2018 prospect dominated early in one-on-one drills, tailed off a little but then came back late with some excellent catches. With his combination of size, great hands and speed, Eagles could be a big-time recruit.
Recruiting wrap: Upshaw is just getting started with the recruiting process.
Performance: What an absolutely eye-opening performance by Upshaw, who was in serious contention for the MVP award. The diminutive wide receiver seemed to create separation with ease and then he caught every single thing thrown his way, making it look easy at times because he was so wide open. Time and again, Upshaw would get off the line, beat the corner and come up with a big catch. Stretching the field is no issue for him.
Recruiting wrap: Michigan State is the first offer for the 2018 prospect.
Performance: One of many wide receivers who had dominant performances at camp, Battle is a long, lean prospect with tremendous hands who did his best work going deep. The 2018 recruit caught a bunch of tough passes – mainly thrown by four-star QB Ty Brock – either reaching around or over corners to haul it in. Battle didn't show phenomenal speed but he's a playmaker and had a great day.
Recruiting wrap: Robinson is committed to Oklahoma.
Performance: The high four-star prospect has excellent footwork and once he gets his hands on a defensive lineman to block they're not going anywhere. Robinson does a nice job getting into his set and then moving his feet – and not grabbing – at defensive linemen who try to go inside or outside. Robinson kind of reminds us of a bigger Chuma Edoga, a four-star who signed with USC in 2015.
Recruiting wrap: TCU remains a frontrunner in Manning's recruitment although Alabama, Auburn, Notre Dame, Texas, Tennessee, Oregon and others are pushing, too.
Performance: Manning is sudden off the line of scrimmage, smoothly gets into his route and then breaks free to catch the pass. He did have some drops, but in the cold, gusty winds we could give him a slight break. The athleticism is definitely there, he has speed and quickness and Manning made a ton of catches during the one-on-one portion of camp.
Recruiting wrap: Alabama, Baylor, Georgia, LSU and Michigan are the five frontrunners for Deculus, who will decide May 20 and said his choice will probably be a school in the South but outside the state of Texas.
Performance: Deculus is a massive, barrel-chested offensive lineman who has good feet to stay at offensive tackle and the power and toughness to move inside if necessary. The high four-star is excellent when defensive ends try to cross his face with an inside move because Deculus is so powerful he dominates the rep. Speed to the outside was successful a little bit on Deculus but he's so strong that he can still assert his will there, too.
Recruiting wrap: Houston, Louisiana-Monroe and McNeese State have offered the four-star quarterback.
Performance: One camp coach was a huge fan of Brock because he has a great demeanor, he's a natural leader and he took to coaching during the camp to make himself better. Brock, who's coming off an injury, is lean, but he still throws a powerful ball and he has great precision on his passes. Accuracy is the most important thing for a quarterback and Brock definitely has it.
Recruiting wrap: Castaneda is committed to Texas Tech.
Performance: The three-star offensive guard likes to play physical in the trenches and didn't back down to some excellent defensive linemen including Wilson, the top prospect in the class. Castaneda has a thick but muscular, physical build and he uses it to manhandle people inside. Castaneda is a tough kid who isn't afraid to get in the mix a little bit.
Recruiting wrap: The three-star offensive tackle is committed to Missouri.
Performance: White has a nice mix of physical power and athleticism where he doesn't have to pancake every defensive lineman on every rep to keep them out of the backfield. Some offensive tackles simply dominate with power, but White uses his long arms, big frame and good feet. That's perfectly fine as well – and when the Missouri commit needs to he can put somebody on their back.
Recruiting wrap: Kansas, SMU, Tennessee and Tulsa have offered so far.
Performance: Williams had a very strong showing, especially during one-on-ones coming out of the slot and catching passes. The three-star does an excellent job being explosive right off the line and he can easily get open, but even when defenders stick with him, Williams can come up with some really impressive catches.
Recruiting wrap: Farrar is committed to UCLA.
Performance: When defensive linemen attempt to come right at Farrar and overpower him, they have no success. The three-star offensive lineman has excellent power and he doesn't get pushed into the pocket by anybody on the d-line. The UCLA commit struggled a little bit when defensive linemen sidestepped and then tried to get around him. He needs to move his feet quicker, but other than that he had a really strong day.