East Spotlight: Biggest questions heading into rankings week

*****
What kind of movement can we expect after most of the players on the East Coast didn't get a fall season?
North Carolina, Virginia, Washington D.C., Maryland, New York, Connecticut and Massachusetts did not have football seasons this fall. That means more than half of the Rivals250 East region prospects in the 2021 and 2022 classes did not play a live game this fall. Very few had the opportunity to participate in 7-on-7 tournaments or camps and even fewer took advantage of those opportunities.

Without new information to base rankings or ratings adjustments on, there will be very few actual changes to the East Coast rankings in this release. In a normal December rankings update, there are usually more than double the rankings moves than there will be in this rankings release.
*****
Which players took advantage of camps while their fall season was on hold?  
Some players from states that didn't have a fall season tried to hone their skills and show off their progress at various camps and 7-on-7 tournaments throughout the fall. Receivers like West Virginia commit Kaden Prather, Oklahoma commit Jalil Farooq and Pittsburgh commit Jaden Bradley were regulars at these types of events. Tight end Bryson Nesbit and Clemson commit Zaire Patterson took part in some showcases as well. These are just some of the players that helped their stock this fall without playing in actual games.
*****
Are there going to be any new five-stars?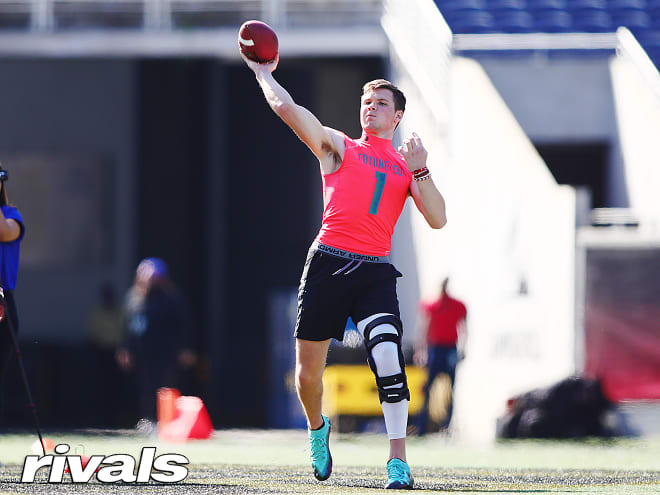 There are currently only two five-stars from the East Coast in the 2021 class and three in the 2022 class. In 2021, a few candidates that were heavily in the discussion for a fifth star were Wisconsin commit Nolan Rucci and Ohio State QB commit Kyle McCord. Rucci seems to have taken the next step in his development and McCord displayed some new skills during his senior campaign.
As for the 2022 class, there were a number of players that we have been eyeing for a big move up the rankings. Players like Enai White, Jalon Walker and Gunner Givens were popular during the rankings meeting, but the conversation really focused in on defensive end Dani Dennis-Sutton and cornerback Jeadyn Lukus. With no fall season, Dennis-Sutton did not have a chance to add to his body of work and he wasn't able to attend any camps. Lukus was impressive this season, and he could end up as another five-star cornerback in an already loaded year at the position.
*****
  How high will Michigan State commit Audric Estime go?  
Estime has been on an absolute tear this season. He has more than 1,600 rushing yards, is averaging more than 10 yards per carry and has scored 21 rushing touchdowns in just seven games. Estime has topped 300 yards in a game twice this season, 200 yards three more times and he's doing this against some of the very best competition in the nation.

This type of output and the obvious development Estime has shown since last year warrants a move up the rankings. Needless to say, the Michigan State commit is a hot commodity on the recruiting trail, with Notre Dame, Wisconsin and Penn State turning their attention toward him.
*****
How did it turn out for East Coast prospects that flew south?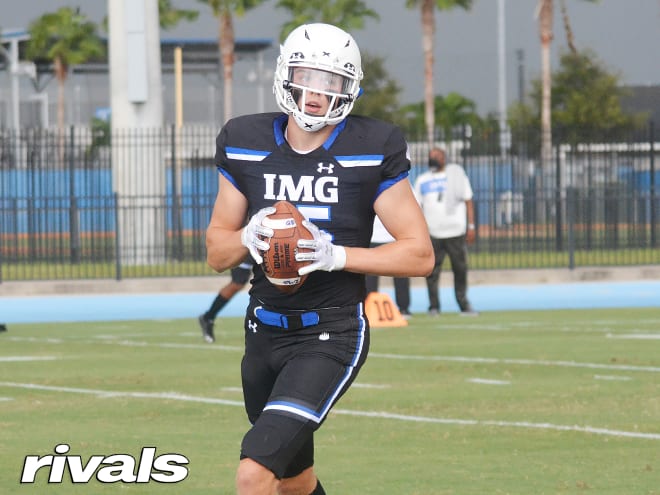 It's a sore subject for many teams around the country, but players do choose to leave their home team for an opportunity to play for IMG Academy in Bradenton, Fla.. There were a number of players that chose to make the switch and fly south to have a fall season. IMG's 2021 class features a number of players with roots in the East region, including Greg Crippin, Colin Henrich, Jared Behrens, Jake Renda, and Sam Ofurie. Crippin has been at IMG for a few years now but the rest transferred this offseason. Of this group, the transfer may have benefitted Renda the most. He is committed to Pittsburgh.
IMG's 2022 class is also loaded with top prospects from the East Coast. Offensive lineman Tyler Booker, running back Kaytron Allen, defensive back Daylen Everette and defensive tackle Paul Hutson played pretty big roles for IMG. Booker and Allen have been at IMG for a couple years now and their stock has been steadily rising. Everette just transferred to IMG this offseason and the move has really helped him develop into one of the nation's premier defensive backs.
Another prospect of note that transferred to a Florida school for this season is quarterback Braden Davis. The quarterback moved from Middletown, Del., to Minneola (Fla.) Lake Minneola. The season didn't quite turn out how he expected, but the physical talent that helped him land some major offers remains.