Early Signing Period: Five teams that were the biggest surprises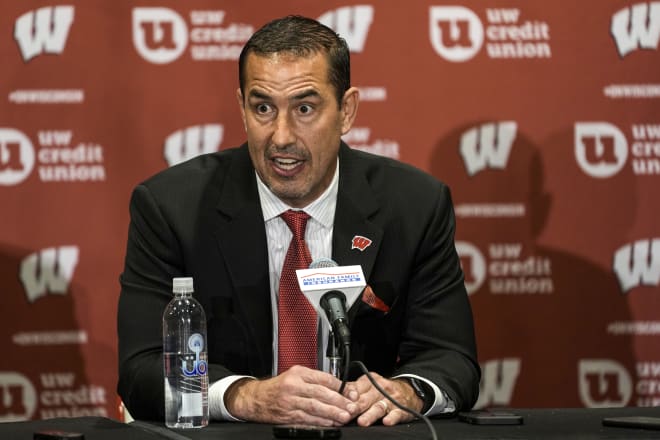 WISCONSIN
Fresh off of hiring a new coach (Luke Fickell) and dealing with some early defections, Wisconsin managed to recover and put together a very solid class in a short amount of time.
Flipping one-time commit and newly minted four-star receiver Trech Kekahuna was a major surprise as the new Wisconsin staff did not have much of a previous connection with him. Four-star DB Amare Snowden was a little less of a shocker due to his previous commitment to Fickell at Cincinnati, but the fact he chose Wisconsin was surprising due to his previous intentions of playing both football and baseball in college, and Wisconsin does not have a baseball team.
The Badgers also landed four-star Oklahoma transfer quarterback Nick Evers, who will have a chance to start from day one in Madison. The class currently ranks No. 59 overall, which is nothing to write home about, but without a couple of signing day surprises things would have been worse. Wisconsin should also move up in the rankings when the Late Signing Period is finished as it is still looking to add players to this class.
*****
ALABAMA 
The Tide seem to make their way onto every list with a positive spin, and this year was no different. The signing day additions of in-state defensive lineman Jaquavious Russaw and James Smith were not overly surprising, but were great additions to a historically strong class, which currently ranks No. 1 overall.
A bigger surprises here was landing longtime Iowa commit Kadyn Proctor the day before signing day as he seemed to be solid for the Hawkeyes for a long time. Finally, the addition of No. 2 corner Desmond Ricks, who many speculated as being an LSU lean, was a surprise and put the cherry on top of Alabama's 2023 class.
*****
OHIO STATE 
The Buckeyes' class is currently ranked No. 4 overall and remains impressive, but things could have been so much better, and Ohio State surprisingly went from a contender for the top spot to dropping out of the top three.
Matayo Uiagalelei opted to sign with Oregon, five-star defensive end Damon Wilson was considered by some to be an Ohio State lean but chose Georgia in the end and four-star corner Kayin Lee flipped to Auburn. Ohio State did add former LSU commit Joshua Mickens, which was big, but in the end the Buckeyes did not close the way they could have.
*****
OKLAHOMA 
The Sooners finished really strong, resulting in their class making the jump to No. 7 overall. While we knew the Sooners had a shot at a top 10 class, the biggest surprise for the Sooners came the day after signing day, when former Notre Dame pledge Peyton Bowen, who opted to commit to Oregon on signing day, chose to sign with Oklahoma in the end.
The addition of Markus Strong was a nice signing day win as well, but Bowen signing with Oklahoma after all of the signing day drama may have been the biggest surprise of the entire 2023 recruiting cycle.
*****
MICHIGAN
I had long predicted Michigan to finish strong, but the Wolverines' recruiting efforts heading into signing day were surprisingly stronger than I even predicted.
One-time Auburn receiver commit Karmello English did not let his intentions be known until he signed his letter of intent to the Wolverines on signing day. And while the addition of four-star defensive back Jyaire Hill may have not been the biggest shocker of the day, it came as somewhat of a surprise that he signed with the Wolverines after leaving them off of his final list of teams heading into the Early Signing Period.