Domino Effect: Caleb Williams' commitment to Oklahoma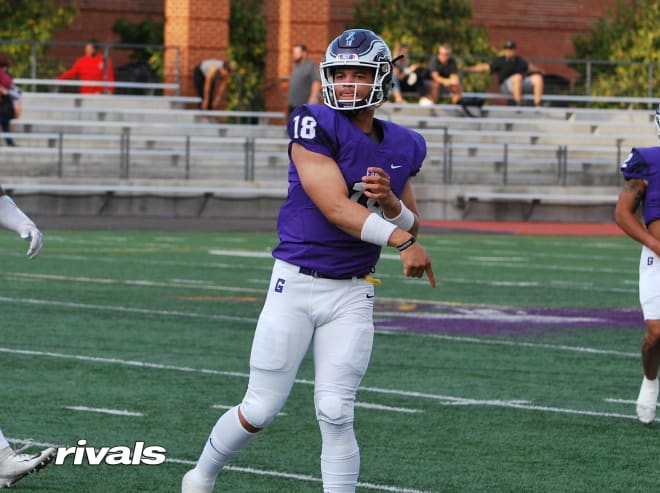 Nothing can jumpstart a recruiting class quite like a commitment from a five-star prospect. Now that the Sooners officially have five-star quarterback Caleb Williams onboard, many more top prospects on both sides of the ball could be headed to Oklahoma. Take a look at the domino effect that could follow Williams' commitment.
*****
*****
There are some other teams involved but the battle for Farooq's commitment will likely end up being the same as it was for Williams: Oklahoma vs. Maryland. Farooq hasn't given much away in interviews but he has gone back and forth over the last four to six weeks. He has always maintained that he wants to take his visits before announcing a commitment. That may not be able to happen with the dead period recently getting extended so it wouldn't be surprising to see a commitment come in August. Farooq and Williams are close friends and Williams has done a great job of recruiting other talent for the Sooners already.
*****
Williams and his camp have been growing closer to Leigh and his family over the last few months and they're only going to work harder now to get the highly-rated offensive tackle to join him in Norman. Leigh is very high on teams like LSU, Ohio State, Clemson, Alabama, Virginia, and a few others but the Sooners are in position to gain a lot of momentum with Leigh but very few players have gotten close to Leigh. Williams is in a unique position and he's hoping to have enough sway with Leigh to get this franchise left tackle to protect him at Oklahoma.
*****
Byrd's top contenders are the Sooners and SMU and lately it has been SMU with the edge but landing a commitment from the top quarterback in the nation has a way of changing things. Offensive line coach Bill Bedenbaugh has been working on Byrd and the momentum the Sooners have picked up this month could push them over the top with him. Don't be surprised to see Williams try to turn up the heat on Byrd in the next couple weeks.
*****
Wheaton is famously quiet about the inner workings of his recruitment and doesn't seem like he is in a rush to make a decision. Texas and Oklahoma are viewed as the top contenders with LSU, Alabama, and SMU firmly in the race. Waiting out the dead period was the plan so he could take his official visits but it seems like that could become more difficult.
*****
The battle between Texas A&M and Oklahoma for Foster's commitment has been raging for months now and there are now signs of it slowing down. He wants to take his official visits and won't rush a commitment but this momentum Oklahoma has built up could change those plans. Foster has a number of family connections to Texas A&M but Lincoln Riley and the other Oklahoma coaches have done a good job getting close with Foster's family. Texas, LSU, and Oregon are also in line to get official visits.
*****
A recent season-ending injury is disappointing for Burris but it does give him more time to focus on his recruitment. Originally he was planning on trying to wait to take his visits but plans may be quietly changing. The Sooners have built up a lot of momentum and Williams has made a point of trying to recruit top defensive prospects to join him at Oklahoma. Texas A&M, Texas, and Alabama are the other top contenders for Burris.