DB Zahbari Sandy commits to Gamecocks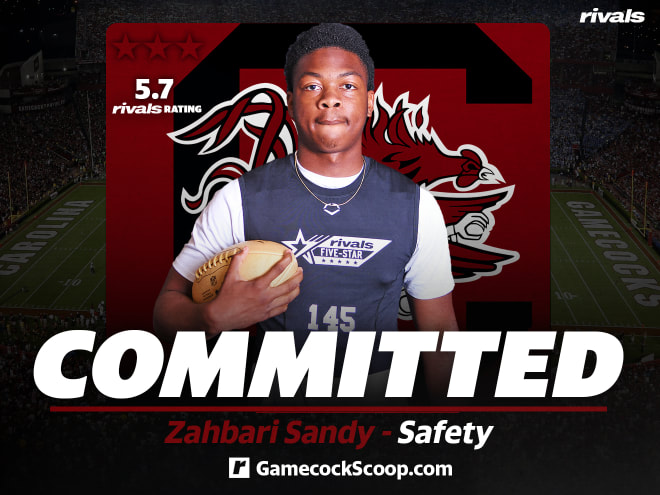 South Carolina and head coach Shane Beamer are on the board with their first commitment in the 2023 class. Washington (D.C.) St. John's College High safety Zahbari Sandy announced his commitment to the Gamecocks on Mother's Day.
IN HIS OWN WORDS...
"I picked South Carolina because they're family, the relationships I've built with coach Beamer and coach Gray," Sandy said. "They showed a lot of hospitality and the most love to me. They kept it real with me from the jump.
"Every school told me I could play right away or play all the positions but what stood out to me was coach Beamer telling me there is a spot for me on that team right now and I can play all those positions and play at a high level," he said. "My goal is to play in the NFL and playing in the SEC helps my chances.
"I trust in coach Beamer and his rebuilding at that school," said Sandy. "I trust that he can get South Carolina to that National Championship one day. Spending time with coach Gray and getting to know him better help build that relationship into a really tight relationship.
"One of my former teammates Colin Henrich is at South Carolina right now and he's been telling me great things about them and what they have to offer," he said. "He's been putting things in my head and helping me see all the different aspects.
"I'm their first 2023 commitment so I'm trying to get as many guys to come there as possible and help the team get to that goal of a National Championship," Sandy said. "I think I can do that. I'm already recruiting now and talking to a couple guys. I want Grayson Howard. I'm telling him that coach Beamer is a really great guy and we all have the same goal. If he wants to win some games, he should come to South Carolina. Everybody isn't really thinking South Carolina can go big but we can change that for sure."
RIVALS' REACTION...
Sandy is a versatile defender in the back half of the defense with a good nose for the ball, solid instincts, and a physical playing style. He shows good range, has above average length in his arms, and does a good job contesting jump balls. Sandy's athleticism should help him shine fairly early in his career at South Carolina but his overall impact on the program will be determined by his physical development and how quickly he can be counted on as a consistent contributor. Sandy's commitment to South Carolina should also be a signal that the Gamecocks will continue to recruit the Washington D.C.-Maryland-Virginia area known as the DMV despite losing linebacker Jaishawn Barham to Maryland during the Early Signing Period last year.