Commitment predictions for top 10 uncommitted 2023 RBs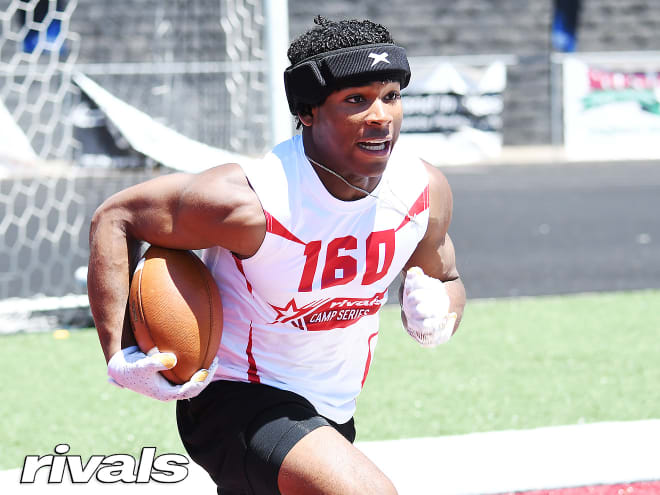 Summer visits are taking shape and recruits are coming off the board all the time. Here is a recruiting breakdown of the top 10 uncommitted running backs in 2023 as we continue a two-week series looking at each position.
Big news came from the nation's No. 1 running back on Sunday when he replaced a visit to USC with Florida for June, setting the stage for his four official trips that should help determine his landing spot. Haynes, who will play his senior season at powerhouse Buford, Ga., will visit Georgia in early June followed by Florida, Alabama and Ohio State to close out the month. His dad played for the Bulldogs and Haynes is Georgia's top target at running back.
Prediction: Georgia
*****  
More big news was made by Owens this weekend, who has canceled his trip to Georgia and will take visits to TCU and Louisville instead. That is a surprising turn of events for the top-ranked all-purpose back in the 2023 class and it could open a new window into his thinking and top teams. Some are skeptical that the Cardinals or the Horned Frogs have a real chance at this point but visits could change things. Texas looks by far the best in his recruitment right now but Texas A&M is there as well.
Prediction: Texas
*****  
A top seven of Texas A&M, Georgia, Ohio State, Alabama, Oklahoma, Oregon and Florida was released in April but since that time the four-star running back from Lehigh Acres (Fla.) Lehigh has added an official visit to Notre Dame. That could make things very interesting if the Irish blow him away – and the addition of position coach Deland McCullough cannot be understated. But the feeling here is that the Crimson Tide are starting to pull away from the pack and have the best shot at landing the big, powerful back unless there's a surprise in store.
Prediction: Alabama
*****  
In late March, Jackson released a top 10 of Alabama, Baylor, Florida State, Georgia, LSU, Michigan, Oklahoma State, Oregon, Tennessee and Texas A&M but this has felt like a battle between the in-state Tigers and the Aggies. For a long time it was believed Texas A&M held the edge because LSU didn't offer until recently and that might've turned off the Baton Rouge (La.) Magnet standout.
But LSU has mended fences and continues to build that relationship with the local four-star running back. New offers from Florida and Auburn could make things interesting but his only official visit so far is to Texas A&M in mid-June. If LSU can continue to pursue hard, Jackson might be tempted to stay close.
Prediction: LSU
*****  
Florida, Baylor, South Carolina, Tennessee and Penn State emerged as Webb's top five in late March and official visits are coming up which could prove important in his final decision. Webb has already de-committed from Georgia and Oklahoma during extenuating circumstances in his recruitment so there is an unpredictability to his next pick. The belief is that Florida has emerged as the frontrunner.
Webb highly respects South Carolina and the job the Gamecocks have done recruiting him plus he feels needed in Columbia, and Tennessee makes things interesting, but the Gators have to feel OK.
Prediction: Florida
*****  
Could Florida pull off the double in-state get of four-star running backs with Webb, whose more of an all-purpose back and pass-catcher, and Baxter, who rushed for 1,718 yards and 26 touchdowns during a monster junior season? It's very possible as the Gators, Texas, Texas A&M, Arkansas and Miami make up Baxter's top list.
The Hurricanes could be making up serious ground in this recruitment and the Texas schools are battling. Baxter loved his visits to Arkansas so the Razorbacks can't be counted out just yet, either.
Prediction: Florida
*****  
Auburn, Clemson, Georgia, LSU, Tennessee and Texas made the top six for the four-star all-purpose back from Montgomery (Ala.) Montgomery Catholic but that might just be window dressing because the feeling is that Auburn has a big lead in his recruitment right now.
Cobb is an in-state prospect, he likes the entire coaching staff there and his relationship with position coach Cadillac Williams might be the best in his recruitment. It would be a surprise right now if he ended up elsewhere but Tennessee and Clemson might have the best shot.
Prediction: Auburn
*****  
Listed as an all-purpose back, Prean will be switched to his more preferred position of wide receiver in the next round of rankings in June. There has been a long list of schools the St. James, La., has been interested in including Auburn, Florida State, Michigan, Missouri, Mississippi State and others but when LSU offered, it was going to be tough to beat the Tigers.
Not only is it the in-state power, Prean has dreamed of playing there and he knows a lot of the new coaching staff from when they were at other schools.
Prediction: LSU
*****  
After talking to Singleton at the Rivals Camp Series this offseason, there is a feeling that his recruitment could still go in a variety of ways and is probably nowhere near a decision. Some believe Florida State is the team to beat but at the Rivals event he said Michigan, Louisville, Penn State and Tennessee are the programs recruiting him hardest at this point.
Any pick right now would be a complete guess since things could go in many different directions.
Prediction: Tennessee
*****
Randle's recruitment looked like it was going in one direction and then a bunch of new offers have come in for the four-star running back from Wichita (Kan.) Heights which might have turned things in a different direction.
Texas is now involved but with four-star Tre Wisner already in the class and the pursuit of Rueben Owens ongoing, Randle could be waiting to see what the Longhorns do there. Kansas State, Oklahoma State and others remain in contention as Randle keeps adding offers.
Prediction: Kansas State