Rivals Camp Series Atlanta: Prospects make commitment predictions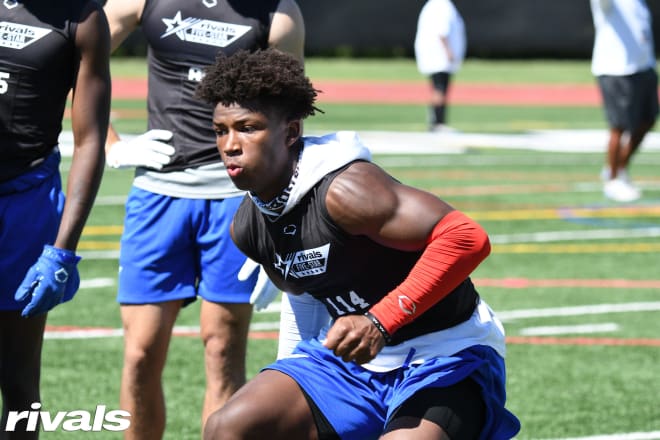 At a star-studded Rivals Camp Series event in Atlanta, the Rivals staff asked several prospects where they thought some of the top prospects in the 2023 class will commit. Here are their predictions.
*****
Justin Greene: "I'm going Georgia. It's close. He's actually in my county."
Flynn: "Probably Notre Dame. I don't even know, it's just a feeling."
Joiner: "Georgia."
Sanker: "That's tough because I know he likes Georgia, too. I'm pretty sure he's also in the Clemson mix. It really just depends on him. Personally, I think I would say Georgia for him."
*****
Flynn: "Probably Ohio State."
Joiner: "Georgia. I just think that's his best fit right now. He loves Georgia."
Sanker: "Clemson lock. He just belongs there, I can tell. If he doesn't go to Clemson, I see him at North Carolina."
Kavion Henderson: "Probably go to Alabama. He's an in-state guy, they recruit hard."
*****  
Joiner: "Bama, easy. He goes to Thompson."
Sanker: "I was thinking Bama. I'll say Texas A&M, I'm going to go opposite of Bradyn."
Henderson: "Texas A&M. It was Alabama, but I feel like Texas A&M for him. Texas A&M 50 percent for him, Florida 50 percent, but most likely Texas A&M."
*****
Flynn: "I was thinking Clemson, but the D-line coach (Todd Bates) went to Oklahoma. Probably them."
Joiner: "Bama."
Sanker: "Bama, 100 percent. He's a Bama boy."
Henderson: "That's my boy. Alabama lock. He just visits there so much. Every time I go up there, I see him up there."