College Fantasy Football: Week 5 viewers' guide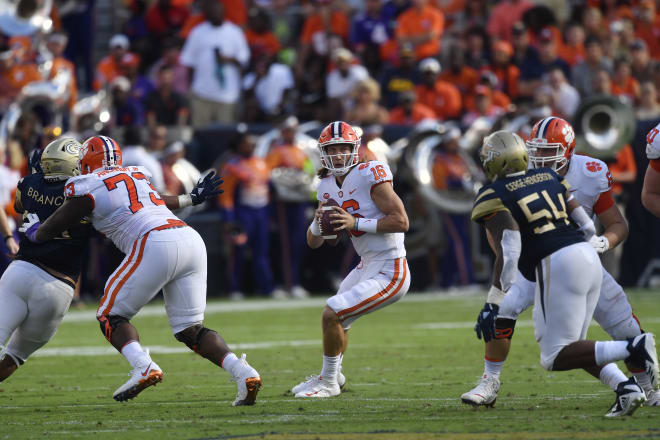 TREVOR LAWRENCE TIME  
The transition from Kelly Bryant to Trevor Lawrence is complete, and now the five-star quarterback and the No. 1 prospect in the 2018 class is Clemson's new starting QB against Syracuse this weekend.
Lawrence is hardly a novice, though, as he's thrown 60 passes so far this season (Bryant had thrown 54 before deciding to transfer earlier this week) and Lawrence has nine touchdown passes with two interceptions. Lawrence could have a huge showing this weekend because the Orange defense has given up 1,021 passing yards in four games against much weaker competition.
Syracuse could provide Clemson lots of problems – and don't forget, the Orange beat Clemson last season – but in fantasy football Lawrence could have a huge showing now as the starter.

HAPPY VALLEY SHOWDOWN  
Saturday night's showdown in State College between Ohio State and Penn State should be thrilling. I'll be watching from my couch (big surprise). Last season, the matchup between the Buckeyes and the Nittany Lions was a shootout that Ohio State won by a point. But the year before, when Penn State at home upset Ohio State, it was a 24-21 contest in which the Nittany Lions scored 17 points in the fourth quarter to win.
I don't know what to expect at Penn State on Saturday night. The top two scoring offenses in college football meet in State College, with Penn State averaging 55.5 points per outing and Ohio State 54.5 points. But both defenses are also excellent and in such an amped-up atmosphere, at night in Happy Valley, is this going to be a shootout? I'm leaning more toward no.
Ohio State QB Dwayne Haskins has thrown 16 touchdowns already this season. He's about to enter the toughest atmosphere he's ever seen. PSU running back Miles Sanders has rushed for 495 yards and five TDs, and QB Trace McSorley has thrown for eight touchdowns and rushed for six. But he hasn't seen a defense like Ohio State's yet this season. Maybe just sit back and enjoy this one.


GEORGIA TECH GETTING LOVE  
The Georgia Tech offense was sloppy in a loss to Clemson last weekend, so much so that coach Paul Johnson called it "embarrassing," and that he would be taking more control of coaching the quarterbacks this week.
This is a perfect situation to play Georgia Tech quarterback TaQuon Marshall. The team is upset with how it played last week, the offense can still move the ball – Marshall leads the Yellow Jackets with 340 rushing yards and five touchdowns – and Bowling Green's defense is horrendous, allowing 6.4 yards per carry and giving up 15 rushing touchdowns so far.
  LOVE THESE BIG TEN DEFENSES  
Michigan State and Indiana could be two defenses to take a serious look at this weekend, because the match-ups are just too good.
The Spartans are hosting Central Michigan, which has not had much success running or throwing the ball yet this season. Michigan State allows just 1.1 yards per carry so far this year and has given up only 98 total rushing yards in three games.
Indiana visits Rutgers. Enough said? Just kidding, but the Scarlet Knights are only averaging 16.2 points per outing, they've thrown only one touchdown all season and there seems to be uncertainty about which quarterback – Artur Sitkowski or Gio Rescigno – should start this weekend. The Hoosiers aren't the New England Patriots, but Rutgers has been really, really bad so far this year. Does that change this weekend? Probably not.


BIG 12 SHOOTOUT COMING?  
The over/under in the Oklahoma-Baylor game is sitting around 69 points, one of the highest of the weekend. That's perfect for fantasy owners. Who cares if the Sooners or the Bears win the game, as long as there are lots of points put on the board?
After Oklahoma's terrible performance last weekend by escaping with a win over Army, the Sooners have to be refocused, no matter who they're playing this weekend. Baylor's defense has been impressive so far this season, but the Bears haven't faced anything like Oklahoma's offense yet.
And Baylor can put points on the board, too. Averaging more than 36 points per game, running backs John Lovett and JaMycal Hasty each have run for three touchdowns this season, quarterback Charlie Brewer has thrown for 862 yards and six TDs, and Baylor has a bevy of talented receivers.