College Fantasy Football: RBs to watch for Week 10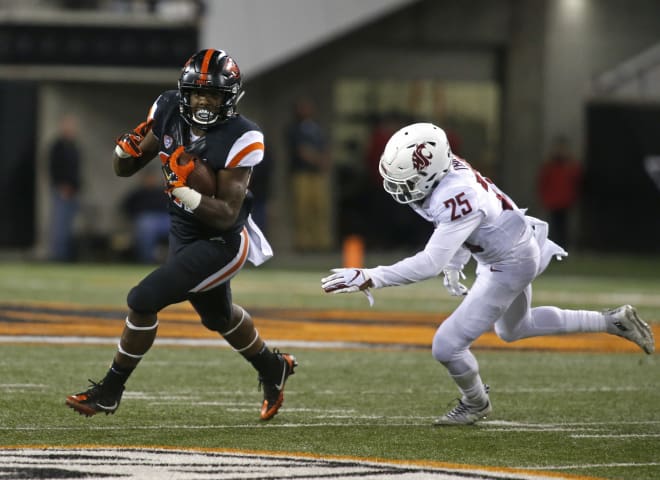 Jefferson was supplanted as the top-scoring running back in fantasy leagues by Arizona State's Eno Benjamin but there's a good chance the Oregon State standout could retake the lead after this weekend. He's rushing for 6.4 yards per attempt and Jefferson has scored 12 touchdowns so far this season. USC is coming to town and that's usually not good news for the Beavers but the Trojans let Benjamin run all over them last weekend and it's doubtful USC is pumped for its trip to Corvallis. Jefferson was overlooked by the Trojans in the recruiting process and could be amped for this matchup.
Etienne could really ramp up his Heisman Trophy aspirations this weekend against a Louisville defense that has been completely abysmal, especially in recent weeks. Wake Forest scored 56 last weekend and rushed for 368 yards and five touchdowns. Georgia Tech rushed for 542 yards and eight touchdowns against the Cardinals a few weeks ago. It's been ugly. So here is Etienne, who averages 7.8 yards per carry and has scored 14 rushing TDs so far this season. It's a Clemson home game, Louisville is going through the motions and the Tigers should roll. Etienne could have another big weekend.

As star quarterback Khalil Tate has not been allowed to run much this season, Taylor has emerged as the favorite in Arizona's backfield and he's putting up big numbers. The diminutive speedster has more than 1,000 yards already this season and has rushed for six touchdowns, pushing up the leaderboard in fantasy leagues among players at his position. Taylor has moved to No. 9 in fantasy points at the running back spot. Colorado had an embarrassing loss against Oregon State last weekend but the Buffaloes have been decent against the run. Still, Taylor could continue to be a major option in Arizona's offense and he has breakaway ability every time he touches the ball.

Taylor was bottled up in Wisconsin's surprising loss to Northwestern last weekend when he finished with only 46 yards on 11 carries. That is nearly impossible to fathom repeating itself this weekend when the Badgers host Rutgers, one of the worst teams in college football. The Scarlet Knights are allowing 5.5 yards per carry and have given up 18 rushing touchdowns, and they haven't exactly played a who's-who in the sport. Wisconsin gets back on track and Taylor is given the ball early and often to stack his stats in a blowout win for the Badgers.
Boston College has been throwing the ball around more often this season but last weekend in the Eagles' big win over Miami, Dillon carried the ball 32 times for 149 yards and a touchdown. When tough opponents are on the field, coach Steve Addazio and his staff are still going to their best player and that is definitely Dillon. Plus, Virginia Tech's defense has not played like the typical Hokies who can shut anybody out. They're giving up 4.4 yards per rush and have allowed 15 rushing TDs so far. I like Dillon this week since good running backs – such as Notre Dame's Dexter Williams, who had 178 rushing yards and three TDs a few weeks ago – can run on this Hokies' group.