College Fantasy Football: Interesting QB storylines
Hurts leads all players in points ... even with a bye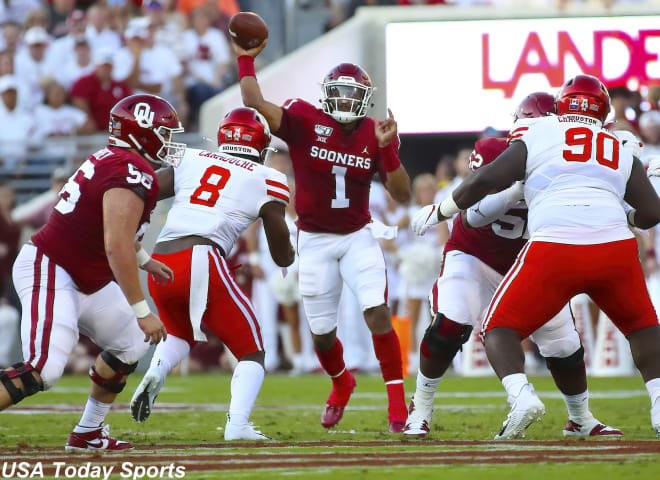 Oklahoma quarterback Jalen Hurts has been so productive in the Sooners' first five wins that he leads all players in fantasy points by about 12 over Ohio State QB Justin Fields even though Oklahoma already has a bye.
Hurts, the third-straight Oklahoma quarterback who has clearly put himself in Heisman Trophy consideration, is completing more than 75 percent of his passes for 1,523 yards with 14 touchdowns and only two interceptions. What's even more impressive is that he leads the Sooners in rushing, too, with 499 yards and seven scores.
To put those rushing numbers in perspective, Hurts has more yards on the ground and touchdowns than Arizona State RB Eno Benjamin, Georgia's D'Andre Swift and Clemson's Travis Etienne. Just an unreal season for Hurts so far - and he might only be warming up.
Tua leads in passing touchdowns ... even with a bye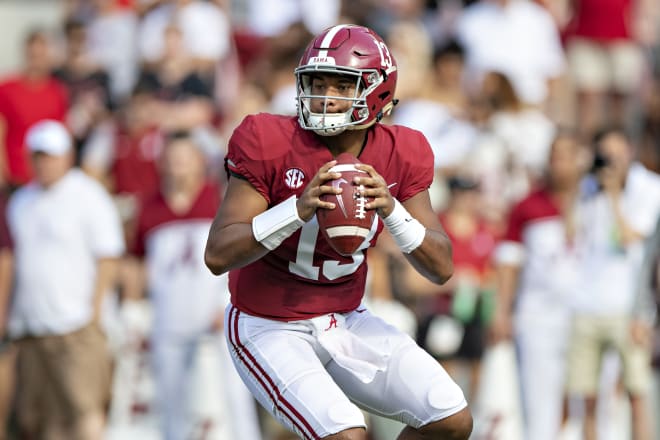 If Hurts is trailing in the early Heisman race, it's because Alabama quarterback Tua Tagovailoa is having an unbelievable season - maybe one of the best-ever for a Crimson Tide quarterback - and it doesn't look like it's going to stop anytime soon.
Tagovailoa is completing 76.4 percent of his passes for 1,718 yards with 23 touchdowns and no interceptions as he leads the nation in TD passes through five games. That's right: Tagovailoa owns that distinction even with a bye week.
One reason is because the lefty is a phenomenal talent. The other is that Alabama has arguably the best receiving corps in the country with Jerry Jeudy, DeVonta Smith, and Henry Ruggs. The schedule does get more challenging with Texas A&M, LSU, Auburn and others coming up, but who's going to stop this freight train?
Can you name the only 2,000-yard passer?
We've talked about Hurts, we've talked about Tua, we will talk about Trevor Lawrence and Jake Fromm but there is only one Power Five quarterback who's thrown for more than 2,000 yards so far this season: Washington State's Anthony Gordon.
Owned in only 67 percent of leagues, Gordon won the job in preseason camp and he's delivering, completing 72 percent of his passes for 2,146 yards with 22 touchdowns and six picks. Coach Mike Leach recently called his team "fat, happy, dumb and entitled," but he forgot productive because Gordon is putting up great numbers.
Lawrence on cusp of top 25 QBs
No one can quite figure out why Lawrence isn't putting up massive numbers like he did in his freshman season - whether it's the so-called sophomore slump, whether defenses have figured something out about his tendencies or whether the Tigers are just sleepwalking until it's time to really kick it into high gear - but owners of Lawrence in the fantasy game have to be disappointed.
So far this season, the former No. 1 prospect in the 2018 recruiting class is completing just 61.8 percent of his passes for 1,131 yards with eight touchdowns and five picks. He's also second on the team with four rushing touchdowns.
But comparing those numbers to Hurts, Tagovailoa, LSU QB Joe Burrow and others puts Lawrence deep down the list of fantasy quarterbacks at No. 24, sandwiched between Missouri's Kelly Bryant (who Lawrence replaced as Clemson's starter) and UCLA QB Dorian Thompson-Robinson, who missed last game because of injury.
Fromm outside top 40 in fantasy points
Fromm is one of the country's best quarterbacks and is in line to be a first-round NFL Draft pick - he's just not super friendly to fantasy owners.
In Georgia's five wins this season, Fromm is completing 77.5 percent of his passes but for only 1,076 yards and eight touchdowns. He hasn't thrown a pick. But Fromm's fantasy numbers are hurt by Georgia's phenomenal rushing attack as both Swift and Brian Herrien have four rushing TDs and former five-stars Zamir White and James Cook have two each.
Fromm's numbers put him No. 44 among quarterbacks in fantasy points right behind Wisconsin's Jack Coan and ahead of Florida State's James Blackman, who's played in only four games this season. He's the perfect example of an excellent quarterback who just doesn't translate to a star in the fantasy game.