Coach Speak: Amite coach breaks down new Alabama signee Ishmael Sopsher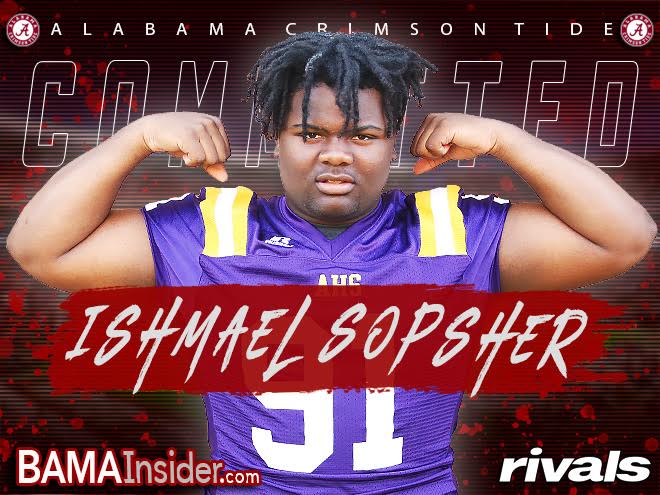 Zephaniah Powell wasn't a week into his job as Amite's head football coach when he got a firsthand look at his blue-chip defensive tackle.
Powell, who was hired as Amite's coach in 2015, scanned over his group of rising freshmen and could not look past Ishmael Sopsher. By the time the spring arrived, Sopsher proved his coach right.
"That spring, when he was an eighth-grader, when I was hired to take the job over, I met with those freshmen," Powell recalled. "He (Sopsher) was a kid who stood out immensely. The first time we did spring drills with us, he stood out. I knew right then and there he'd be a special kid for us."
Four years later, including a Class 2A state championship triumph last December, Sopsher is onto his next step. The Rivals100 defensive lineman committed to LSU over Alabama on National Signing Day.
Coach Nick Saban ag-teamed Sopsher's recruitment with area recruiter Pete Golding, and together were able to outlast the in-state Tigers for the Louisiana native.
"Coach Golding, who handled his recruitment, has done a good job recruiting Ishmael the last couple of weeks," Powell said. "He knows the situation at Alabama, what they're trying to do and what they're trying to continue to do. He'll step into a situation and get really good coaching."
So, what is Alabama getting in the 4-star defensive lineman?
On the field, his coach raved about his football IQ, his ability to dominate his position and his durability. In four years playing at the varsity level, Sopsher has never missed a single contest.
Away from the field, he's a level-headed kid with a high level of maturity.
"To be honest, he's that kid," Powell raved. "He's going to eat up blockers for you, eat up space for you and allow linebackers to their job. He understands his job, he understands his responsibilities, he understands his job. He knows his responsibilities in whatever front he'll be used for. Ishmael just needs to know where he'll be playing and he gets it done. Alabama is getting a good football player.
"He's handled it all perfectly. Kids of his status -- they're flamboyant. They're 'me, me, me' or 'I, I, I.' That's not Ishmael. He's beyond humble. He's about his business, and to coach him and the work he puts him and what he's doing behind the scenes, the amount of work he puts into his craft. He hasn't missed a game in four years, despite being double- and triple-teamed, blocked high and blocked low. Alabama is getting a durable kid."