Building The Roster: NFC East
In a new series, National Recruiting Analyst Adam Gorney has broken down the roster of every NFL team in terms of star ratings for players in high school, which conferences have the most players on each team and which states those players come from as well. Below is a breakdown of the NFC East as National Recruiting Director Mike Farrell offers his thoughts and memories on each roster.
DALLAS COWBOYS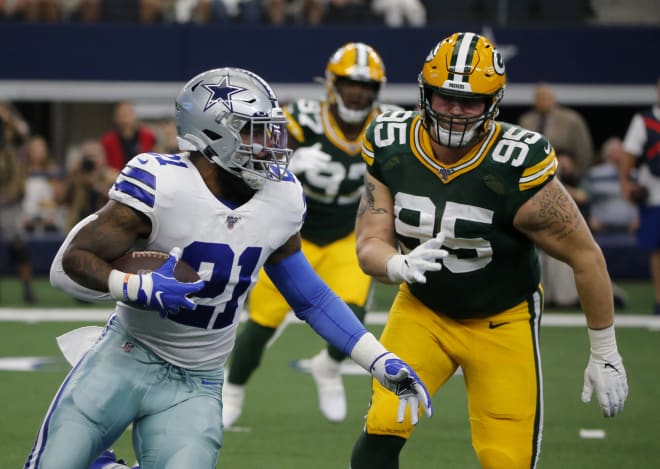 The Cowboys love themselves some Big Ten players. There are 11 players from that conference on the roster including Ohio State with Ezekiel Elliott and receiver Devin Smith to Michigan with defensive back Jourdan Lewis to Indiana and Nebraska also having two players each.
No other conference has more than six - the SEC and the Pac-12 have that number apiece - and the ACC only has two players in Dallas: OL Joe Looney from Wake Forest and DL Joe Jackson out of Miami.
Like almost every other NFL team, there is also a significant non-Power Five school presence on Dallas' roster, especially on the defensive line with four players coming from those programs - Rice's Christian Covington, Boise State's Tyrone Crawford and Demarcus Lawrence and UCF's Trysten Hill.
Dallas has three former five-stars on the roster in linebacker Jaylon Smith and offensive linemen La'el Collins and Tyron Smith.
Farrell's take: Jaylon Smith was an absolute beast out of high school, one of the most athletic linebackers I've scouted and great in coverage. Tyron Smith was a freakishly athletic tackle. Elliott wasn't the same back we saw at Ohio State and in the NFL as he didn't have that extra gear, but he was good enough to be a Rivals100 prospect. Amari Cooper is interesting because he came on late in his high school career and was discussed as a five-star. He clearly should have been one.
NEW YORK GIANTS
Whether the Giants brass planned it this way or it's just a coincidence, a lot of players from the state of Georgia are on New York's roster. A lot. Nine players from that state play for the Giants, including RB Wayne Gallman, TE Evan Engram and DL Dalvin Tomlinson.
And the Giants have also pinpointed the Georgia Bulldogs - and the SEC in general - as a prime place to pick up players. There are 13 former SEC players on the roster including LBs Lorenzo Carter and Alec Ogletree and DB DeAndre Baker. Ole Miss is also a school frequented by the Giants as Engram, QB Eli Manning and WR Cody Core play for them.
What's also interesting is previous quarterback rankings for New York. Manning played his high school ball prior to Rivals but starter Daniel Jones - the Giants' first-round NFL Draft pick - and third-stringer Alex Tanney were both unranked in high school. The three five-stars on the team are WR Russell Shepard, DL Dexter Lawrence and DB Jabrill Peppers.
Farrell's take: How was Saquon Barkley not a five-star? That's on us, I guess, but he certainly wasn't as big and explosive as he is now out of high school. Daniel Jones is a former walk-on who has obviously come far and the defense is loaded with former stars. Peppers and Lawrence lead the way there as former five-stars who are a big part of the Giants' future. Engram was a three-star who wasn't big coming out of high school but has excelled with his athleticism.
PHILADELPHIA EAGLES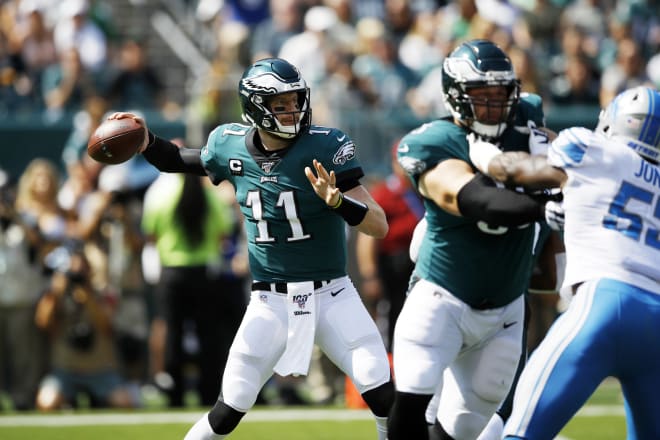 Star rankings on the defensive line are impressive for the Eagles as six players were four-stars in high school including Tennessee's Derek Barnett and then two others were five-stars in Michigan's Brandon Graham and Florida State's Josh Sweat.
There is considerable Florida State love in Philadelphia as well as Sweat, DT Tim Jernigan, five-star LB Nigel Bradham and DB Ronald Darby all played for the Seminoles. And there is a lot of attention to Pac-12 receivers as five-stars Nelson Agholor (USC) and DeSean Jackson (Cal) are on the team along with rookie JJ Arcega-Whiteside from Stanford and tight end Zach Ertz, who played for the Cardinal, too.
The Big Ten is where the Eagles went for running backs as Miles Sanders from Penn State, Corey Clement out of Wisconsin and Jordan Howard (Indiana) are on the roster.
Farrell's take: Like many quarterbacks in the NFL, Carson Wentz was missed by everyone and overcame a lot to become an NFL leader. Jackson was one of the best small wide receivers I've ever seen in high school while Agholor was a freak athlete out of Florida who was a standout at USC. The FSU connection is interesting as the Eagles have some great former high school stars who went on to play for the 'Noles.
WASHINGTON REDSKINS
There is a decidedly SEC feel to Washington's defense as 11 players from that conference are on the roster and five of them are from Alabama in defensive linemen Jonathan Allen and Daron Payne, linebackers Ryan Anderson and Shaun Dion Hamilton and DB Landon Collins. A sixth former Crimson Tide player, OL Ross Pierschbacher, is also on the Redskins.
Something else that really stood out while breaking down Washington's opening day roster is that the Redskins really like defensive backs from the state of Florida as five made it with Quinton Dunbar, Fabian Moreau, Jimmy Moreland, Dominique Rodgers-Cromartie and Simeon Thomas.
Washington has five five-stars on the roster in RB Adrian Peterson, possibly the best running back prospect in the Rivals era dating back to 2002, along with Allen, Payne and defensive backs Josh Harvey-Clemons and Collins.
Farrell's take: Alabama is the key here, especially on defense, but Washington is still a bad football team despite so many former stars. That begins at quarterback but Dwayne Haskins could be the solution as a former Rivals100 signal caller. Peterson is past his prime but he's still the best running back I've ever scouted in high school.