Breaking down Alabama-Georgia showdown by recruiting rankings
Every preview known to man has been written. Every position breakdown, coach breakdown, the tick-tock of whether coach Nick Saban will be allowed on the sidelines after a positive COVID-19 test was followed by two negative ones as of Saturday morning is a storyline being monitored by the second.
One thing has not been written about Alabama-Georgia though, and that's a breakdown of the two rosters by star ranking. And there are definitely some surprises.
Here is a look at some notables.
GEORGIA HAS MORE FIVE-STARS
Because Alabama has dominated the team recruiting rankings for so long and the Crimson Tide have been so dominant on the field, the sense going into this research is that Alabama would have more five-stars on the roster. But that's not the case.
Let's remember, Georgia has won the past three team recruiting titles and No. 1 finishes have consequences: The Bulldogs have 15 five-stars to Alabama's 12 on the rosters heading into this game.
Quarterback JT Daniels, running backs Zamir White, Kendall Milton and James Cook, receivers George Pickens and Demetris Robertson, tight end Darnell Washington, offensive linemen Tate Ratledge, Broderick Jones, Clay Webb and Jamaree Salyer, defensive end Adam Anderson, linebacker Nolan Smith and defensive backs Tyson Campbell and Kelee Ringo make up the five-star Bulldogs list.
For Alabama, it's quarterback Bryce Young, running backs Najee Harris and Trey Sanders, receiver Jaylen Waddle, offensive linemen Alex Leatherwood and Evan Neal, defensive ends William Anderson and Chris Braswell, linebackers Demouy Kennedy, Dylan Moses and Ben Davis and defensive back Patrick Surtain.
BUT ALABAMA WINS AT FOUR-STAR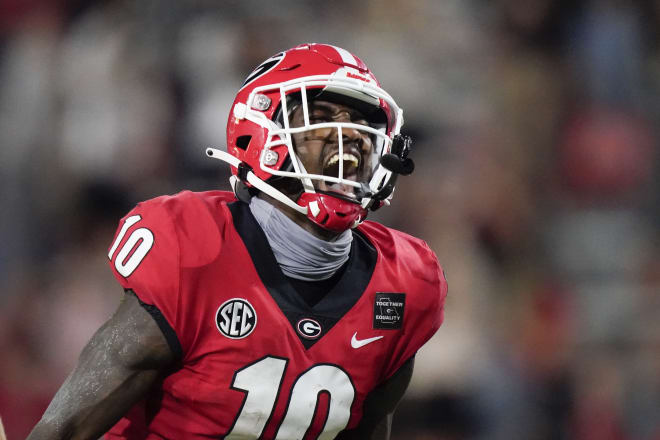 The five-star edge goes to Georgia; the four-star edge to Alabama. The Crimson Tide have 59 four-stars on the roster including DeVonta Smith, who arguably should have been ranked as a five-star receiver, along with big names like defensive backs Jordan Battle and Josh Jobe, quarterback Mac Jones and a host of outstanding linemen on both sides of the ball.
Georgia lists 50 four-stars and there could be arguments that some should have been even ranked higher. Kearis Jackson has been the Bulldogs' top target at receiver so far this season and his speed has been incredible. Nakobe Dean, Azeez Ojulari and Lewis Cine are three of the team's top tacklers on a defense that might be the best nationally - although Saturday night will be its biggest test by far this season.
SOME THREE-STAR NOTABLES
Deonte Brown could have arguably been a four-star based on his impact on Alabama's offensive line but two players who definitely should have been ranked higher are on Georgia's roster in linebacker Monty Rice as the former Madison (Ala.) James Clemens standout leads the Bulldogs with 18 tackles and defensive back Eric Stokes from Covington (Ga.) Eastside is tied for the team lead with two interceptions.
BIGGEST MISS OF ALL?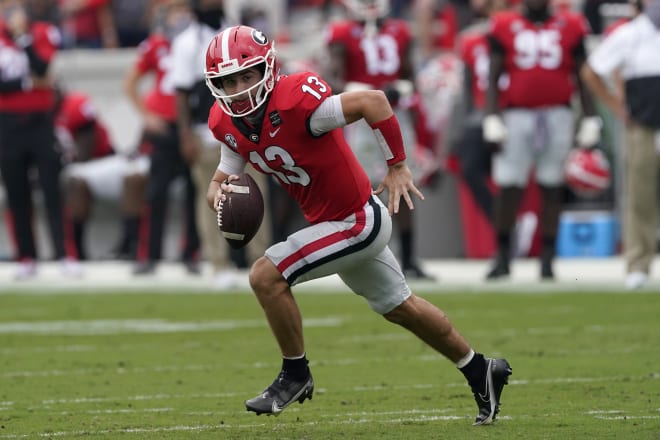 Stetson Fleming Bennett IV is not a character in the movie Trading Places, he's Georgia's star quarterback who in a game that will feature a ton of five- and four-star talent is the two-star quarterback who transferred to junior college only to come back to Athens and win the starting job.
A two-star out of high school and out of Ellisville (Miss.) Jones County J.C., Bennett (all 5-foot-11 and 190 pounds of him) is completing 63 percent of his passes for 689 yards and five touchdowns with no interceptions so far this season.
Alabama's defense has talent that Georgia has not seen yet from Arkansas, Auburn and Tennessee but Bennett has definitely handled himself beautifully so far. Saturday night will be another challenge for him to overcome.