Big 12 Media Days: Allen leading way for revitalized Texas Tech D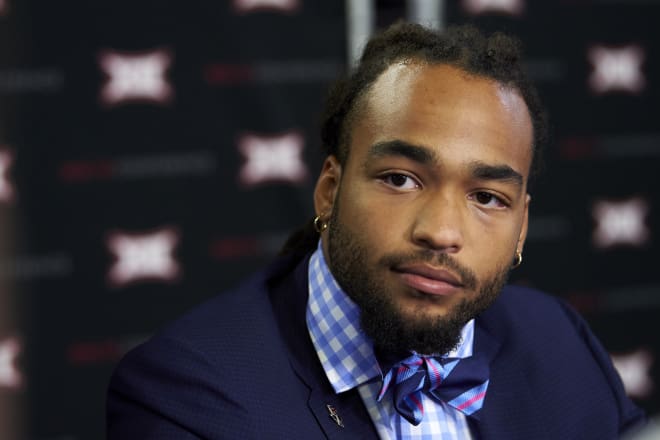 BIG 12 MEDIA DAYS: Patterson still grumpy about recruiting calendar
FRISCO, Texas – One year removed from a line-blurring moment when one reporter half-scolded, half-pleaded with Texas Tech head coach Kliff Kingsbury recruit better defensive talent at Big 12 Media Days, Kingsbury now has an ace up his well-dressed sleeve.
Senior linebacker Dakota Allen, who became somewhat of a household name in those homes that watched him on the popular Netflix docuseries, Last Chance U, has not only served as one of the Red Raiders' best defenders on the field, but one of their biggest assets on the recruiting trail.
Anecdotally, Allen's celebrity status has been one of the more frequently discussed things by prospects that have made visits to Lubbock since his run on the small screen. One of the shows story arcs revolved around his desire to return to Texas Tech following disciplinary measures that resulted in his temporary dismissal from the team following the 2015 season.
In his return to the Red Raiders' defense last season, he started 13 games, made 102 total tackles with two sacks and two interceptions.
"Everything has been great since then," Allen said. "I've been very blessed. I know a lot of people are wondering what's next – I'll actually be on Season 3 when it drops here in a couple of weeks, so I'm excited about that."
During his media availability on Monday afternoon, Allen discussed his change in study from engineering to business management, as he's begun to think about opening a gym in his hometown of Humble, Texas, once his playing days are through.
He said the focus would be on training younger players, which has become its own industry within the football recruiting realm. Allen might have a leg-up on others doing the same, if his ability to draw young eyes to Tech is any indication.
"The Netflix thing was huge," Kingsbury said. "They all saw him on there, he was portrayed in a very good light and he's a good player as well. So you combine all those things and he's who is visible right now to those younger players."
To Allen's credit, he's leaned into the notoriety and embraced the opportunity to do his part in helping the Red Raiders continue to add more talent to their improving defensive unit.
"It means a lot to me," he said. "I know a lot of the time when we have recruits on campus, they want me to just come meet them and meet their parents. I will gladly do that. I'll talk to the kids about whatever is going on with them in their lives or in football and I'm just happy to have that kind of role."
Under different circumstances, that sort of attention might fatigue another player but Allen worked hard to get back into the position he's in now. He was voted as a team captain last season, another example of how his personality has resonated with current and potential teammates alike.
Allen admitted he occasionally has moments where he's not always interested in being known for his on-camera exploits but he feels as though he's made the most of things and is grateful for his second chance at Tech.
"Some days it can get overwhelming," he said. "But I know that there are a lot of people in my position who would love to have that spotlight. So I just decided to take it and run with it and do the best that I can with it."