Best Available: Top 10 OTs still on the board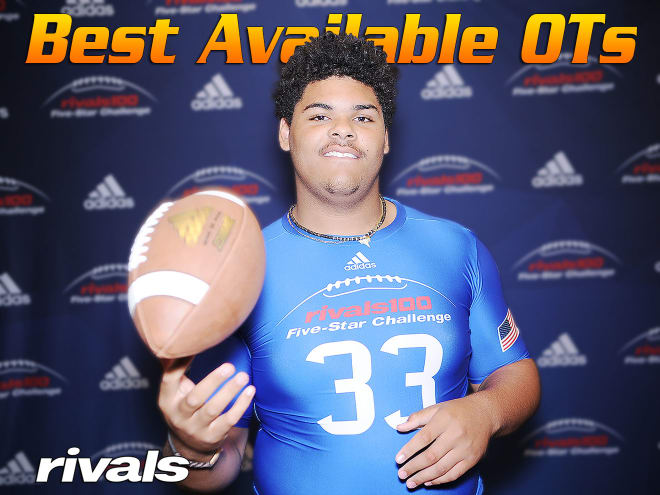 A fixture in the overall top five for 2019, Wright has the versatility to play all across the offensive line, though a player of his skill usually ends up at left tackle. This recruitment has been a difficult one to figure out, and Wright is not helping. He only released a top 10 in late July when most prospects were committed or down to half that number of schools. Ohio State was a popular pick early, but SEC programs Alabama and Tennessee have been rallying lately.
A new five-star in the most recent update of the Rivals100, Neal is a mountain of a young man with a huge upside. He had a very brief commitment to Alabama early in his recruitment, but has stayed pretty wide open since then. The Crimson Tide are definitely still players here, as is Miami. Florida State, Florida and LSU are additional schools that get mentioned frequently with this recruitment, but there could be a lot of recruiting left to be done here.
Rhyan came out early in his senior season looking bigger and more powerful while still playing light on his feet. West Coast schools, unsurprisingly, got the jump on recruiting the Southern California native, with national powers Alabama and Notre Dame adding offers this past off-season. The expectation here is that Rhyan sticks close to home, but he has all five official visits available to him should he want to do his due diligence and research more schools in-person.
He may not be as big as the players above him on this list, but Vimahi's calling card is his athleticism and being able to locate in space and get to the second level. He released a top eight in July, but also noted it was not a final eight and additional schools could jump into the mix. Although he is a flight away from the mainland, Vimahi has been able to see several schools already. His first official visit went to Notre Dame on Sept. 1, with Oklahoma scheduled to receive one later this month.
Keegan is another prospect who could project to several positions across the offensive line. Right tackle is a strong possibility, but so is kicking inside if that is where he is needed at the next level. In June, Keegan released a top six, but he trimmed Alabama from that group later in the summer and now sits with a top five of Clemson, Georgia, Michigan, Ohio State and Penn State. Official visits to each of those schools are planned before he makes his college selection.
Talent has never been the concern with Parker, but the reason his offer list is not as extensive as others rated in this range is reportedly due to academic concerns. If he gets his grades squared away, some team is going to get an athletic offensive tackle who has played tight end in high school. The odds-on favorite if he signs with a program out of high school is the home-state LSU Tigers, but assuaging the academic concerns could open a floodgate of new offers late in the process.
Another Hawaiian representative on the list, Beulow was a prospect who competed with the best in the country at the Rivals100 Five-Star Challenge presented by adidas in Atlanta last June. He had his ups and his downs in that setting, but showed a skill set that will be impressive once developed. Notre Dame, Utah, Washington and TCU were Beulow's top four when he was in Atlanta, and a final decision could be coming soon. He visited each of those schools unofficially during the off-season.
Junior season was the first of organized football for Ike, who left his native Nigeria only a couple years earlier. He entered that season already holding scholarship offers, however, after impressing at several camps. Ike has taken this recruiting process slowly, and while he has determined a few top contenders in his own mind, he is keeping that list private for now. Nebraska hosted him unofficially for its season opener, and visits have also been made to Alabama, Michigan and Louisville recently.
Hammond is the second player from IMG Academy to make this list. Like his teammate, Evan Neal, Hammond was also committed to Alabama at one time before stepping away from that commitment last winter. The Crimson Tide do not appear to be out of this recruitment, but most of the buzz lately has been around Florida State. Hammond attended the Seminoles' season opener on Labor Day against Virginia Tech, but has not scheduled any official visits.
The state of Minnesota has a pair of top offensive tackle talents in this 2019 class with Benhart and four-star Notre Dame commit Quinn Carroll. Benhart himself is on the cusp of four-star status and could achieve that rating with a big senior season. The Twin Cities native hates discussing his recruitment publicly, but Nebraska and Wisconsin are the two schools most linked with him. He officially visited Wisconsin in June and Nebraska the weekend of Sept. 1.