Battle Miami: Prospects that boosted their stock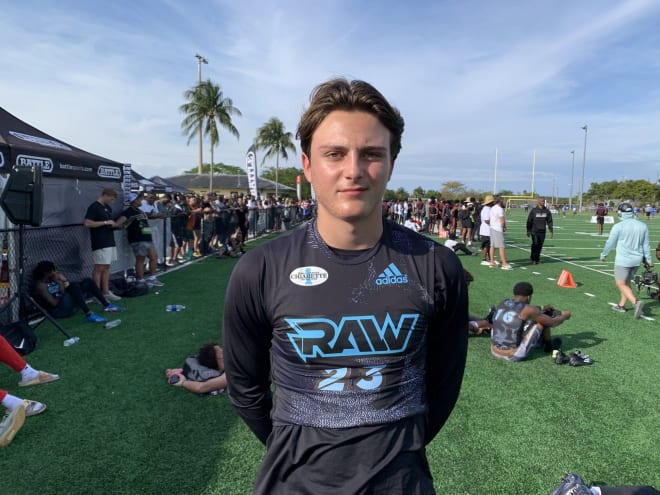 MIAMI – The Battle Miami 7-on-7 tournament is one of the nation's best events, and this year's lineup did not disappoint with teams and players from California, Michigan, Illinois, Texas, Philadelphia and, of course, Florida. Throughout the course of the day, top players and newcomers to the scene saw their stock rise with their performances.
The Alabama commit did not disappoint competing with Team Raw. Playing with a new set of receivers, there were some growth moments but, all in all, Sayin was whipping it around the field. The stroke is smooth and quick with great velocity. Being a five-star, there is no higher ground for Sayin, but he definitely did not hurt his stock on Day 1.
*****
Among all the amazing athletes competing at Battle Miami, Patterson is one who already looks NFL ready. The Chaminade-Madonna (Fla.) safety laced up his cleats for DEFCON impressing playing corner. On defense, Patterson showed his cover skills taking on top receivers. When the field was flipped, the overall athleticism shined through making big-time grabs for touchdowns as a receiver.
*****
Boley had one of the most impressive quarterback performances of the day. The 2025 gunslinger was on point firing the pigskin in tight windows, checking down when needed, and pleased the crowd with several deep ball end zone shots. Boley's motion is smooth with great velocity. One of the more impressive moments from Boley was a play he wasn't even a part of on Saturday. Snapping for the backup National Playmakers Academy QB, on a tight coverage play there was nowhere to go with the ball. With his back to the play, Boley told the backup where to go with the ball in successful checkdown.
*****
Wiggins was an all-state performer as a defensive back in 2022, but looked the part of a four-star receiver on Saturday; college programs may have a difficult choice in where to slot him at the next level. Wiggins has a great frame, and is a fluid runner with great athleticism. He high pointed the ball well and showed great hands in the early portion of the tournament.
*****
Underwood was another quarterback with a lot of hype entering the tournament . Top programs from around the country have extended scholarship offers to Underwood increasing the curiosity in how he would perform in this spotlight event. The opening was rocky, but once Underwood settled in with his Sound Mind Sound Body teammates he looked the part of an elite prospect in his class. Underwood has a cannon for an arm able to connect on any route in the playbook. His stock will continue to rise as more collegiate scouts see him this offseason.