Ask Farrell: Will Michigan finish with the Big Ten's best class?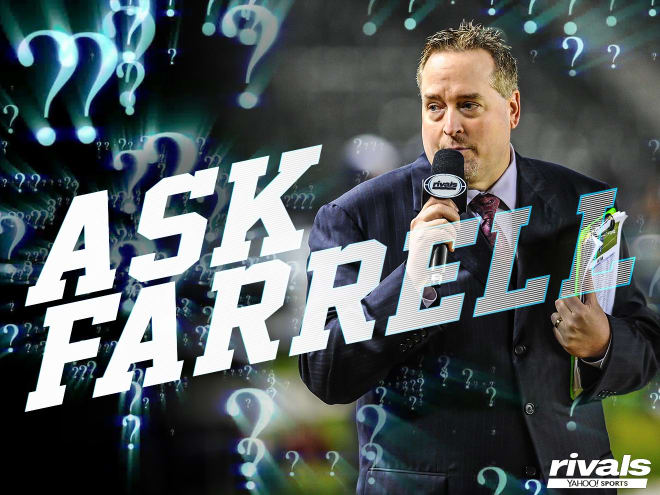 ASK FARRELL: Which team's 2018 start has been most disappointing?
Michigan did not sign any five-star prospects in the 2018 class but the Wolverines already have two commitments in this recruiting class at the five-star level after the nation's No. 1 safety pledged to the Big Ten team on Tuesday.
Tulsa (Okla.) Booker T. Washington's Daxton Hill committed to Michigan over Alabama, Oklahoma and others after his recent visit to Ann Arbor and he becomes the second five-star in the class with Atlanta (Ga.) Greater Norcross Christian defensive end Christopher Hinton.
The only other team in the Big Ten to have a five-star pledge at this point is Penn State with one - Stafford (Va.) North Stafford running back Devyn Ford. Ohio State, which has led the Big Ten team recruiting rankings for eight-straight seasons, has no five-star pledges and only 14 commits total.
It has been more than a decade since Michigan has won the conference recruiting title. The Wolverines almost always hover around the top, but since Urban Meyer has been in Columbus, Ohio State has owned that title.
Landing Hinton out of Georgia was huge. Hill was arguably Michigan's top target remaining on the board. He's now in the fold.
We ask Rivals.com National Recruiting Director Mike Farrell to weigh in on whether this will be the recruiting cycle where Michigan finishes atop the Big Ten rankings, the first time since 2007, or if Ohio State or Penn State could surge past them in the coming months before Signing Day.
FARRELL'S TAKE
"It's huge that Michigan has two five star commitments in this class especially after a down recruiting year, by its standards, in 2018. However, I don't know if the Wolverines will have enough to hold off both Penn State and Ohio State, who have less commitments and a much higher average star ranking.

"That's not a shot at Michigan as things have gone much better this recruiting year for the Wolverines, especially when it comes to national recruiting. Everyone, and I mean everyone, wanted Hinton and Hill and Michigan sent a message to the rest of the country that the Wolverines are the real deal. Jim Harbaugh has been doing a much better job, as has his staff, at staying with big-name national prospects this recruiting year and it's paying off. If I had to bet, it would be Ohio State, Penn State and then Michigan in that order in the Big Ten, but I'm still very impressed with the way Michigan is handling business."