ACC Spotlight: Reviewing the conference's 2021 season
EXPECTED 
NC State was strong: I predicted a 10-2 final record for the Wolfpack on the back of a very good offensive line and steady defense, and that prediction turned out to be pretty spot on as they're 9-3. Ikem Ekwonu turned out to be arguably the best offensive tackle in the country and their balanced offense led them to a really impressive season and a runner-up finish in the Atlantic.
BC's offensive line was excellent: Even though they lost Phil Jurkovec for a long stint during the season, the offensive line play never dipped. Guard Zion Johnson finished as a first-team All-American in nearly every publication, while center Alec Lindstrom was a second-teamer.
Justin Fuente would be fired: He was my No. 2 coach on the hot seat entering the season, and he finished the season in the unemployment line. Fuente just never clicked in Blacksburg during his four seasons there, and now it's up to Brent Pry to pick up the pieces.
*****
UNEXPECTED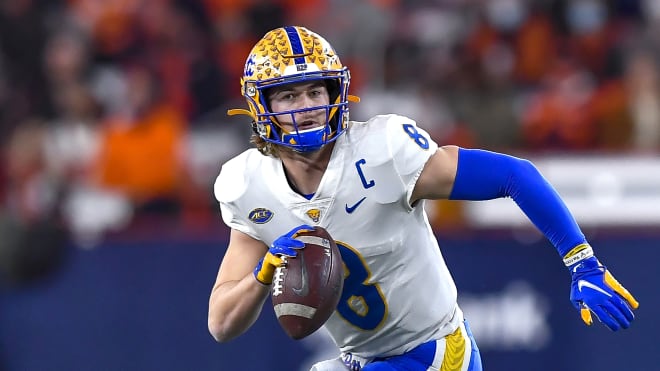 Clemson's no show: We knew there was going to be some regression after losing Trevor Lawrence, Travis Etienne, Amari Rodgers and company to the NFL, but no one could have predicted just how far the Tigers would fall. Clemson's offense was genuinely atrocious this season. The Tigers couldn't block anyone, DJ Uiagalelei's development stalled out and they finished 95th in the country in total offense, 78th in scoring and 121st in passing efficiency.
Kenny Pickett in the Heisman running: In four previous seasons, Pickett had never thrown for more than 3,100 yards, 13 touchdowns or completed more than 61.6 percent of his passes. In 2021, he was arguably the best QB in college football, finishing with 4,319 yards, 42 touchdowns and only seven interceptions, while completing 67.2% of his passes and garnering a bevy of awards.
Wake Forest vs. Pittsburgh in the title game: The accepted logic before the season was that we'd see Clemson and UNC in the title game, but both teams struggled much more than anticipated. Wake Forest had a dream season, led by its top-five offense and one of the best WR combos in the country (Jaquarii Roberson and AT Perry), while Pickett and Pitt were right up there in scoring. A great season for the underdog.
*****
AWARDS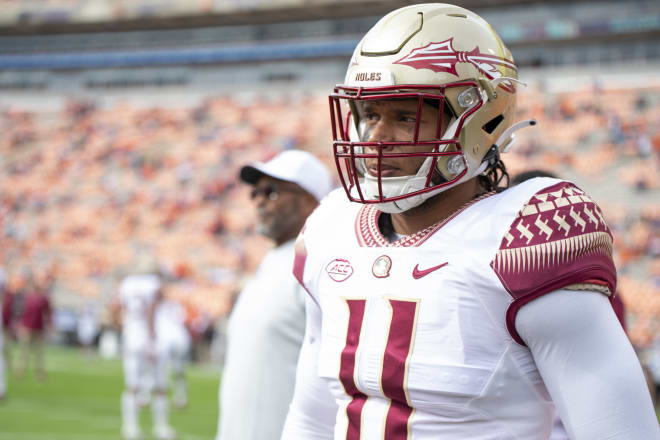 Offensive Player of the Year: Kenny Pickett, Pittsburgh
A lot of ACC quarterbacks had very strong statistical seasons - Brennan Armstrong and Sam Hartman, most notably - but Pickett stood above the rest. Pickett finished third in the Heisman voting after leading the conference in completions, completion percentage, passing touchdowns, total touchdowns and passing efficiency. He's the best QB to come out of the Steel City since Dan Marino.
Defensive Player of the Year: Jermaine Johnson, Florida State
The Georgia transfer was a menace for opposing offensive lines all season, leading the conference in sacks and tackles for loss. Despite having a relatively mediocre unit behind him and facing constant double teams, his presence alone made the rest of the team better.
Transfer of the Year: Charleston Rambo, Miami
This award should probably go to Jermaine Johnson, but I wanted to spread the love and spotlight a player who was outstanding from beginning to end of the season. Rambo finished with 79 catches for 1,172 yards and seven TDs, all of which were top-10 numbers in the conference.
Freshman of the Year: Andrew Mukuba, Clemson
While Clemson's offense struggled, its defense kept the team afloat throughout the season, in large part to Mukuba, who became the first Clemson true freshman defensive back to start a season opener in the history of the school. The safety finished the season with 52 tackles and nine passes broken up. He is definitely the next defender in line to become an All-American for the Tigers.
Coach of the Year: Dave Clawson, Wake Forest
This could just have easily gone to Pat Narduzzi, but Clawson deserves the nod because yet again he maximized the talent on his roster en route to an Atlantic Division title. Clawson remains one of the most underrated coaches in the nation, and it's kind of amazing that he hasn't been poached by a bigger program.
NFL Draft Stock Up (Offense), OT Ikem Ekwonu, NC State
We knew he'd be one of the best offensive tackles in the country but some (not myself) have him ahead of Alabama's Evan Neal as a top five pick. That's moving on up.
NFL Draft Stock Up (Defense), CB Andrew Booth, Clemson
Booth was up and down his first few years at Clemson, but he always had potential as a five-star out of high school. This season he put it all together and could be the second corner off the board following Derek Stingley Jr.