2017 NFL Draft: Top five defensive tackles
The 2016 NFL Draft is done and rookies are already making their impressions and signing contracts. But it's never too early to look ahead to the 2017 NFL Draft. Here are the top five defensive tackle prospects.
RELATED: Top 5 QBs for 2017 | RBs | WRs | OL | DE | Top 32 prospects
Recruiting: McDowell picked Michigan State over Michigan, Ohio State and Florida State on National Signing Day, but it wasn't so simple. According to reports, there was some family disagreement about McDowell's decision and his signed LOI didn't arrive in East Lansing until early April.
Stats: McDowell finished with 41 tackles and was second on the Spartans in tackles for loss and sacks with 13 and 4.5, respectively. The former five-star also recorded an interception, two forced fumbles and eight quarterback hurries.
Farrell's take: We had McDowell as a massive strongside end but a move to the interior was certainly possible despite his height and length. As a five-star and top-30 prospect, we knew the ceiling was high for McDowell and he was just starting to scratch the surface of his potential. At times McDowell played too high, and other times he wasn't physically dominant. But we became enamored when he flashed all his skills together, and now in college he is putting it all together.
Recruiting: The former four-star defensive tackle committed to Clemson over Florida midway through his senior season. Watkins had offers from all over the country but had narrowed it down to the Gators and Tigers leading up to his decision.
Stats: On an absolutely loaded defensive line this past season, Watkins finished with 34 tackles (7.5 for loss) including 3.5 sacks. He also had an interception and four pass deflections. He played alongside DL Shaq Lawson, who was a first-round pick and DL Kevin Dodd, who was the second pick of the second round.
Farrell's take: I remember the VTO Camp in Charlotte we ran when Watkins and Jonathan Bullard battled it out for MVP honors on the defensive line and both ended up invited to the Army Bowl right afterwards. Bullard ended up as the five-star of the two, but Watkins could end up drafted higher and No. 104 in the country is nothing to complain about. As a pass rushing defensive tackle, he will be coveted by NFL scouts and he's added a lot of that ability since his arrival at Clemson. He was more of a stout, run-stuffing kid out of high school.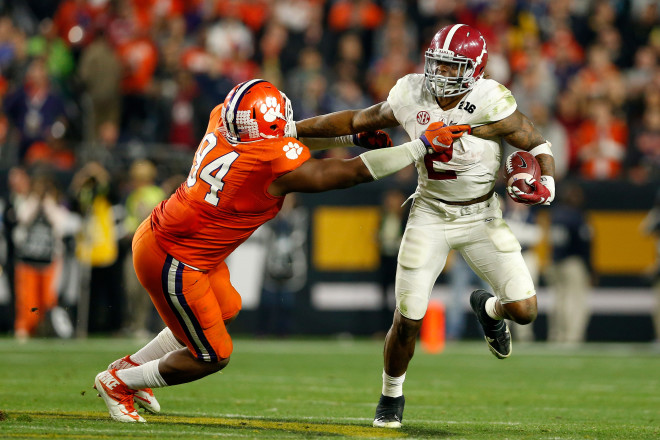 Recruiting: A few weeks before National Signing Day, Lotulelei committed to Utah over Oregon State, BYU, Cal, Utah State and others. He is the younger brother of Star Lotulelei, who played for the Utes and is now a defensive tackle with the Carolina Panthers.
Stats: Lotulelei finished with 26 tackles (five for loss) and one sack last season. The former three-star also forced a fumble.
Farrell's take: I remember seeing Lotulelei on film and being impressed but then seeing him in person and being a bit disappointed. He didn't have a ton of athleticism and wasn't great at getting off initial contact, so we made him a three-star and felt he was a project of sorts. But like his brother who was also a three-star, he's starting to prove us wrong. He needs to get up field more for scouts to really fall in love with him, but he's very strong at the point of attack and frees up teammates.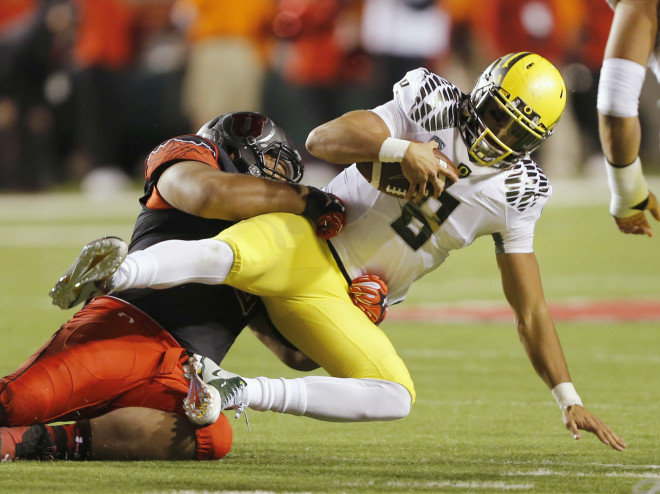 Recruiting: The former five-star defensive tackle signed a Letter of Intent with Notre Dame but asked to be released for family reasons. Irish coach Brian Kelly decided not to release him, but Vanderdoes won a ruling in front of the NCAA appeals committee so he could play at UCLA. Vanderdoes was committed to USC early in the recruiting process.
Stats: Vanderdoes tore a knee ligament in UCLA's opening win over Virginia last season and he missed the remainder of the season. He had eight tackles (two for loss) in the season opener. In the 2014 campaign, Vanderdoes recorded 50 tackles with 5.5 for loss and two sacks.
Farrell's take: Vanderdoes was a guy who had to convince me he was a five-star and finally did so in our last ranking. I remember every other site falling in love with him after his performance at The Opening, but I wasn't convinced. But his performance at the Army Bowl finally sold me and if he hasn't been injured last year he'd be higher on this list. He has tremendous ability and the hope is that he returns to full form and begins to push the pocket and chase down plays even more than in his promising freshman year.
Recruiting: LSU coach Les Miles accepted Godchaux's commitment to the Tigers in late September of his senior year even though he was rehabbing an ACL injury. Auburn, UCLA, Florida State, Ole Miss, Alabama and others were involved in his recruitment at different points.
Stats: Godchaux finished with 41 tackles, including nine for loss, and was second on the Tigers with six sacks. He also forced and recovered a fumble and registered four quarterback hurries.
Farrell's take: Despite his injury in high school, Godchaux was still a clear four-star and ranked No. 114 in the country as a strongside end who had the potential to move inside. He brought that pass-rushing ability as an outside guy to college and used it on the interior, which is what scouts love. He has a chance to shoot up this list with a huge year.