NFL Draft 2017: Top five offensive line prospects
1. Mike McGlinchey, Notre Dame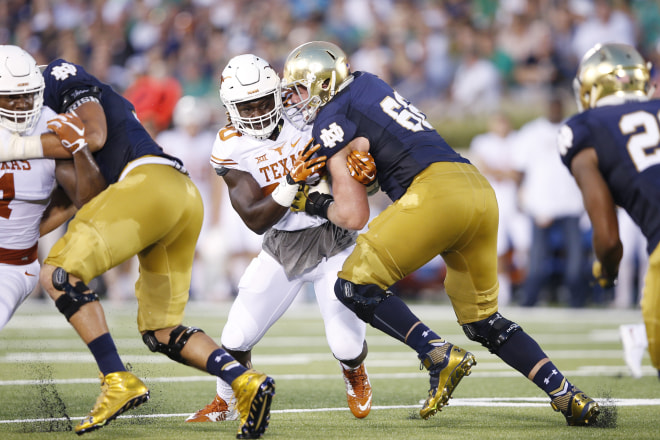 Recruiting: McGlinchey committed to Notre Dame in March of his junior year. Minutes after taking an unofficial visit to South Bend, he called ND coaches from the Indiana Toll Road to inform them of his decision. He picked the Irish over Wisconsin, Penn State, Virginia, Maryland and others. Atlanta Falcons QB – and former Boston College star – Matt Ryan is McGlinchey's first cousin.

Stats: Notre Dame rushed for 2,699 yards last season, averaging 5.6 yards per carry and 207.6 rushing yards per game. The Irish averaged 34.2 points per game.
Farrell's take: Why do I get the feeling this will be one of my bigger rankings regrets? McGlinchey was a super tall but super skinny recruit out of high school. He was a four-star but never dipped into the top 20 at tackle or into the Rivals250 because of questions about filling out that frame and getting strong enough. But I remember to this day one ACC coach telling me that this kid was a surefire first-rounder down the road. I guess I should have listened better because I absolutely love his NFL upside.
2. Roderick Johnson, Florida State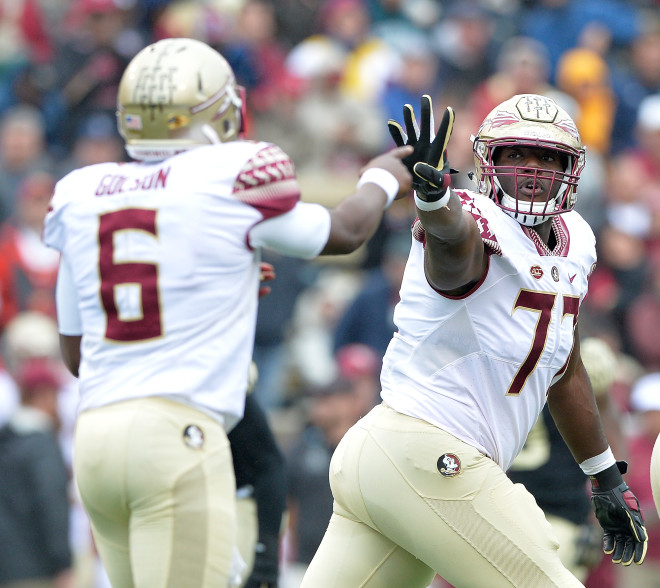 Recruiting: The Seminoles always seemed like the frontrunner for the Midwest four-star prospect but he waited until National Signing Day to make his decision. Ohio State and Alabama were the other serious contenders and Johnson had many other offers including several from the SEC and Big Ten.

Stats: Florida State had 1,100 more passing yards than rushing yards last season but the ACC power still did damage on the ground, averaging more than five yards per carry and 168.2 yards per game. Johnson helped block for RB Dalvin Cook, who had 1,691 rushing yards and 19 touchdowns.
Farrell's take: Johnson was a tall kid with good feet and a great frame that was already filled out a bit but he didn't play against the best competition. So it was tough to gauge how he would do against bigger and more physical players. That being said, he was obviously a four-star and in our Rivals250, so he wasn't missed. There's something about Missouri linemen over the last decade that should make us pay much more attention to the trenches in that state.
3. Cameron Robinson, Alabama
Recruiting: Alabama and LSU battled it out for the nation's top-rated offensive tackle and the Crimson Tide won out in early September when Robinson chose them over the in-state Tigers. The top two players in Louisiana that season, RB Leonard Fournette and WR Malachi Dupre, both signed with LSU.

Stats: Robinson was a key member of Alabama's stout offensive line, helping the Crimson Tide rush for 2,999 yards last season en route to a national championship. Heisman Trophy winner Derrick Henry totaled 2,219 rushing yards and 28 touchdowns on 395 attempts. Alabama averaged 4.7 yards per carry.
Farrell's take: The recent arrest of Robinson on felony charges changes his ranking quite a bit. He's clearly one of the top two most talented tackles in this draft along with McGlinchey to me, but how will the NFL feel about his arrest and how will he be punished at Alabama? This kid was obviously a can't-miss based on his ranking – despite his raw technique in high school – and he's the only one who can stop himself from being a star.
4. Ethan Pocic, LSU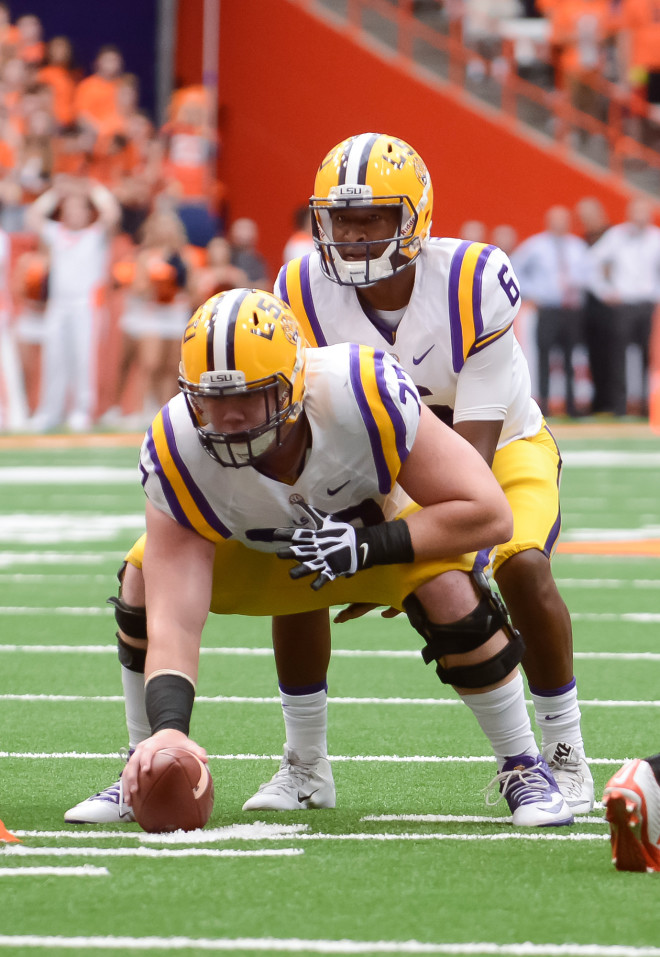 Recruiting: Pocic committed to LSU in the spring before his senior season, picking the Tigers over Ohio State and more than two dozen other offers. At the time of his commitment, Pocic's brother played at Illinois but the four-star chose the SEC instead.

Stats: Pocic finished last season with 132.5 knockdown blocks, the most at LSU since at least 2010. The Tigers rushed for 3,082 yards last season (256.8 per game) led by early Heisman contender Leonard Fournette, who had 1,953 yards and 22 scores on 300 carries.
Farrell's take: A national top 50 prospect, the only surprise with Pocic is that he moved from our projected tackle position to the interior of the line. That speaks to his ability to play with leverage as a taller lineman and his smarts as he can make all the line calls. There is no surprise here that he's being considered as a potential first-rounder.
5. Pat Elflein, Ohio State
Recruiting: Elflein committed to Ohio State one day after being offered in the summer before his senior season. He mainly picked the Buckeyes over Northwestern and Purdue but had many other offers as well.

Stats: Ohio State averaged just under 36 points per game last season and the Buckeyes rushed for 3,188 yards, led by first-round draft pick Ezekiel Elliott. The Buckeyes averaged 5.6 yards per carry and ran for 39 scores.
Farrell's take: This one we didn't see coming. Elflein was a bit limited in his footwork, wasn't a terrific or natural athlete at the position and he needed a little bulk. But he liked to brawl and play physical, and he has obviously taken the next step at Ohio State, something many prospects seem to be doing lately.