2017 NFL Draft: Ranking the top five quarterback prospects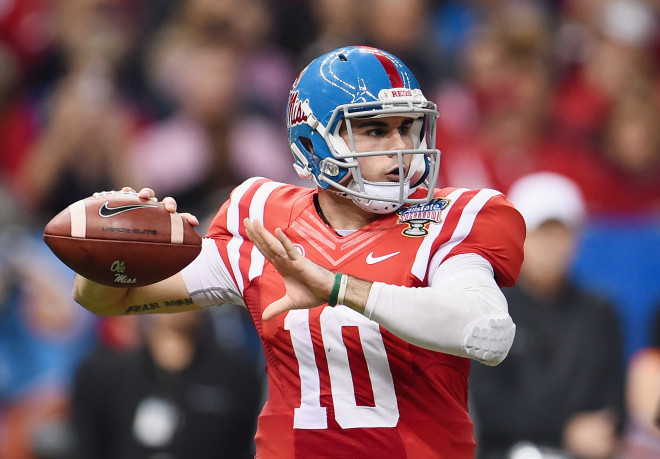 RELATED: Ranking the top 32 prospects for the 2017 NFL Draft
The 2016 NFL Draft is done and rookies are already making their impressions and signing contracts. But it's never too early to look ahead to the 2017 NFL Draft. Last week we came out with our top 32 for 2017 and this week and next we will break down our top five at each position. We'll start at quarterback.

Recruiting: Watson committed to Clemson about a year before National Signing Day and he stuck with the Tigers despite pressure from many programs. Ohio State, Auburn, LSU, USC, Oregon and Georgia were a few that stayed involved until the end.
Stats: Watson, a Heisman Trophy finalist, completed nearly 68 percent of his passes for 4,104 yards with 35 touchdowns and 13 interceptions leading the Tigers to the national title game last season. He also rushed for 1,105 yards and 12 scores. Watson is considered a Heisman front-runner entering this season.
Farrell's take: Watson isn't a pure pocket passer, but he can be when you watch his mechanics and willingness to take a hit to complete a pass downfield. His work with his feet makes him extra dangerous and the biggest threat at the position for the draft. A former five-star prospect, we saw greatness in Watson where many others didn't.
Recruiting: Kaaya committed to Miami in May before his senior season, but a late push by Boise State definitely made things interesting. UCLA and USC also stayed involved for a long time but in the end it was a two-horse race for Kaaya between the Hurricanes and the Broncos.
Stats: Kaaya completed about 61 percent of his passes for 3,238 yards with 16 touchdowns and five interceptions this past season. This will be Kaaya's first season under new coach Mark Richt.
Farrell's Take: I think Kaaya takes the next step under Richt as a pro prospect. He's a guy who has started since his freshman year, and I love that (e.g. Jared Goff) because it allows you to grow under tough circumstances. Kaaya has the size and intangibles to be high on draft boards. This is a huge year for him as he could push for the No. 1 quarterback spot in the draft. He was a four-star out of high school who needed to fill out, but that could also have been said about Goff.
Recruiting: Kelly committed to Clemson over Alabama, Michigan State, Florida State, Purdue and others. In April 2014, Kelly was dismissed from Clemson and later that same year he was arrested following an altercation outside a Buffalo nightclub. He transferred to East Mississippi Community College and then to Ole Miss, where he was the Rebels' starting quarterback last season.
Stats: Leading Ole Miss to a 10-3 record including a win over Alabama, Kelly finished with 4,042 passing yards with 31 touchdowns and 13 picks. He completed about 65 percent of his passes. Kelly was also second on the team with 500 rushing yards and a team-high 10 rushing scores.
Farrell's Take: Kelly is a wild card. He has the talent for sure – a good arm, confidence and he can extend plays. A four-star out of high school, the off-field questions were the reason he was undervalued a bit.
Recruiting: Falk's recruitment was a whirlwind that started with an early offer from Florida State only to have it pulled after he played in just two games as a junior following his transfer from Logan, Utah, to Westlake Village (Calif.) Oaks Christian. Idaho and Wyoming got involved but Falk chose to attend Cornell. After a coaching change, Falk walked-on at Washington State, earned a scholarship and then won the starting job.
Stats: Falk completed 447 of 644 passes (69.4 percent) for 4,561 yards with 38 touchdowns and eight interceptions. He average just about 380 passing yards per outing.
Farrell's Take: Falk is a perfect example of a guy who found the right system and excelled in it. He has blossomed under Mike Leach, but there was nothing we saw in high school, especially after his lost junior year, that made us think he would be a potential first-rounder. He had an average arm and didn't kill it against the top competition when he had a chance. Now he's making us look silly.
Recruiting: In the summer before his senior season, Rudolph committed to Oklahoma State over LSU, Virginia Tech and many others.
Stats: Splitting some time with J.W. Walsh, Rudolph completed 264 of 424 passes (62.3 percent) for 3,770 yards with 21 touchdowns and nine interceptions this past season. He threw for 290 yards per game and Oklahoma State averaged just less than 40 points per outing.
Farrell's take: Rudolph, a four-star coming out of high school, was a huge kid with a live arm who showed excellent accuracy for a signal-caller who could be tempted to just fire the ball on every throw. He chose the right offense because he's a quick decision-maker who is made for a spread, throwing offense where he can put up huge numbers. Rudolph is lower on the list of quarterbacks for the 2017 NFL Draft by some others and higher by a few. He's a name to keep an eye on if he has a big year.