The 10 biggest early-entry losses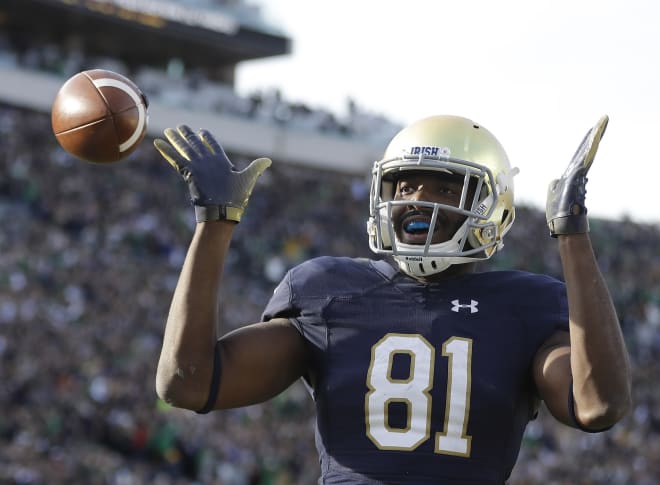 *****
Overview: Boykin had nine more catches than any other receiver at Notre Dame this past season, 233 more receiving yards and double the receiving touchdowns (eight), so his loss will be felt in the Irish offense. The former four-star who picked Notre Dame over a late push from Michigan State, among others, had a great showing at the NFL Scouting Combine, running an excellent 40-yard dash at 4.42 seconds.
Farrell's take: Boykin is clearly a freak athlete and was a huge part of the Notre Dame offense, so his loss will be felt. I'm not sure who the next man up will be, especially as a big receiver, but imagine Boykin back in that offense for one more season? He's one of the bigger losses in the country at wide receiver for any school.

*****
Overview: Metcalf might get drafted earlier, since he looks like a million bucks and he had an exceptional combine, but Brown is by far the one with better stats. This past season, Brown, a former four-star from Starkville, Miss., who picked the Rebels over Mississippi State and Alabama led Ole Miss with 85 catches for 1,320 yards and six touchdowns. Metcalf, who picked Ole Miss over Alabama, Auburn, Cal and others - and who has an NFL family pedigree - missed time this past season with a neck injury, but played in seven games and had 26 catches and five touchdowns.
Farrell's take: This duo is freaky and both could end up in the first round. The Rebels won't miss the production of Metcalf because there wasn't a ton, but when he was on the field he allowed Brown to do his thing and take away the defense's focus. Brown is the real loss here, and Ole Miss will suffer on offense because of it. The Rebels can't help but lose some production.

*****
Overview: Bush backed up an outstanding season in which he posted a team-high 80 tackles with 9.5 for loss and five sacks with a strong performance at the combine. He has emerged as probably the second linebacker off the board later this month at the NFL Draft. The former four-star who picked the Wolverines despite his father playing at Florida State ran 4.43 in the 40 and delivered great numbers in the vertical leap, broad jump and three-cone drill.
Farrell's take: Losing the heart and soul of the defense is never a good thing, and that's exactly what Bush was for Michigan. There is talent to replace him, but the athleticism and ability to cover so much ground will drop a bit. And it's hard to gauge how much his leadership means to the team. He will be missed on and off the field.

*****
Overview: The tight end combination of Hockenson and Fant are going to be seriously missed next season in Iowa's offense after the duo led the Hawkeyes with a combined 88 catches for 1,279 yards and 13 touchdowns last season. At the combine, Fant - who picked Iowa over Nebraska and Minnesota - had the fastest 40 time among all tight ends. Fairly or unfairly, Hockenson - whose only other offers came from Iowa State and Eastern Michigan - has been receiving heady comparisons leading up to the draft, including one to Rob Gronkowski.
Farrell's take: Two first-rounders at tight end from the same school? It could happen, and even if it doesn't, this is an insane 1-2 punch to lose. Imagine if they both came back? Iowa fans can certainly imagine it. In the meantime, the offense won't change much. The Hawkeyes will just need some players to step up in a big way.

*****
Overview: Harry was a huge majority of the passing game for the Sun Devils, finishing with 73 catches for 1,088 yards and nine touchdowns this past season. To put those numbers into perspective, Harry - who picked Arizona State over Texas A&M, Washington and others - had 40 more receptions, 614 yards and six more TDs than any other receiver on the team.
Farrell's take: Ouch. Harry was far and away the focus of the passing offense at Arizona State, and there's no way one player will replace him. It's doubtful another player like him will come along at wide receiver for a few years and he's clearly one of the biggest overall losses in the country.

*****
Overview: In one season as Ohio State's starter, Haskins had a phenomenal year, passing for 4,831 yards with 50 touchdowns and eight interceptions. The former Maryland commit, who flipped to Ohio State over Florida and others, completed 70 percent of his passes and nine receivers had 20 receptions or more. Widely considered the second-best quarterback in the draft, Haskins could easily be an early first-round pick, but a report by NBC's Peter King this week said word is spreading that the Ohio State star could fall to the fourth QB off the board.
Farrell's take: Justin Fields is talented, but can we really say he will be as good as Haskins right away? I don't think there's any way to say that. Fields brings a different element to the game with his running ability but he's not as pure a passer as Haskins. Now that Haskins' stock is slipping a bit, coming back for another year might have been a good move.

*****
Overview: Depending on what the Arizona Cardinals decide to do with current quarterback Josh Rosen, Murray could be the No. 1 overall pick in the NFL Draft, as he could be a perfect fit in new coach Kliff Kingsbury's offense. A former Texas A&M quarterback who transferred to Oklahoma, Murray threw for 4,361 yards with 42 TDs and seven picks this past season and he rushed for 1,001 yards and 12 touchdowns. Oh, and Murray also won the Heisman Trophy and led Oklahoma back to the College Football Playoff.
Farrell's take: Jalen Hurts is good, and he has put up excellent numbers as a starter in the SEC, but there will certainly be a drop-off when it comes the passing game. Oklahoma will still be a potent team offensively with Hurts, but can you imagine how dangerous they would be with Murray back in shotgun for another season? The Big 12 race would be over before it started.

*****
Overview: Playing in only eight games this season - and being involved in a crazy dust-up with then-coach Major Applewhite about wearing a coat on the sidelines - Oliver finished with 54 tackles (14.5 for loss) with three sacks, a forced fumble and nine quarterback hurries. In his three-year career, Oliver totaled 192 tackles (53 for loss) and 13.5 sacks. Picking Houston and then-coach Tom Herman over Alabama, LSU, Texas and others, Oliver could be one of the top defensive linemen drafted in a loaded class.
Farrell's take: Houston is not a Power Five program and it doesn't get five-stars like Oliver often (if ever), so his loss will be huge. He took up so many blockers and so much attention that he allowed his teammates room to roam and make big plays. This is the biggest defensive loss on the list.
*****
Overview: The domination by Simmons and Sweat on Mississippi State's defensive line was striking this season - and will be sorely missed heading into 2019. Simmons, who surprisingly picked Mississippi State over perceived leader Ole Miss, totaled 63 tackles with 17 for loss this past season. Sweat, who played at Michigan State before transferring to the Bulldogs, had 53 tackles and 11.5 sacks. He intrigued NFL execs even more after dominating at the combine with a 4.41-second 40-yard dash, setting the event record for defensive linemen.
Farrell's take: Two freak athletes along the defensive line will certainly hurt Mississippi State on defense, and I don't see the depth on the roster to replace both easily. The best defensive end/defensive tackle combination in the SEC is off to the NFL and major holes will be left.

*****
Overview: Snell had a fantastic three-year career at Kentucky, rushing for more than 1,000 yards in each of those seasons and finishing with 48 touchdowns. But he did carry the ball 737 times, a growing concern for running backs that there won't be a ton of tread left on the tires. Snell did not necessarily hurt his stock at the combine, but his 40-yard dash times and vertical leap were not elite level. Still, Kentucky might not find a running back like Snell for a long while.
Farrell's take: I'm going out on a limb and saying this is the biggest offensive loss on the list because of what Snell brought to the table in skill, emotion and leadership. His running style set the tone for the offense and he was a guy who could always be counted on for the big play or extra yardage. He's a huge loss.