Where are they going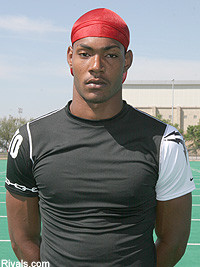 COLLEGE STATION, Texas - LSU, a team that has always been a force recruiting the state of Texas, apparently is heading to the Lone Star state looking for a signal caller.
The NIKE Training Camp at Texas A&M this past weekend featured two top quarterbacks in
Joe Chaisson
and
Jarrett Lee
not only performed well on the field but had one big similiarty - they both picked up an offer from LSU within the last few weeks.
"LSU just did, yeah, they offered just a couple of weeks ago," Chaisson said. "I was really excited. I'm real big on LSU and that's a real honor to get that. They're in my top three now with Tennessee and Oklahoma."
"All three are great programs and I just love to watch them on television, so I've got a lot that I like about those three schools."
Chaisson says that a visit to Tennessee this summer is all he has planned at this point, but he's already been to Oklahoma and looks to make a stop at LSU as well.
Lee, who recently returned from Nebraska, is now headed to Texas Tech on May 6. He also grabbed an offer from the Tigers and said that they're definitely in the hunt with the rest. Though he hasn't come out with any favorites, many people close to the situation say that the Huskers have a slight edge at this point after his trip to Lincoln.
However, a trip to Lubbock could shift things back to even before a likely summer decision.
Nonetheless, it was obvious that the Tigers are once again making themselves known in Texas, especially with the quarterbacks.
Trice performs well, earns new offer
Killeen (Texas) Harker Heights wide receiver
Nick Trice
had his season cut short before his junior year last year with a knee injury.
However, working hard in the off-season all lead up to this moment at the NIKE Training Camp where he put together a 40-yard dash in the 4.5-second range and made some tough catches.
Right after leaving the camp, his coach informed him that the Aggies were now getting involved.
"I just found out that I got an offer from Texas A&M," Trice said. "I was pretty excited. I guess I did a good job out there and I got noticed."
The Aggies join Oklahoma State as the first scholarship offers in hand.
2008 prospects come to compete
Many people are already well aware of 2008 offensive lineman
David Snow
. Apparently, the junior-to-be has picked up verbal offers already from Texas A&M, Baylor, and Mississippi State.
Three 2008 quarterbacks showed up making many think that the state will once again be loaded with passers in the next recruiting class. Southlake Carroll's
Riley Dodge
, Birdville's
Tommy Dorman
, and Mesquite's
Kelly Page
should all get early looks as top signal callers in the next recruiting class.
Dodge's teammate, highly touted junior-to-be running back
Tre Newton
showed up but didn't compete because of a minor injury. However, he looked the part and it's definitely easy to see where he gets his build. Newton's father is NFL lineman
Nate Newton
.
Waco safety
Victor Johnson
held his own against older receivers in the one-on-ones. The buzz has definitely started for Johnson and he should have a hefty recruiting process coming up.
DFW cornerback shines with new offers
Interest will certainly grow after the NIKE Camp with defensive back
Jamell Fleming
. However, before he even stepped on the field for the camp, he got two new offers from UCLA and Wisconsin.
While Oklahoma was a team that he was favoring early, the Bruins have jumped into the driver's seat for the Texan.
"My sister lives out there and I don't know, I just like California," Fleming said. "I kind of always wanted to go out there."
Wisconsin has also joined the mix with Baylor, the first team to offer over a month ago.
Fleming says he'll take some trips before making a decision.
Hannan impresses, still solid
Oklahoma State commit
Jason Hannan
impressed people going up against a very quality collection of the defensve lineman this past Saturday. After the NIKE Training Camp, Hannan assured everyone that he's still solid to the Cowboys.
He hasn't picked up any new offers and says that Stillwater is where he plans on signing this upcoming February.
Chavis keeps adding offers
Talented athlete
Billy Chavis
, who is being recruited heavily for the tight end and wide receiver positions, has added new offers bringing his total to five.
Oklahoma State, Iowa State, Missouri, Kansas State, and Baylor have all joined the mix for the talented Chavis.
"Most schools are recruiting me for tight end slash receiver," Chavis said. "Oklahoma State is probably at the top with K-State being right behind them. I don't know though man, I'm trying to stay somewhat close to home."
Chavis doesn't have a set date for a decision.
Kirkendoll gets Miami offer
Most people thought that when
James Kirkendoll
, one of the more heavily recruited receivers in the Big 12 region, received an offer from the Miami Hurricanes, that a commitment would follow.
After receiving the offer from the ACC school, apparently Kirkendoll wants to wait a little longer.
"I just sat down with my family after they offered and thought about some things," Kirkendoll said. "We're just going to wait until probably June to make a decision."
Kirkendoll says he's open at this time with no leaders.
TCU gets one, closing in on another
Brenham (Texas) High School is quickly becoming a hot spot for TCU to go for talented commitments. In one of the more loaded years in recent memory, Brenham has several high profile recruits that have numerous offers.
One of those, cornerback
Shawn Sullivan
, had picked up offers from the likes of Nebraska, Oklahoma State, Colorado, Wisconsin, and many others along with the Frogs. TCU, however, was the pick that he made some time ago.
Sullivan had been keeping it quiet, but things came out after the NIKE Camp.
"It's close to home," Sullivan said. "I feel that TCU was just the best fit for me and place for me to go. I have a lot of family that were helping me out telling me I should go there and plus I have a lot of family close there that live up in Dallas."
"I didn't commit like everyone thought," Collins said after the NIKE Camp. "TCU is my leader and I may have a decision on Tuesday of this week."
Etc.
Fort Bend Dulles linebacker
Brandon Herron
impressed many during drills this past Saturday and showed why he already has two offers in from Missouri and Utah…Seguin duo
Desmond Jackson
and
Marcus Richardson
both hold offers from Nebraska…Jackson also has an offer from Oklahoma State, but is getting interest from Texas as a possible cornerback. His early favorite is UT. Dallas (Texas) Greehnill linebacker
Alvin Jordan
added a Wyoming offer after his strong showing at the NIKE Camp...Jordan is also receiving interest from Arkansas, Texas A&M, Texas Tech, and SMU.