Weekend Visit Preview: Where biggest official visits are taking place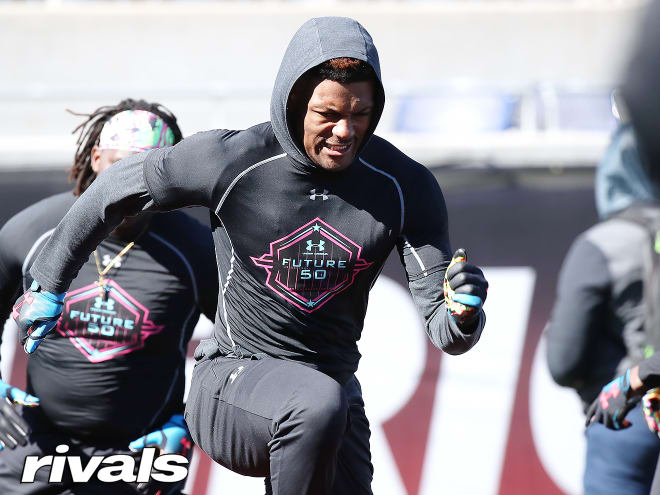 Top match-ups in the Pac-12, Big Ten and SEC are attracting top prospects this weekend. The intro to this weekly feature is starting to sound like a broken record, but hopefully it conveys the recruiting proclivity of college programs to have big visit weekends in conjunction with their best home games. That is when your program puts its best foot forward. The pregame atmosphere is thick with anticipation, the biggest crowds of the year are on-hand and win or lose, top targets are almost certainly going to have a positive experience.
This weekend the biggest home games in college football are taking place in Ann Arbor, Eugene, Baton Rouge and several other college towns across the country. We break down five of those big visit weekends here.
OREGON 

The last time Washington played in Eugene, it snapped a 12-game losing streak against Oregon in this series. This year, the Huskies return as the favorite in a match-up of Top 20 ballclubs, and the Ducks will welcome them with an impressive list of visitors. Three official visitors highlight the weekend, with five-star California defensive end Kayvon Thibodeaux the headliner. Alabama and Florida State previously hosted Thibodeaux for official visits this season, with Florida and USC among the schools with a good shot to host Thibodeaux in the future.
Thibodeaux will be joined on his official visit by a pair of three-star defensive ends in Braylen Ingraham and Isaac Townsend. Ingraham has already made official visits to Oklahoma and Kentucky, and most recently officially visited Alabama the weekend of Sept. 29. Townsend has been committed to the Ducks since June.

Additional Oregon commitments who will be in town for unofficial visits include Rivals100 prospects Mase Funa and Mykael Wright. Mario Cristobal, a one-time Rivals Recruiter of the Year when he was an assistant coach, is showing he is a heck of a recruiting head coach as well, as Oregon currently boasts the No. 3 recruiting class in 2019.
>>For more on Oregon's visit weekend head to DuckSportsAuthority.com<<
LSU 

The job Ed Orgeron and Co. are doing with this 2019 class may not be getting enough attention. The Tigers head into the weekend with the No. 6-ranked recruiting class and are tied for the most five-stars committed with three. They will look to build upon that this weekend. There will be just one official visitor, but a whole host of top unofficial visitors, headed to Baton Rouge to see the No. 13-ranked Tigers in their biggest test thus far with No. 2 Georgia coming to town.

The official visitor is Siaki Ika, a four-star defensive tackle out of Salt Lake City. A one-time BYU commit, Ika now has a top eight that also includes Alabama, Ohio State and USC. LSU will be Ika's first official visit of the fall.
Among LSU's more interesting unofficial visitors expected in this weekend is Rivals100 cornerback Christian Williams, who is currently committed to Alabama. There could be additional prospects committed to rivals SEC programs in the stands as well, and they will be welcomed by a large contingent of LSU commits, including Kardell Thomas. The five-star offensive guard made an official visit to Penn State a couple weekends back, but is staying home this weekend to be in the stands for the program he has been committed to for more than two years.
>>For a full list of visitors headed to LSU this weekend see TigerDetails.com<<
MICHIGAN 

There was once a time Michigan Stadium did not host night games. Portable lights were brought in for 3:30 p.m. games that would end after dark for many years, but the first true night game at "The Big House" did not occur until 2011. Now, night games are an annual occurrence in Ann Arbor and reserved for the biggest games. That is what is taking place this weekend, when No. 15 Wisconsin comes to town to battle the No. 12-ranked Wolverines.
Late starts are also more conducive to official visitors, and Michigan will host three this weekend. Rivals250 offensive tackle Trevor Keegan plays northwest of Chicago on Friday night, but will have plenty of time to get to Ann Arbor to start his official visit Saturday with kickoff not slated until 7:30 p.m. ET. The late start also presents a good opportunity for Michigan's two Connecticut-based 2019 commitments, offensive tackle Jack Stewart and linebacker Charles Thomas, to make their official visits.
The list of unofficial visitors is highlighted by arguably Michigan's top remaining target in the 2019 class – five-star Zach Harrison. The Ohio-based defensive end already made his official visit to Ann Arbor back in June, when he was expecting to render a decision before the start of his senior season. Now that Harrison's commitment date has been postponed he is circling back to top schools Michigan, Ohio State and Penn State for unofficial game visits this fall.
>>For Michigan's full recruiting visitors list check out TheWolverine.com<<
TEXAS 

Following their Red River Rivalry win and a 5-1 start to the season, Texas is riding a wave of momentum and will look to capitalize with a sneaky good visitor list in conjunction with Saturday's home contest against Baylor. Three official visitors have already been confirmed, and that list could still grow before all is said and done. The Longhorns currently have an 18-man 2019 class that has cracked the top 10 in the Rivals team recruiting rankings.
JUCO linebacker Caleb Johnson scheduled his official visit to Texas for this weekend while he was still committed to Iowa State. Johnson then decommitted from Iowa State on Tuesday, setting up what could be a big weekend in Austin. Another prospect committed elsewhere also has scheduled an official visit to Texas for this weekend, and that is three-star wide receiver commit Kennedy Lewis. Committed to TCU since June, Lewis has been open about taking additional official visits almost since the beginning of that commitment.
In-state athlete Peyton Powell is the third official visitor confirmed for this weekend thus far. A prospect who could project to either side of the football, Texas may be warming to the idea of bringing in the three-star at quarterback.

From a ratings standpoint, the biggest expected visitor headed to Austin this weekend is five-star class of 2020 running back Zachary Evans. Evans is coming off an unofficial visit to Texas A&M last weekend.
>>For more on Texas' recruiting weekend head to Orangebloods.com<<
AUBURN  

Other schools have longer visitor lists for Saturday, but when it comes to importance of this upcoming visit weekend, Auburn stacks up well. The Tigers have a Top 15-ranked class with as many five-star commitments as any team in the country, but their 15 total commitments is on the low end of the spectrum and additional bodies are needed to fill out the class. Auburn's top remaining target left may be Rivals100 running back Noah Cain, who makes his official visit this weekend to see the Tigers host Tennessee.
It will be an 11 a.m. ET kickoff in Auburn, which usually is not conducive to a big recruiting weekend. That is why this weekend is expected to be mostly about Cain. Four-star athlete commit Zion Puckett is likely to be the only other official visitor for the Tigers this weekend. Who else fills out Saturday's visitor list remains to be seen, but you can bet most of the coaches' attention this weekend will be on the running back from IMG Academy. LSU is the current favorite for Cain, according to FutureCast, but Auburn is going to try and turn the tide their way this weekend.
>>For more on Auburn's recruiting weekend check out AuburnSports.com<<