Washington lands four-star cornerback Curley Reed from Louisiana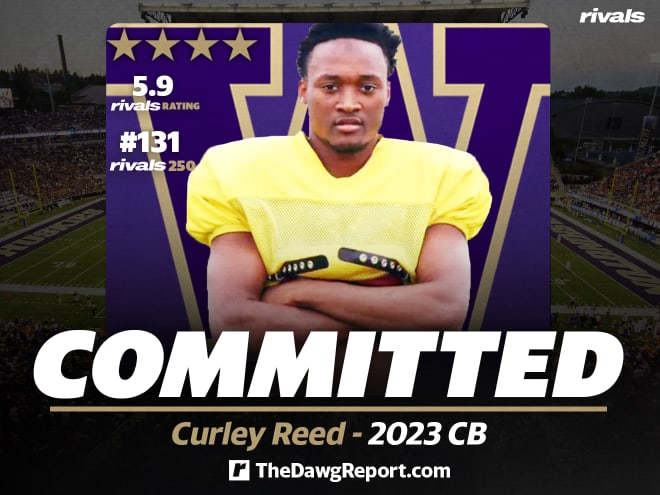 Washington got back on the board in a huge way on Thursday evening with a commitment from Lake Charles (La.) College Prep four-star cornerback Curley Reed, giving the Huskies their second pledge in three days.
Reed, who is ranked as the No. 131 prospect in the country for the class of 2023, becomes Washington's highest-ranked commit at this point in the cycle and just the second four-star in the Huskies' 2023 class.
After a breakout sophomore campaign, Reed started his recruiting rise with offers from the SEC and Pac-12 including a big one from in-state LSU after a standout camp performance. After his junior season, the attention started to really flood in as 15 of his offers came in the 2022 calendar year including his offer from Washington in April.
The Huskies immediately jumped out as a program that intrigued Reed as he locked in an official visit, one of just two he would take (TCU), and is now a commit for Kalen DeBoer and his staff.
A lengthy boundary corner at 6-foot-2 and 185 pounds, Reed uses his long arms to minimize a good start off the line from opposing receivers by jabbing them as soon as the ball is snapped to throw them off balance.
In man coverage, it is almost impossible to "out-bully" Reed as his size and aggressiveness makes life difficult for tall, wide-bodied outside receivers to get into rhythm both at the snap and in jump ball situations. In zone coverage, Reed can hold down a boundary zone with his adept ability at identifying plays early on in the backfield while also using his length to make up ground in coverage.
In the run game, his size allows him to shake off tacklers easier than just about any corner you can find while his long arms allow for a large tackle radius that makes it difficult to get by.
In looking at areas that need improvement, while Reed's game doesn't necessarily predicate on him being quicker than anyone that lines up in front of him, his speed could use an uptick to account for Power Five competition. If he can pair his length and ball skills with speed, Reed has an upside that would see him play on Sundays for a long time.