Under Armour All-America Game: Takeaways from Orlando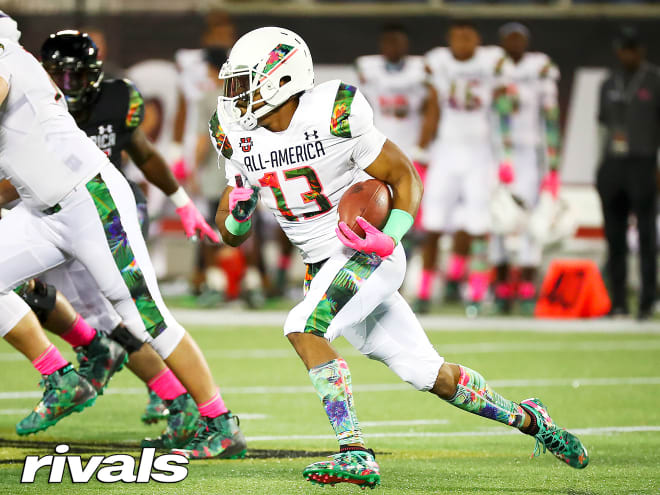 MORE FROM UNDER ARMOUR: Stock report | Four-star WR to Florida | Three-star LB to Illinois
ORLANDO – The 2019 Under Armour All-America Game is in the books. And while the final score matters not in an exhibition such as Thursday's, there was plenty to gleam from the contest. Below, Rivals.com's Rob Cassidy shares takeaways from the event and how they relate to college teams and the sport's landscape as a whole.
The December signing period has killed all-star drama
These days, postseason all-star games feature fewer in-game commitments and less recruiting news to pour over. In fact, there were just nine uncommitted players at this year's Under Armour All-America Game, only three of which announced during the televised exhibition. It's why fan interest in the event (and games like it) is now of a different nature.
With most players that suited up in Orlando already signed with FBS programs, fans now receive a straightforward preview of the future of their favorite team. Gone are the days of a player having a great week at an all-star game and breaking his commitment in favor of greener pastures, which might not be such a bad thing. Interest in recruiting is, after all, an attempt to gleam hope for the future and it seems easier for fans to do so without having to worry about if the committed tailback that ran for 180 yards against an all-star defense will ditch their school in favor of Alabama (or the like) on Signing Day. Is the feel of the game different? Unmistakably so. Whether or not that's good or bad, however, is up for interpretation.
Speedy Ole Miss commit is the total package  
Ole Miss pledge Jerrion Ealy, the game's MVP, runs with incredible power for a prospect listed at 5-foot-8 and less than 200 pounds. The Rivals100 prospect had 119 rushing yards and two touchdowns in the contest, but the manner in which he went about accomplishing it was more impressive than the numbers themselves. Ealy, who caught a few passes in addition to his 16 carries, was heavily involved in his team's offense in the early going and ran well between the tackles, shedding blocks and trucking a defender or two. Ealy's incredible speed has never been in doubt, so it was nice to see him manage to showcase another, more physical side of his game in Orlando.
The Mississippi-based standout is committed to the Rebels but has not signed. He is also considering Clemson. Projected as a first-round pick in next year's MLB draft, Ealy could elect to forgo college in favor of a career on the diamond.

LSU's kicking game is in good hands 
Kickers don't get a lot of ink in the recruiting world. They don't create much intrigue or make many highlight films, but LSU-bound prospect Cade York's 59-yard field goal was as notable as anything that took place in Thursday's game. The future Tiger broke the record for longest field goal in Under Armour All-America Game history and did so with a little room to spare.
The kick, which would have been good from 60 yards or so, served as the highlight of a low-scoring first quarter and should be encouraging for Tiger fans, which are used to good kicking having watched Lou Groza Award finalist Cole Tracy this season.

Florida State is struggling to find recruiting momentum 
In a vacuum, the fact that wide receiver Arjei Henderson chose Florida over Florida State isn't reason for Seminole fans to worry. Problem is, Henderson's nationally televised announcement didn't happen in a vacuum. Instead, it happened in on Thursday and in world in which Florida State is having real trouble finding momentum on the recruiting trail.
Henderson's decision comes on the heels of an early signing period that saw the Seminoles lose quarterback Sam Howell to North Carolina and miss on a couple of other priority targets, including Will Putnam, who chose Clemson. There's no reason to panic just yet, obviously, as Willie Taggart's class still includes some star power, some of which remains unsigned. Things are not ideal, however. There was noticeably less buzz about the Seminoles this week in Orlando, even among prospects at the junior-heavy Future 50 Camp that took place the day of the Under-Armour game.
Will a short lull in recruiting matter much in the long run? It's hard to say, but the lull is certainly real and it seems to be coming at a time in which FSU should be capitalizing on uncertainty at Miami, against which it often recruits.

Florida State pledge Travis Jay outperformed his ranking
The news is not all bad for the 'Noles. Florida State cornerback commit Travis Jay has always had the size and athleticism of a Rivals250 prospect and entered all-star week as a four-star outside the rankings, as there was some questions about how he would look when the competition level increased.
Those questions no longer exist. Jay looked just fine in the contest, shining in coverage against highly-thought-of wide receivers, overpowering them at times and running stride-for-stride with them at others. It's safe to assume Jay will make his way into the Rivals250 when the list updates this month.