Under Armour All-America Game: Stock Report from day two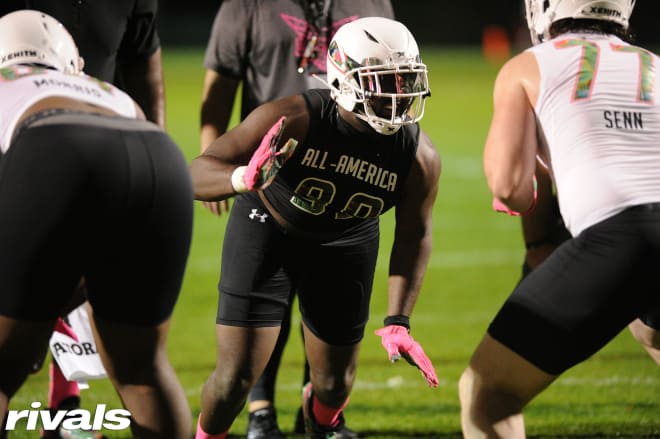 LAKE BUENA VISTA, Fla. — After a practice under the lights Sunday, the Under Armour All-Americans hit the field Monday morning for practice No. 2. It was still somewhat of a light practice, and not a lot of live action in pads, but after watching almost three hours of practice, here is the Stock Report for day two.
MORE FROM THE UA ALL-AMERICA GAME: Day one Stock Report | Three-Point Stance after day two
STOCK UP 
On day two, defensive lineman Charles Moore was once again a standout on Team Flash. He used his quickness again to beat numerous offensive linemen when the pads were on. Moore is an intriguing prospect because he is likely a strongside end who could slide inside to be a quick three-technique in long yardage situations. The Mississippi State commit continued to shine on day two.
*****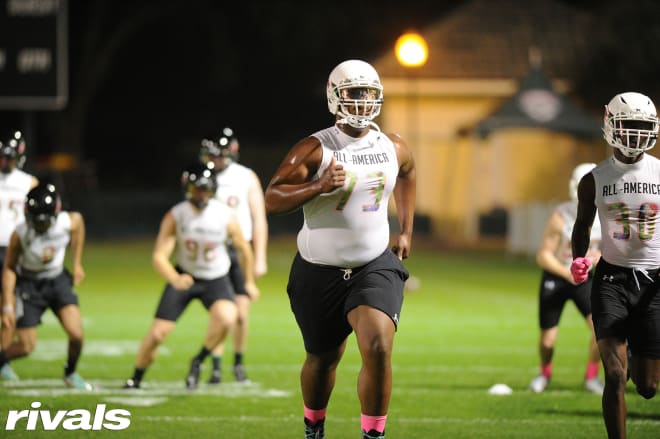 Evan Neal dwarfs every player on the field, but moves better than most of the offensive linemen. It should be hard for a player as big as he is to stay low and be quick enough to get into his pass set, but the Alabama signee does it with ease. Neal didn't lose a rep during the one-on-one session, showing great technique and timing. The way he dominated the competition throughout the practice was extremely impressive.
*****
Michigan signee Mazi Smith just kept pushing the man in front of him into the backfield all day. He was strong at the point of attack, he played with good leverage and he was tough to slow down. He looked like he got stronger as the day progressed.
*****
Kayvon Thibodeaux was dominant on day one, and day two was almost a repeat of that performance. No offensive tackle could stay in front of him, due to his quickness off the ball. He is definitely performing like one of the top prospects in the country after two days on the field. The Oregon signee is freaky athletic and looks to be one who will see the field very early in Eugene.
*****
Theo Wease was talked about as a Stock Up guy Sunday night, and he left no doubts on day two. He was getting consistent separation, he was snatching the ball out of the air and he made numerous plays over the top of the secondary. The Oklahoma signee could be the next star receiver in Norman.
*****
There could be a good debate on who the top receiver was on Team Ballaholics on Monday. Was it Wease? Some may think so. Others would have a strong case for Ohio State signee Jameson Williams. He was quick off the line, explosive out of his breaks and he was making plays down the field. He also flashed great body control.
*****
Maybe the top wide receiver for the day was Texas A&M signee Dylan Wright. He is currently just outside the Rivals100 at 137, but on day two he performed like he could make a move up the rankings in a couple of weeks. He has such a large catch radius and he was a nightmare for defensive backs Monday. At his size, Wright was showing speed to get behind defenders and grabbing every ball within reach. He really created a buzz on Team Flash on day two.
STOCK DOWN 
Florida signee Deyavie Hammond struggled when the pads went on Monday. He may be a little heavy. He struggled with technique and he was knocked to the ground a couple of times in limited reps.
*****
Amari Kight had some solid reps Monday, but in live action he struggled a good bit. He looked a little unsure going against top-end defensive ends. The Alabama signee was off balance, lunging at times and just struggled much of the day.
*****
Despite being one of the smaller offensive linemen, Nolan Rumler has been getting beaten off the line. The Michigan commit had a hard time slowing down defensive linemen that crossed his face and beat him to the outside. Rumler was stout against inside rushes and did a good job getting to the second level on run plays. He will really benefit from the Michigan strength and conditioning program.