Under Armour All-America Game: Stock Report from day one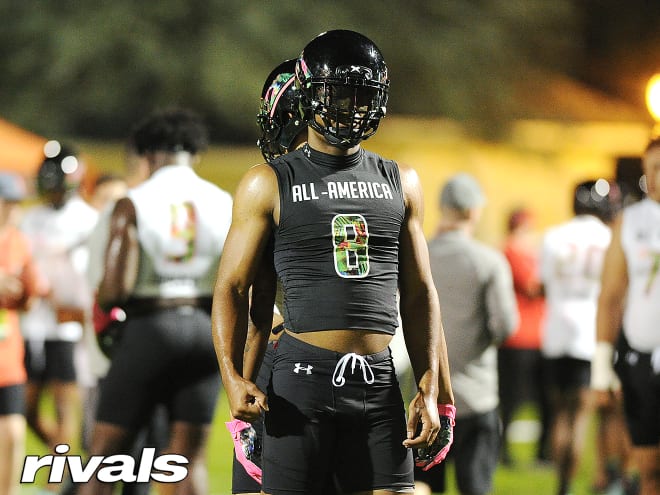 LAKE BUENA VISTA, Fla. — The players came out in only helmets Sunday evening for the first night practice in Under Armour All-America Game history. It was around 80 degrees, the winds were calm and some of the best got to get after it a little.
After spending about an hour and 45 minutes watching practice, we saw some good and some bad. Based on what we saw Sunday night, here is the Stock Report for day one.
RELATED: Live blog from UA All-American Game
STOCK UP  
Jordan Battle has ideal height and length for a defensive back. He showed off excellent footwork in drills and he had no problems turning and running with even the fastest wide receivers. The things that stood out the most with the Alabama signee were his instincts and sense of timing. He batted down multiple passes, timed his jumps perfectly and came up with at least one interception.
*****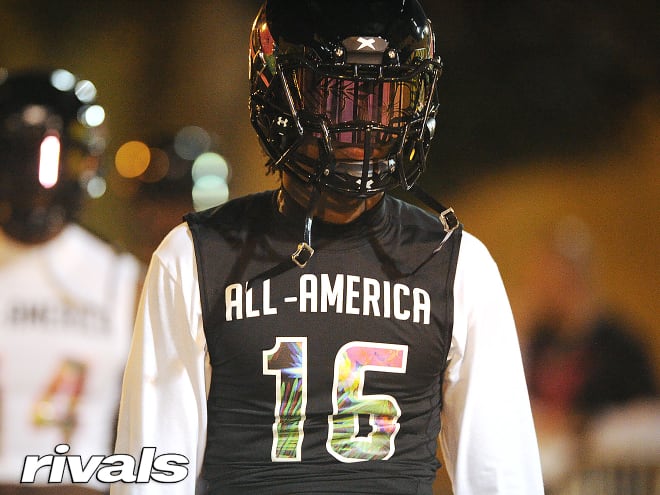 Lewis Cine has great size at safety and he really moved well in coverage. He picked off a pass early on in practice and that really set the tone for his night. He is a physical prospect who showed he can track the ball and make plays on it. The Georgia commit got off to a great start.
*****
Jayden Daniels is one of three quarterbacks Herman Edwards and the Arizona State staff signed this cycle, and Daniels was extremely impressive Sunday night. The ball was jumping out of his hand with little effort and he was throwing tight spiral after tight spiral. He is still very thin, so he needs to add weight and fill out some, but he flashed a big arm and some touch on day one.
*****
Without pads on - and sometimes a very quick whistle - it is hard to get a good look at linemen, but Mississippi State commit Charles Moore shined when his number was called. He was quick off the ball and tough for offensive linemen to control. It was easy to see why schools like Auburn, Florida, Ole Miss and Tennessee continue to pursue him.
*****
Georgia Pickens was unstoppable during the one-on-one drills. The Auburn commit's height and length made it very tough for defensive backs to lock him up, and his explosiveness made it nearly impossible to keep the ball out of his hands. Pickens has always played with an aggressive attitude and that created some eye-popping plays. On one play he caught the ball after pulling away from the defensive back on a double move. The defensive back tried to grab him from behind and Pickens shrugged him off and he went flying into the barrier well out of bounds.
*****
Mykael Wright looked like a true lockdown cornerback in practice No. 1. The Oregon signee is a Rivals100 prospect and he performed at that level. He was very smooth in coverage. He showed a nice, controlled back pedal, quick reaction and the ability to turn and run with some of the top receivers in the country.
*****
Not too many defensive linemen created a buzz early on, but five-star Kayvon Thibodeaux was one that did. He is so athletic and that really showed on this night. He flashed a quick first step and, at times, he was just dominant. Mario Cristobal and the Ducks have to be excited about Thibodeaux and Wright.
STOCK DOWN 
Texas quarterback signee Roschon Johnson struggled out of the gates. He did throw a few nice deep balls, but he really never got into a rhythm. He may have had an off night, but the consistency was not there.
*****
Joey Yellen is one of two future Arizona State quarterbacks in this game, and while Jayden Daniels was sharp, Yellen wasn't quite there. He did get a little better toward the end of the night, but he really struggled getting the ball where it needed to be much of the night.