UA recruiting notes: Loston gets ball rolling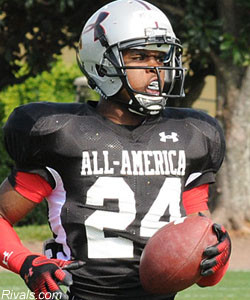 With six announcements scheduled to take place at Sunday's Under Armour All-American Game, the excitement kicked off on Friday with perhaps the least surprising of the bunch.
Aldine (Texas) Eisenhower safety
Craig Loston
, the No. 1 safety prospect in the country, committed during the taping of the skills competition. The 6-foot-2, 200-pound five-star prospect made known what many had assumed for quite some time when he gave his verbal to LSU over Texas A&M, Alabama and Oregon. It is the third commitment for Loston, who has previously been committed to both Texas A&M and Clemson.
Despite Loston saying that this was his final decision, he is still planning to officially visit Alabama next weekend.
SIX MORE SET TO ANNOUNCE
Six other prospects are scheduled to announce their commitments during Sunday's live game broadcast. They include the Sanford (Fla.) Seminole trio of five-star athlete
Andre Debose
, four-star athlete
Ray Ray Armstrong
and four-star defensive end
Dyron Dye
as well as Atlanta Booker T. Washington five-star cornerback
Branden Smith
, Salt Lake City (Utah) Cottonwood four-star center
John Martinez
and Somerville (N.J.) four-star center
Mark Brazinski
.
Debose lists his finalists as Florida State, USC, Florida, Miami and LSU. Some think that LSU may be the team to beat, but it appears as if he will stay in state with the Florida Gators. Armstrong is down to LSU, Miami, Florida and Georgia while Dye has whittled his list to South Carolina, LSU, Florida State, Miami and Florida. Look for the two teammates to both announce their commitments to Miami on Sunday.
Smith has said publicly he is down to Georgia, Florida State, Florida and Alabama. In the end, expect the in-state Bulldogs to keep him there.
Martinez has a final three of LSU, USC and UCLA. He says he came into the week undecided and hoped to speak to other players about why they chose each of those three programs. He seems a bit hesitant to announce on Sunday, but if he does it seems like the choice will be USC. It will likely not be the end of his recruitment, though.
Brazinski has a different set of criteria in that he is looking for a very solid business school. He has a final five of Florida State, Cal, Boston College, North Carolina and Penn. While Cal, UNC and Boston College would not be too shocking, some expect him to spurn the Football Bowl Subdivision teams to sign with Penn, where his brother also played.
UNCOMMITTED FIVE STARS
In addition to Debose and Smith, two other five-star prospects in the game remain uncommitted. Honolulu Punahou linebacker
Manti Te'o
has officially visited Notre Dame and UCLA and has two January trips scheduled to Stanford and USC. He says he is unlikely to officially visit BYU, his fifth finalist, because he has been there frequently already. Te'o says he is working on paring his list down but it will be a signing day decision.
Also uncommitted is five-star Wheaton (Md.) Good Counsel linebacker
Jelani Jenkins
, who has taken an official visit to Florida and has another set up for Penn State. USC, Illinois, Boston College and Notre Dame are also in the running for visits. Jenkins says a decision will not be made until after he completes his trips.
REID OPENS IT UP
In somewhat surprising news, Valdosta (Ga.) Lowndes athlete
Greg Reid
, who has been the most impressive defensive back this week, decommitted from Florida on Thursday evening following a team meeting at the team's hotel. The four-star prospect is considering the in-state Bulldogs but is still keeping his eye on Florida.
PATTERSON WANTS TO STICK WITH STANFORD
McDonough (Ga.) Henry Co. wide receiver
Jamal Patterson
says he is 100-percent committed to Stanford, but is keeping a close eye on the coaching situation with rumors of
Jim Harbaugh
looking to the NFL. He could make an official visit to Clemson, a school that has picked up its recruitment of the big receiver as of late.
MORE RECRUITING BUZZ
Miami Columbus four-star defensive tackle
Antwan Lowery
has been committed to Rutgers for a while, but the big defender may make an official visit to Florida State.
Pleasant Grove (Utah) Timpview four-star offensive tackle
Xavier Su'a Filo
seems legitimately torn among LSU, USC, UCLA, Utah and BYU. After he visits BYU and UCLA, he hopes to make a commitment.
Greenwood (S.C.) four-star defensive end
Sam Montgomery
has official visits set to LSU, Michigan, North Carolina, Oregon and Tennessee and is also considering Clemson, USC and South Carolina. He has said that LSU leads but he is in no hurry to make a commitment.
Scottsdale (Ariz.) four-star defensive tackle
Corey Adams
has narrowed his list to Arizona State, USC and Ohio State. He says he has no timetable for a decision.
St. Stephen (S.C.) Timberland four-star offensive guard
Quinton Washington
is likely staying in-state and headed to South Carolina while Washington (D.C.) St. John's College four-star guard
Peter White
has a final three of Miami, Tennessee and Maryland. Neither player has set a timetable for their decision.
Seffner (Fla.) Armwood three-star linebacker
Petey Smith
is considering two SEC rivals in Auburn and Alabama. He is likely to join his brother at Auburn but has not set a decision date.
The final two uncommitted players in the game are Miami Gulliver Prep four-star linebacker
Frankie Telfort
and Atlanta Carver four-star safety
Darren Myles
. Telfort has January official visits set to Stanford, Florida and Ohio State. Myles is looking at Purdue, Alabama and Tennessee and was supposedly the first player that new Volunteer defensive coordinator Monte Kiffin called after being hired.