UA All-America Game: Five surprises on opening day
The Under Armour All-America Game week kicked off on Sunday. Rivals.com had all angles covered, including the day's biggest surprises.
1. Cam Goode
In a world where 6-foot-5 defensive tackles are becoming the norm, Goode's frame is one that is not often seen in the all-star game setting. Listed at a generous 6-foot on the official roster sheet, Goode has long played bigger than his size and that definitely continued on Sunday in Orlando. He impressed during one-on-ones and then raised his game to an even higher level during the 11-on-11 portion of the practice. Some may say that he was a little too physical at times, but that is the way Goode has played the game for years. He is also very quick off the ball, uses his hands extremely well and is tenacious in his pursuit. It will be interesting to see how he progresses during the rest of the week.

2. Kwatrivous Johnson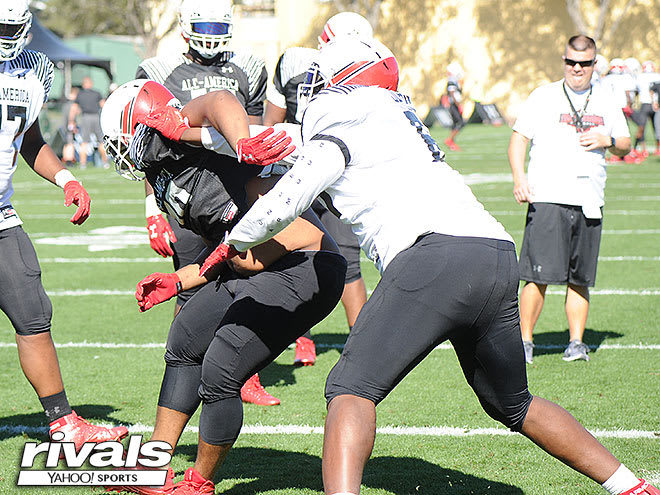 Listed at 6-foot-8, 359-pounds, Johnson came in as one of the biggest offensive linemen in Orlando. The question coming in was more about his athleticism and footwork, and how he would be able to compete against the quick defensive ends in attendance. While he lined up at guard for a majority of the first day, he showcased the skills to play tackle at the collegiate level. He looks slimmer than his listed weight, moves quite well from side-to-side and has learned to use his impressive frame and arm extension to his advantage against the rush. It is easy to tell that he has received some quality coaching at the high school level and has worked hard to improve his overall game.

3. Disappointing day for QBs
While it is normal for quarterbacks to have a difficult first day at an all-star event, this group of six had more overall struggles than were expected. Adrian Martinez produced the best overall performance of the group, while many of the others had issues with accuracy and decision-making. This should improve as the week progresses, with the quarterback-receiver relationships strengthening, and players learning to trust one another more. But, at least for Sunday, it was obvious that there was plenty of work still left to be done.

4. Xavier Williams and Anthony Schwartz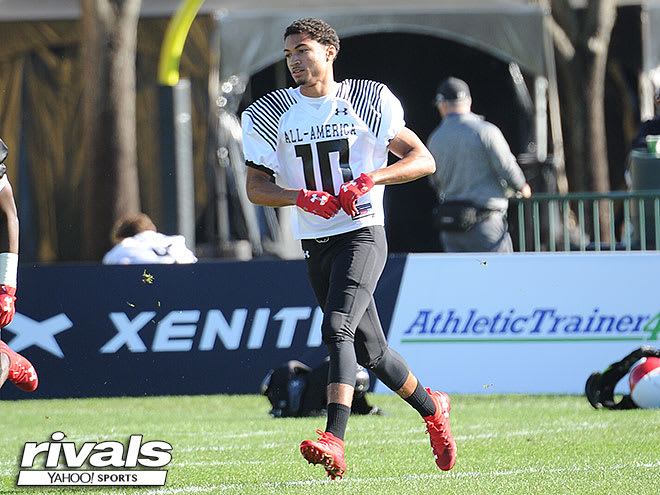 Coming into this event, Williams and Schwartz were Florida receivers who were known more for their speed than their hands. On Sunday they proved that their hands could be trusted as both were reliable throughout the practice session. Williams was especially impressive, while Schwartz made a few very difficult receptions. Both have the potential to be big-time playmakers at the next level, so seeing their improvement was a very pleasant surprise.

5. Daniel Faalele and Curtis Dunlap Jr.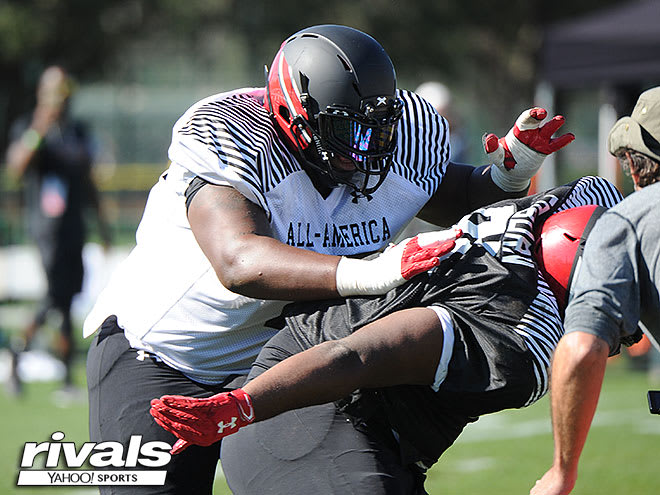 The former teammates from IMG Academy and future teammates at Minnesota both stood out throughout the first practice session. Considered projects by many, both proved that they have the potential to contribute in the Big Ten sooner than expected. They actually lined up next to each other throughout the day and more than held their own against a number of four- and five-star defensive ends and tackles. Faalele's huge size and length were used to his advantage, while Dunlap used his strength, girth and surprisingly quick feet to outduel a number of tackles. Gopher fans should be excited about the future on the offensive line.