Twitter Tuesday: Jones' job status, USC in 2017, Alabama, Auburn
Our weekly #TwitterTuesday mailbag continues this week, where readers ask Rivals.com's National Recruiting Director Mike Farrell football questions via social media. Here are four questions we chose, including Farrell's take on whether Butch Jones should be feeling some heat.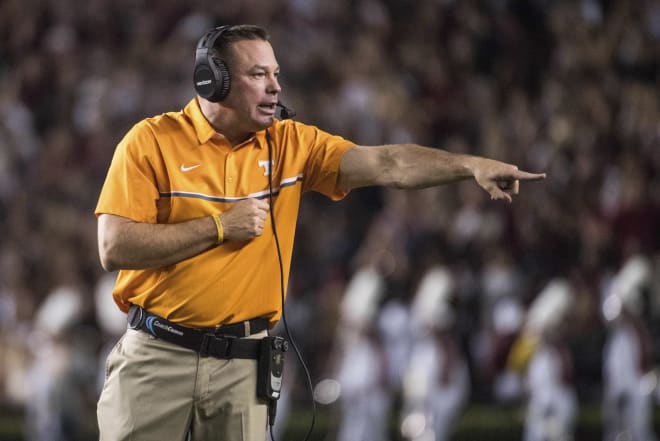 I had this debate last week on the "The Generals Quarters" message board on Volquest.com, and I said that I think Butch Jones needs a nine-win regular season and to win the SEC East to keep his job. The response? No one agreed with me.
The general consensus is that another 8-4 season, regardless of a division title, keeps Jones employed and only a .500 or below season or perhaps a 7-5 campaign could send him packing. While the fans are likely more accurate in this case with an administration still trying to recover from pushing Phillip Fulmer out of the door too soon, I'll tell you why I think 9-3 is needed.
First off, take a look at the schedule. If you count Alabama as a loss, and of course you do, that leaves two more losses to get to 9-3. That essentially means that Tennessee should lose two of three games to Florida, Georgia and LSU, and we should all be expecting wins against Georgia Tech, Indiana State, UMass, South Carolina, Kentucky, Southern Miss, Missouri and Vanderbilt.
I'm sorry - if you're living in a Vols world where it's OK to lose to South Carolina and Vanderbilt again this season, you're in a world where Butch Jones will never take you to the Promised Land. So then why should we assume Tennessee will lose to Florida, a team that has proven nothing offensively? Why should we assume Tennessee will lose to Georgia, a team that got crushed by Ole Miss and barely beat Missouri last season? And why should we assume Tennessee will lose to LSU, a team that also has offensive woes and has a new head coach who hasn't been successful yet in college football?
I know Tennessee lost a lot of talent from last year's team, but so did everyone else. I expected Tennessee to win the SEC East by now and they haven't, and last year was a major disappointment. So if I'm an athletic director coming off a major disappointment of a season with a coach who is 30-21 in four seasons but 14-18 in conference, I'm setting the bar high.
Texas A&M coach Kevin Sumlin is squarely on the hot seat after five seasons in the SEC, and he has a much better overall record (44-21) and conference record (21-19). Moreover, many feel he needs to win the SEC West or be fired. So why the lower bar in the lesser division? I guess I don't understand it.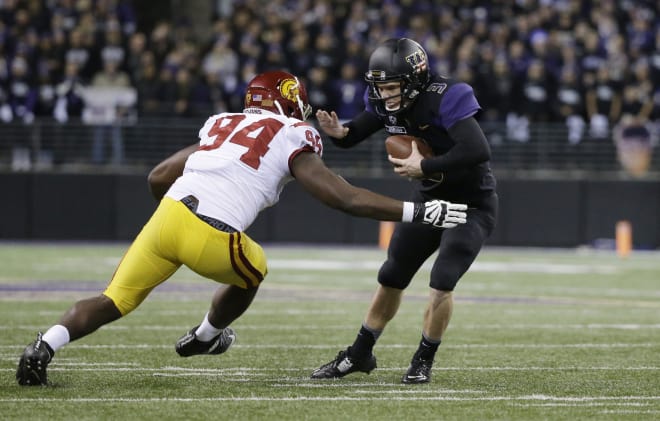 The weakness of USC this upcoming season, at least to me, is the defensive line. I know there is talent there, and some people are more concerned about the secondary without Adoree' Jackson or the linebacker group without Michael Hutchings and some question marks, but I worry about the defensive line.
Can Rasheem Green finally live up to his potential? Can Kenny Bigelow stay healthy? Can they be as effective against the run without Stevie Tu'Ikolovatu? These things all worry me. There is a ton of young talent, including incoming true freshmen Jay Tufele and Marlon Tuipulotu at defensive tackle, but can they step in and make an immediate impact? I'm not sold on senior Josh Fatu or junior Malik Dorton as breakout guys, which means a couple of younger guys will need to have great years along the defensive line.
I think the linebackers have a ton of talent and potential, and Iman Marshall will step up and lead a secondary that will give up fewer big plays. But keep an eye on the defensive line.
As for strengths aside from Sam Darnold, watch out for the running game. Ronald Jones II is a major playmaker, freshman Stephen Carr is a future stud and Aca'Cedric Ware is vastly underrated and doesn't get the props he deserves. The offensive line needs to stay healthy for a running game to supplement Darnold's passing attack, but I love the personnel groupings these backs bring to the table.

Nick Saban has taken a much more methodical approach to recruiting for 2018, and it has the fans freaking out a bit, but if there is one coach I never doubt in recruiting (OK, two with Urban Meyer), it's Saban. He knows the guys he covets, he is willing to be patient to land them (or flip them, as I see 'Bama flipping a bunch of kids this year), and he's not going to push the panic button and take a player he doesn't want that badly.
Alabama has added Stephon Wynn and Tommy Brown, two players anyone in the country would love to have, in the last few weeks, and the Crimson Tide's class is third in the nation in average star ranking. Be patient. While you see a bunch of programs landing kids this early and apparently outpacing Alabama, watch how many Saban steals away before all is said and done, and keep an eye on how many upsets he pulls in recruiting this year.
I think Alabama fans will be pleasantly surprised at how his strategy unfolds this year compared to many of his earlier classes.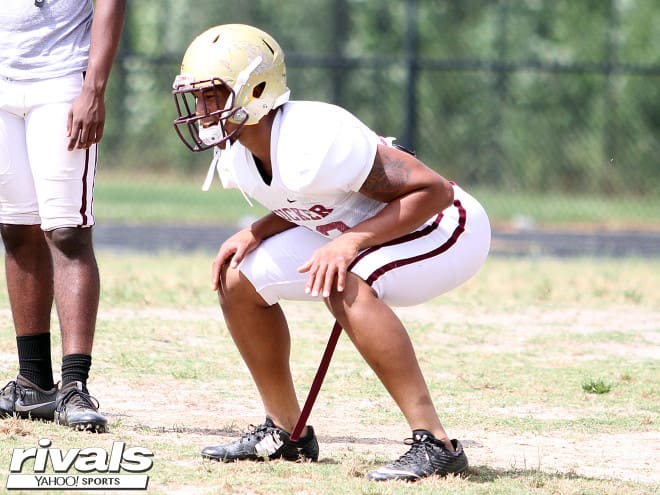 I like this pickup and view him as one of the 10 best commitments of the last week. The reason I like Harris as a prospect is because his best football is still ahead of him. He's a tall, long, athletic kid who plays inside in high school and does a great job working off of contact and taking the proper angle to the football, and he has that outside linebacker build where he can work in space. Those kids are hard to find at the high school level and, in my experience, they usually turn out to be defensive leaders.
His job in high school is to set the defense, read the play and react, but he has good closing speed and the athleticism to come off the edge mixed with the power to thump when he arrives. I'll be very interested to see how big he gets because I think that will determine whether he stays inside or outside at the next level.
Many kids get away with false steps or misreading a play because of their sheer athletic ability in high school, but Harris shows a great football IQ and he makes a ton of great reads. Auburn fans should be excited.