Helmholdt's Takeaways: Big Ten Media Days Monday
CHICAGO – Half of the Big Ten head coaches and player representatives took to the stage Monday on the first of the conference's media days. Recruiting and off-the-field issues were among the most interesting discussions of note coming out of the day.
MORE: Midwest summer surprises | Power 5 commits of the week
Coaches celebrate closing the recruiting gap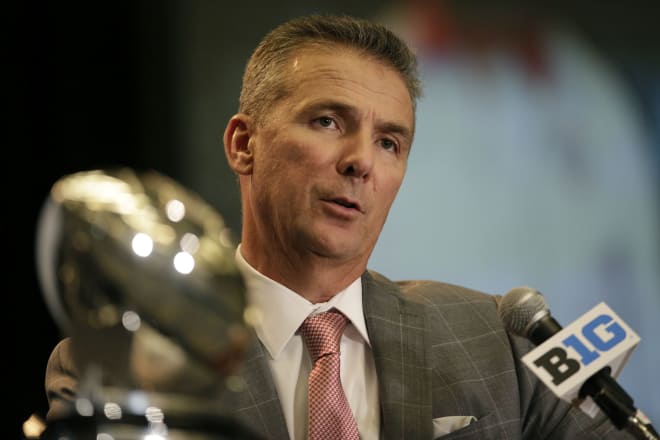 It is not surprising to hear coaches trumpeting their league at an event like the Big Ten media days, but when Urban Meyer first arrived in the conference six years ago, he was less than complimentary toward the Big Ten in regards to their national recruiting prowess.
"I was shocked at the disrespect to Big Ten had in 2012," Meyer said Monday.
After nearly taking home the national recruiting rankings title this past February, and currently boasting a top-three class in 2018, Meyer not only sees that gap diminishing, but feels it has disappeared altogether.
"I feel a great amount of respect nationally about the Big Ten. You sit and look at the national recruiting rankings and you see the Big Ten everywhere," he said. "So there's a lot of credit to be given, obviously to the administrations that invest in their programs and to the coaching staffs that are out there doing the work."
Indiana head coach Tom Allen, who, like Meyer, coached in the SEC immediately prior to coaching in the Big Ten, agreed with his Big Ten East division colleague and credited the ability to recruit nationally as one of the primary catalysts for that change.
"I think the thing that helps you now, more than anything, is you have kids going across the country," Allen said. "I've talked to some young men and they play, whether it is 7-on-7… these guys go to the NIKE combine or Rivals, and they all develop relationships across the country.
"It is less regional than it used to be, and a kid doesn't have a problem going from the Deep South to the Big Ten. Even the satellite camps and us taking the Big Ten brand to the South has helped kind of bridge some of those gaps."
They key to Allen's comments was his belief that Big Ten schools need to recruit successfully in the South, where the density of college football talent is higher. Whatever the catalyst, the numbers support Meyer and Allen's assertion that the Big Ten is recruiting on a level at least close to, if not on par with, the SEC. In 2012 when Meyer first entered the conference, the Big Ten placed just two teams in the top 20 of the national recruiting rankings. This past February five conference programs signed top-20 classes.
Michigan State taking questions head on
One of the biggest questions heading into Big Ten Media Days was how Michigan State, and particularly their usually stone-faced head coach Mark Dantonio, would handle questions about an offseason that saw four players dismissed for various off-the-field allegations, including sexual assault.
Dantonio was specifically criticized during the time between when players were initially suspended and when they were actually dismissed from the team three months later for not addressing the situation. He did not shy away from those questions on Monday, however.
"We have been painted, in some respects, because of the situation that we had," Dantonio said. "A year ago at this time we were the epitome of what you wanted to be in college football.
"Everything is looked at, from whose locker is beside who and how we handle things internally. There are rules in place, there are.
"Last year when I walked in here, I talked about our championship, our culture and what we accomplished.
"What I've asked our players to do is represent themselves on the field, off the field and in the classroom to be role models."
Last month Dantonio and his staff took advantage of an NCAA rule change that allowed schools to bring incoming freshman onto campus immediately after they graduate from high school. Dantonio called it a "mini camp," and part of the itinerary was, "preparing them for the environment," as he called it, which included talking about the issues the program faced this offseason and how Michigan State student-athletes are expected to handle situations going forward.
Michigan State senior linebacker Chris Frey was asked immediately about the offseason issues when his media session started. Known as one who is not afraid to speak his mind, Frey acknowledged that they have had between three and five classes where people were brought in to talk with the team about sexual assault.
"We realize how important of an issue it is," Frey said. "That stuff is out of the program."
The message from Dantonio and his players Monday was about re-establishing the culture they had when they were playing for, and winning, Big Ten Championships. Senior offensive lineman Brian Allen said that is happening - the team is getting that old chemistry back and starting to have fun again.

Illinois' facilities upgrades recruiting motivated
Illinois second-year head coach Lovie Smith does not see much of a difference in the way the recruiting game is played now compared to when he last coached in college football more than 20 years ago.
"Eventually it is going to come down to you having a personal relationship with the student-athlete, his parents and them trusting you to keep developing their son as a man and a player," Smith said. "None of that has changed. Selling your program and how you're going to do things, again, none of that has changed."
What Smith did immediately recognize when he arrived in Champaign 16 months ago, though, was that the current state of Illinois' facilities were not going to allow the Fighting Illini to compete against other Big Ten and Power Five programs for the top prospects.
"As I talked with our athletic director, Josh Whitman, on what we need to do to take the next step in recruiting: win more games and improve our facilities," Smith said. "We have a plan for both of those. Our facilities… just felt like we were behind most of the other teams in the Big Ten and college football in general."
Construction on the $60-80 million upgrade to Memorial Stadium and Illinois' practice and office facilities is set to commence early next year. Smith noted, however, that this upgrade will only bring the program up to par with where the rest of the conference is today.
The seventh inning stretch
Four years ago, in response to O'Bannon v. NCAA, a lawsuit that was brought by several former college football and basketball players pushing for compensation for the NCAA's use of their likenesses and/or images, Big Ten commissioner Jim Delany scared conference fans by suggesting the Big Ten could de-emphasize sports and take on a model like the Ivy League or Division III.
That prediction looks no more likely to come to fruition today than it did before he uttered it, but the challenges to the NCAA's current amateur rules are still ongoing in the courts. Delany gave his views on the progress of those proceedings from a Big Ten, and NCAA, standpoint. Or a defendant's standpoint, as he termed it.
"Five years ago, which was a few years after the O'Bannon case had been filed, I said we were in the early innings, maybe in the first or second inning with regard to litigation," Delany said in his opening statement. "And in today's world I think we can more properly characterize it as perhaps being in the seventh inning."
Delany said there were some successes, from the Big Ten and NCAA standpoint, that have occurred in the last four years, but also noted that there were still big decisions to be made on this issue, specifically mentioning Jenkins v. NCAA, which accuses the NCAA of violating the Sherman Antitrust Act on behalf of current and former NCAA student-athletes.
Although Delany did not declare the NCAA victors in the debate, his characterization of the overall issue being in the seventh inning should be taken as good news for those who hope no material changes are made to the way the game of football is played and spectated considering how little change there has been thus far on that front.