Tuesdays with Gorney: Looking at the 2022 rankings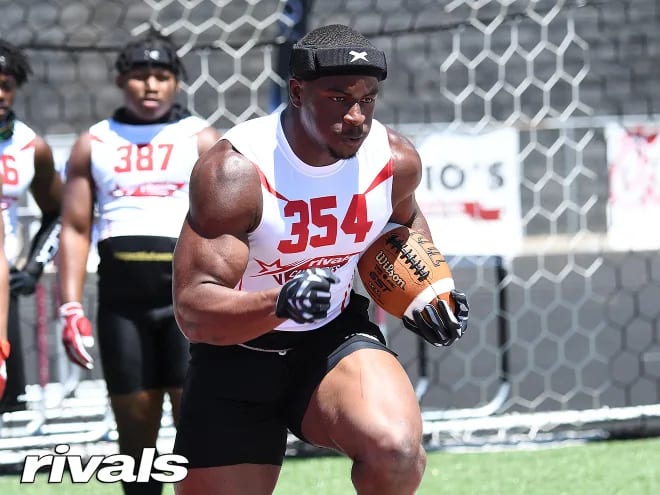 QUARTERBACKS
When Quinn Ewers reclassified to the 2021 class to enroll earlier than expected at Ohio State, we had to ask whether another quarterback should join the five-star ranks simply based on recent NFL Draft trends at the position where more quarterbacks – even some largely unproven ones – go earlier than ever before.
The decision was to not rush and force a quarterback to five-star status just because Ewers left but after seeing Clemson commit Cade Klubnik especially at the Elite 11, we became convinced that it was the appropriate move. Not only did Klubnik became a five-star but he moved ahead of five-star Walker Howard at the pro-style position. Both were at Elite 11 and Klubnik edged him out.
The only other five-star QB in the class is Georgia pledge Gunner Stockton, but he has not done national events this offseason. That's unfortunate and a little disappointing because the best and most valuable evaluations come when the elite are going against the elite.
Over the last 10 NFL Drafts, there have only been two times (2015 with Jameis Winston and Marcus Mariota) and 2013 (E.J. Manuel) where at least three QBs weren't drafted in the first round. In the last two drafts, five went in 2021 and four in 2020.
As that relates to the 2022 class, we're not going to force five-star quarterback rankings but we must be cognizant that players at that position will inevitably be first-round picks.
*****
RUNNING BACKS
There are now two five-star running backs as Branson Robinson is ranked at that specific position and Raleek Brown has moved up at all-purpose back.
The two are very different players since Robinson is a downhill pounder that looks like he works out with the Hulk. Brown is developing physically and the comparison we like is to former first-rounder Clyde Edwards-Helaire but he's certainly not imposing in a physical sense.
Both dominate though in different ways and deserve five-star rankings. Behind Robinson is a clutch of uncertainty as to which running backs will emerge with higher rankings and which ones might have topped out at this point. I feel Jamarion Miller is one that could continue to shoot up the rankings the more people see him and it sounds like Alabama is going to make a bigger run at Jovantae Barnes now that Le'Veon Moss has backed off his Crimson Tide pledge.
*****  
WIDE RECEIVERS/TIGHT ENDS
Receiver is one of those positions where there could be significant turnover especially after the all-star events because many of these players are talented in different ways and bring different strengths and weaknesses to the table.
No. 1 receiver Oklahoma commit Luther Burden drew rave reviews from Future 50 but then there were some sources that were concerned about his speed and ability to separate at another event. Evan Stewart dominated Florida's Friday Night Lights and he moved up in the rankings but does he consistently take over all events where he participates? There are some who are high on Kevin Coleman and others who aren't as thrilled.
Tetairoa McMillan had a great summer especially at The Opening and his athletic ability is off the charts but is he obsessed with playing football and dominating? There are so many talented receivers but they all have unique questions about their skill set. Seeing them all in one or two settings after their senior seasons will be valuable.
As for tight ends, my vote was for Oscar Delp to be one, followed by Jaleel Skinner (mainly based off his freakish physical attributes) and then LSU commit Jake Johnson third. All three are very close and they definitely lead the top of that board.
*****  
OFFENSIVE LINE
I really like the four five-star offensive tackles and the three players at that position who are one notch below five-star status. I'm just not certain we have them completely in the right order. Oregon commit Kelvin Banks was dominant this spring and Zach Rice is built like a future first-rounder with superstar potential. One notch below, Josh Conerly and Kiyaunta Goodwin could project even higher as they're both physically and athletically dominant for their size.
Offensive guard is also loaded at the top as I really like Devon Campbell, Earnest Greene, Tyler Booker, Billy Schrauth and Tegra Tshabola. There is also a chance Neto Umeozulu could surprise to the upside in the coming months.
*****  
DEFENSIVE LINE
*****  
LINEBACKERS
The only absolute lock as a five-star linebacker was Ohio State commit CJ Hicks as there were questions about Shawn Murphy's ability to move and cover and whether Gabe Powers - because of his size - could stay at outside linebacker or if he'd have to move down to defensive end. All three remained as fives because they all backed up their abilities.
But when some questions are answered others arise. Like is Jaylen Sneed a five-star after performing incredibly well at the Rivals Camp Series events? He has a knack for picking off passes and he covers receivers down the field like a defensive back. Or did Shemar James, who dramatically moved up in the rankings to the second-best inside linebacker, do enough to earn his fifth star? Sneed is closer but James had a tremendous summer as well.
*****  
DEFENSIVE BACKS
I'm not completely sold yet on four five-star cornerbacks as all of them have special and unique qualities but also some concerns that I'm not ready to completely ignore yet, either. Some have length and some have speed and some have size and some have playmaking ability but are any of them complete lockdown corners? My bet is that Jaheim Singletary leads that list but I actually like the safety group as well.
New No. 1 safety Xavier Nwankpa is so smooth in coverage and he loves to come down and hit like an 18-wheeler. Jacoby Mathews has high-end qualities and then Kamari Wilson, Zion Branch and Sam McCall stand out the most to me with McCall possibly being that guy who could move up even more soon.
*****  
ATHLETES
Florida State commit Travis Hunter is a no-brainer No. 1 at this position and he's the new top-rated prospect in the entire class. I'm fine with it. Hunter is so dynamic and versatile and the Seminoles could use him all over the field. Georgia commit Malaki Starks could be someone who emerges more and moves up the rankings and Brenen Thompson could be one of the fastest prospects in the country. I'm not certain either Starks or Thompson are five-stars but both are really talented players.