Tuesdays with Gorney: Arch Manning, Iowa, A&M, FSU
In his weekly series, Rivals national recruiting director Adam Gorney offers his thoughts on recruiting topics and storylines that impact the national landscape.
ARCH MANNING UPDATE
I had a long talk Monday morning with Arch Manning's coach at New Orleans (La.) Isidore Newman, Nelson Stewart, and there were definitely some enlightening things about the conversation.
First, is Stewart's utmost respect for Manning as a player and person, and how he's conducted himself over the years. First-class, professional take, no nonsense or time for posting every offer on social media and not really caring about the publicity.
Because Manning is so talented and his uncles are Peyton and Eli and his grandfather is Archie, the publicity part is going to take care of itself. Signing autographs and taking pictures everywhere is already part of it. That might be a little grinding at times but Manning has persevered through it and everyone around him is trying to let him be a kid, too.
Through all that, I did get the sense that it would not be shocking if a commitment came sometime after his junior season, maybe in the spring after another round of visits.
Manning is smart. He's not giving away much in terms of favorites. But visits are telling and that means Georgia and Alabama are definitely getting a closer look. Texas is absolutely in the picture. LSU is possibly interesting. Ole Miss has family connections and a phenomenal offense.
But this recruitment – and the fan hysterics around it – might not last much longer. Manning is taking visits, the family is doing its due diligence and after so long there's only so many times a recruit can talk to head coaches and get an understanding of the program before a decision just needs to be made. Manning is not one for the theatrics and popularity of the recruiting process. His coach called it "refreshing" and I completely understand what he means.
Plus, there might not be many recruits in Rivals history that could be more of a recruiting asset than Manning. Skill players will flock to play with him. Offensive linemen will line up to block for him. Getting Manning will be huge for whichever program wins out. Loading up on the supporting cast will be tremendous as well.
If I had to guess right now where Manning goes, I'd say Alabama. Nick Saban is the best and he gets the guys he wants more than he loses out on those guys.
But Manning loved Georgia, there is respect for what Steve Sarkisian can do, Ole Miss has the connections and the offense and hey, maybe Dan Patrick is right as he said LSU would have a real shot with Manning… but Ed Orgeron would have to be replaced.
The intrigue continues.
*****
BIG WEEKEND FOR TEXAS A&M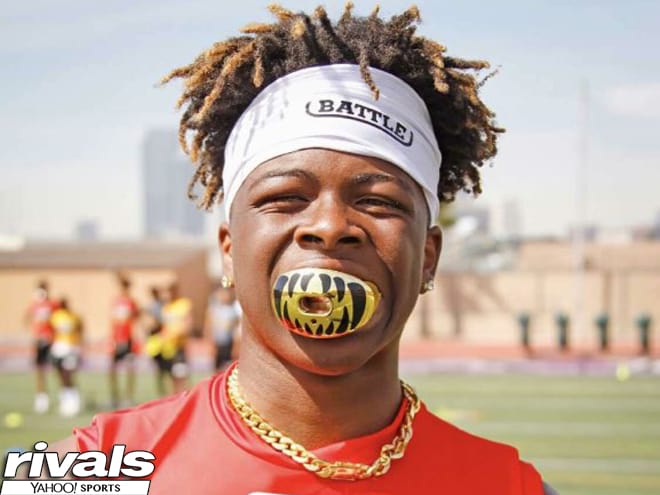 Beating Alabama was huge. The payday after that from a recruiting perspective is also important and things could not have gone better in College Station.
Walter Nolen's father told me that the on-field performance the environment would be tough to beat and that the weekend visit to Texas A&M just made his son's decision so much harder. Georgia commit Marquis Groves-Killebrew said the fan base and the atmosphere were both "great" and that the coaches told him he could come in immediately and make an impact.
Tight end commit Donovan Green has a big wish list to join him in the Aggies' class and the group includes dominant defensive linemen Nolen and Keithian Alexander along with five-star receiver Evan Stewart (which might be some serious wishful thinking at this point), Oregon five-star OL commit Kelvin Banks and others.
Top 2023 running back Rueben Owens had a great time in College Station and said it was a "great win" although it was just one game to consider. Still, after the sentiment was low on A&M after losses to Arkansas and Mississippi State, the Aggies have resurrected themselves and a whole lot of recruits are interested big-time once again.
*****  
IOWA HAS POSITIVE RETURNS
We joked with Iowa coach Kirk Ferentz during a signing day show two years ago that he was going to get us fired because the Hawkeyes turned under-ranked players into NFL players and, to his credit, Ferentz was not critical about it and took it all in stride.
After Iowa stormed back to beat Penn State on Saturday in a thriller, the Hawkeyes could now be in line for at least two five-star commits and another elite four-star has his eye seriously on the program as well.
Pleasant Hill (Iowa) Southeast Polk teammates Xavier Nwankpa and Kadyn Proctor both had really positive things to say about their latest trip to Iowa City. Nwankpa wants to see a few more games but said Iowa is really up there in his recruitment. Proctor, a 2023 five-star offensive lineman, said Iowa could do "wonders" for his game. Both could definitely end up staying home.
The other one to watch is 2023 four-star offensive lineman Cayden Green, another massive, dominant prospect. He was back at Iowa this past weekend, loved his time there and the Hawkeyes could be moving up his list, too.
Iowa has won with under-appreciated players. The elite of the elite might be coming to Iowa City soon.
*****
MAKE OR BREAK FOR FLORIDA STATE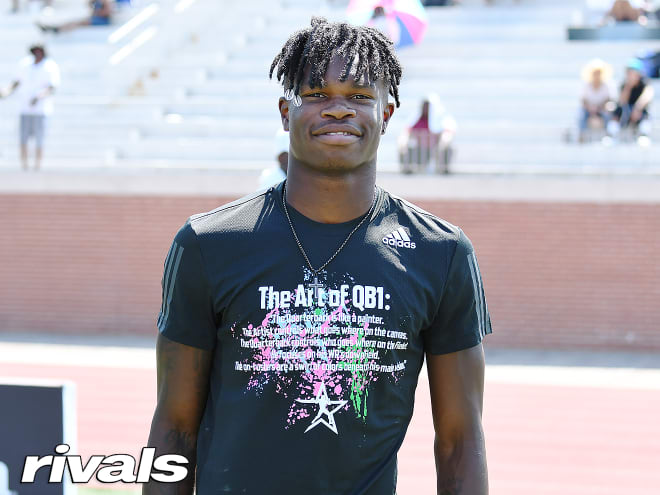 This is going to be an interesting stretch for Florida State and the first part was an impressive win against North Carolina last weekend. But it comes with the territory: The Seminoles have struggled again this season, they have elite players in the 2022 recruiting class and coaches smell blood in the water.
Georgia is making a serious run at five-star Travis Hunter. Losing him would be crushing. High four-star Sam McCall is being pursued by many SEC schools. Four-star OL Aliou Bah could be on flip watch to Georgia. Antavious Woody has been seeing some other schools.
I don't want to say the sky is falling because I don't think it is and Florida State is on the right track by landing major commitments and doing everything possible to keep them stay. But the Seminoles have to finish strong this season with some major challenges ahead.
Recruiting in the summer where coaches sell the dream and make kids feel loved up and getting them to come aboard is important. But winning games in the fall and producing NFL talent gets kids to stay committed come signing day. A big stretch is coming for FSU.