Transfer Tracker: USC QB Jake Sears commits to Boise State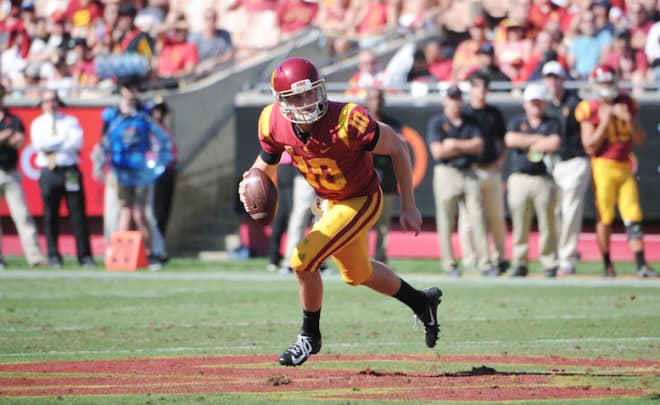 THE LATEST
Former USC quarterback Jack Sears finally has a new home after being on the transfer market for the better part of a year. Sears, who left USC prior to the start of the 2019 season, will spend his last two seasons of eligibility at Boise State.
Sears was initially expected to land at San Diego State, but never enrolled at the start of the spring semester. He lands at Boise State where he will have a chance to compete against 2019 starter Hank Bachmeier for the starting job.
During his time at USC, he started one game in 2018 and completed 20-of-28 passes for 235 yards and two touchdowns.
Sears is now No. 18 in the Rivals.com Quarterback Transfer Rankings.
TRANSFER RANKINGS: Quarterback | Running back | Tight End
AS A RECRUIT
Sears' recruitment developed later than some other quarterbacks in his class, but just prior to the start of his senior year he committed to Duke. Despite his pledge to the Blue Devils, USC continued to chase the California native, eventually flipping him late in the fall.
AT USC
Sears redshirted in 2017 and then competed with J.T. Daniels for the starting job prior to the 2018 season. After losing out on the battle, he served as Daniels' backup, starting one game and completing 20-of-28 passes for 235 yards and two touchdowns. In 2019, he battled for the starting job again, but came out fourth on the Trojans' depth chart and entered his name in the portal shortly thereafter. He will be eligible in 2020 and will have at least two years of eligibility remaining.
FARRELL'S TAKE
"Sears was a talented kid out of high school with a smooth delivery and accuracy and I thought he would be a Power Five take for someone. He has the ability to put up some big numbers in the right offense and he has confidence in the pocket but with Hank Bachmeier entrenched as the starter after a great year his impact is limited barring injury." -- National Recruiting Director Mike Farrell
Impact Rating: 5.8 out of 10
IMPACT METER
The Transfer Portal continues to change the way college football programs recruit and mange their rosters so we here at Rivals.com continue to evolve our coverage. Each time a player of note enters the portal, we will examine their potential impact on the college football landscape and assign an impact rating, both when they enter the portal and when they choose a destination. The scale is from 1-10 and the description below explains the scoring scale.
1.1-4.0 — Not a big impact expected, likely a non-starter and down the bench depth player.
4.1- 6.0 — A solid impact can be expected in the right scenario and has the potential to battle for a starting job.
6.1-9.0. — A high impact player who won't change a program but will certainly be a very good contributor and starter.
9.1- 9.9 — A very high impact player who should start the moment he steps on the field and will change the outlook of a program immediately.
10 — A franchise transfer who has a chance to be an All American and one of the elite players in college football.