Transfer Tracker: Michigan QB Dylan McCaffrey enters the portal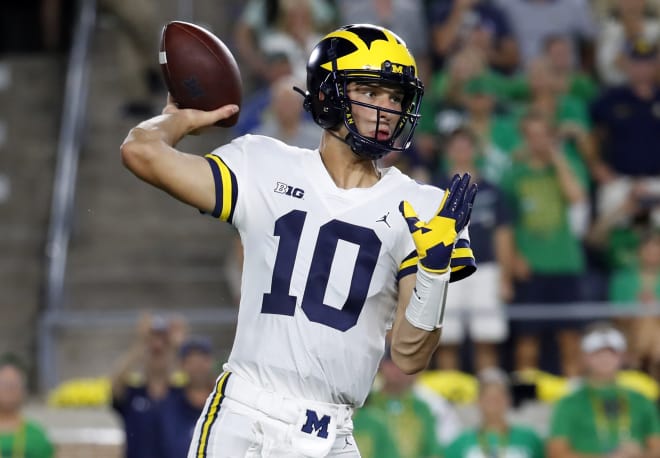 The Transfer Portal has changed the landscape of college football. So at Rivals we bring you the Transfer Tracker, where we analyze players entering the portal and rate them on what kind of impact they could make at their new home.
Next up in the tracker: Michigan quarterback Dylan McCaffrey.

AS A RECRUIT
Another prospect from the famed McCaffrey football family, Dylan was coveted, especially following the success of his brother Christian at Stanford. Michigan became the clear early leader and he committed to the Wolverines during his sophomore year of high school.

AT MICHIGAN
McCaffrey was mostly a backup during his time for the Wolverines, waiting behind former five-star Shea Patterson. He played in six games in 2018 and seven games in 2019. For his two season of action he had 242 passing yards with three touchdowns while also rushing for 166 yards and two more scores. McCaffrey was thought to be the obvious replacement for Patterson heading into this season, but lost the battle for the starting quarterback to Joe Milton and left the team. He just entered the portal this week, months after announcing his plans to transfer.

POTENTIAL LANDING SPOTS
After sitting out for so long, it will be interesting to see where McCaffrey lands. His father Ed is the head coach at Northern Colorado, so a reunion there could be in play as well. But look for a program that needs a quarterback at a Power Five level to take a run at McCaffrey.

FARRELL'S TAKE
"McCaffrey showed a lot of promise out of high school as a QB who could move around a bit and throw on the run. He also had a good feel in the pocket and his arm strength was adequate. He brings the family name with him which is good because bloodlines in this case matter and he will be given a shot at the Power Five level. It's surprising he was beaten out however."-- National Recruiting Director Mike Farrell
Impact Rating: 6.6 out of 10
IMPACT METER
The Transfer Portal continues to change the way college football programs recruit and mange their rosters so we here at Rivals.com continue to evolve our coverage. Each time a player of note enters the portal, we will examine their potential impact on the college football landscape and assign an impact rating, both when they enter the portal and when they choose a destination. The scale is from 1-10 and the description below explains the scoring scale.
1.1-4.0 — Not a big impact expected, likely a non-starter and down the bench depth player.
4.1- 6.0 — A solid impact can be expected in the right scenario and has the potential to battle for a starting job.
6.1-9.0. — A high impact player who won't change a program but will certainly be a very good contributor and starter.
9.1- 9.9 — A very high impact player who should start the moment he steps on the field and will change the outlook of a program immediately.
10 — A franchise transfer who has a chance to be an All American and one of the elite players in college football.