Transfer Tracker: Iowa WR Oliver Martin lands at Nebraska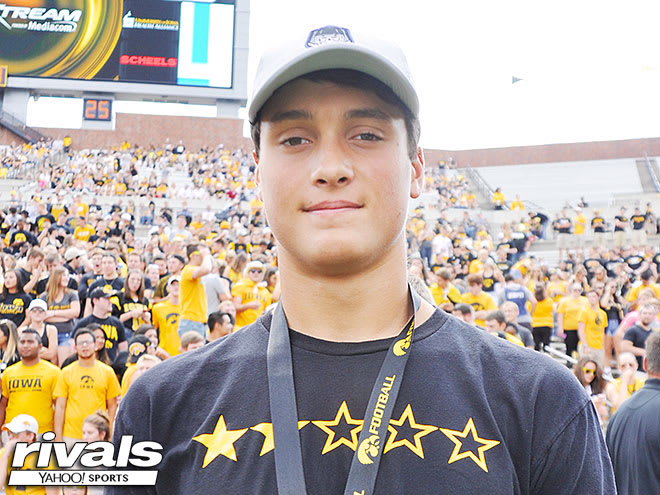 The Transfer Portal has changed the landscape of college football. So at Rivals we bring you the Transfer Tracker, where we analyze players entering the portal and rate them on what kind of impact they could make at their new home.
Next up in the tracker: Iowa wide receiver Oliver Martin, who is now headed to Nebraska.

AS A RECRUIT
Miller's recruitment came down to Michigan and Iowa and he picked the Wolverines just before Signing Day in 2017, leading to Wolverines coach Jim Harbaugh to jump into a pool fully clothed to celebrate.
AT MICHIGAN/IOWA
The viral clip of Harbaugh was probably among the most notable moments of Martin's Michigan career as he redshirted his freshman season and then played sparingly in 2018, catching 11 passes for 125 yards and a touchdown. He transferred last offseason back home to Iowa, where he played just 60 snaps the entire season, catching five passes for 28 yards and a touchdown. He surprisingly entered the portal earlier this summer, and is now headed to Nebraska as a walk-on, which only came to light after he enrolled as a student.
FARRELL'S TAKE
"Martin is an interesting prospect because he was a terrific route runner and set up defenders well out of high school and had adequate speed. This would be stop No. 3 for him which is puzzling and there are question marks but his ability is there and then opportunity at Nebraska is a really good one. They need impact wide receivers and he can play right away.." National Recruiting Director Mike Farrell
Impact Rating: 7.4 out of 10
IMPACT METER
The Transfer Portal continues to change the way college football programs recruit and mange their rosters so we here at Rivals.com continue to evolve our coverage. Each time a player of note enters the portal, we will examine their potential impact on the college football landscape and assign an impact rating, both when they enter the portal and when they choose a destination. The scale is from 1-10 and the description below explains the scoring scale.
1.1-4.0 — Not a big impact expected, likely a non-starter and down the bench depth player.
4.1- 6.0 — A solid impact can be expected in the right scenario and has the potential to battle for a starting job.
6.1-9.0. — A high impact player who won't change a program but will certainly be a very good contributor and starter.
9.1- 9.9 — A very high impact player who should start the moment he steps on the field and will change the outlook of a program immediately.
10 — A franchise transfer who has a chance to be an All American and one of the elite players in college football.