Transfer Tracker: Georgia DE/LB Jermaine Johnson lands at Florida State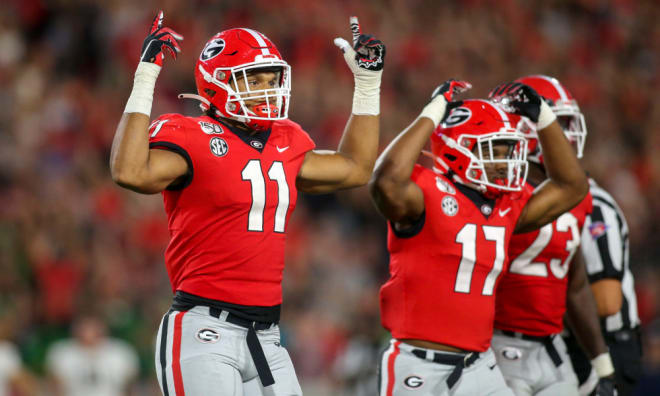 The Transfer Portal has changed the landscape of college football. So at Rivals we bring you the Transfer Tracker, where we analyze players entering the portal and rate them on what kind of impact they could make at their new home.
Next up in the tracker: Ex-Georgia defensive end/linebacker Jermaine Johnson, who is headed to Florida State.
AS A RECRUIT
Johnson was one of the nation's top junior college players in the Class of 2019, choosing the Bulldogs over Colorado and several others.
AT GEORGIA 
Johnson came in with big expectations, but had a hard time carving a role for himself on a loaded Georgia defense. He logged 403 total snaps over two seasons, mostly as a pass rushing specialist. He tallied 36 total tackles, including 6.5 sacks while also recording 16 quarterback pressures, according to Pro Football Focus.
Rather than return for another year with the Dawgs or take his chances in the NFL Draft, Johnson elected to enter the portal earlier this month and quickly landed at Florida State.
FARRELL'S TAKE
Johnson was our No. 2 JUCO nationally for a reason as he has great length, plays with power and he can run plays down. He's hard to attack at the line of scrimmage as well because he does a good job staying low despite his height and he sheds blocks effectively. This is a huge one for Florida State as he should make an immediate impact if focused." -- National Recruiting Director Mike Farrell
Impact rating: 8.3
IMPACT METER
The Transfer Portal continues to change the way college football programs recruit and mange their rosters so we here at Rivals.com continue to evolve our coverage. Each time a player of note enters the portal, we will examine their potential impact on the college football landscape and assign an impact rating, both when they enter the portal and when they choose a destination. The scale is from 1-10 and the description below explains the scoring scale.
1.1-4.0 — Not a big impact expected, likely a non-starter and down the bench depth player.
4.1- 6.0 — A solid impact can be expected in the right scenario and has the potential to battle for a starting job.
6.1-9.0. — A high impact player who won't change a program but will certainly be a very good contributor and starter.
9.1- 9.9 — A very high impact player who should start the moment he steps on the field and will change the outlook of a program immediately.
10 — A franchise transfer who has a chance to be an All American and one of the elite players in college football.