Transfer Tracker: Ex-Michigan five-star LB Jordan Anthony hits the portal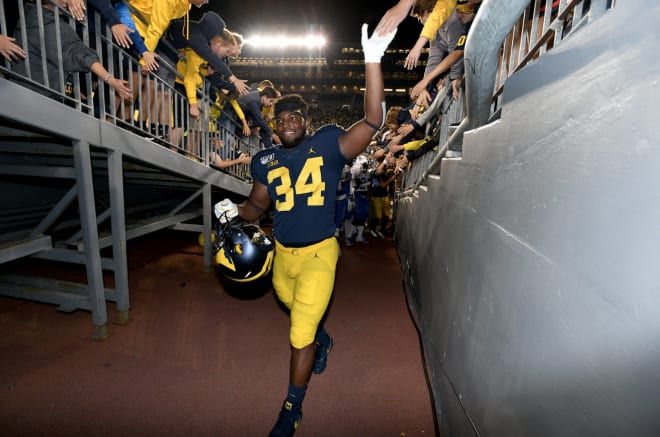 The Transfer Portal has changed the landscape of college football. So at Rivals we bring you the Transfer Tracker, where we analyze players entering the portal and rate them on what kind of impact they could make at their new home.
Next up in the tracker: Michigan linebacker Jordan Anthony.

AS A RECRUIT
Michigan took an early lead for Anthony and while his recruitment ended up playing out until after his senior season, it was pretty clear from the early going that he was going to end up as a Wolverine.

AT MICHIGAN
Playing alongside fellow five-star Dylan Moses at IMG Academy, Anthony stood out for his productivity and nose for the ball. Unfortunately that never translated to the college level, where he struggled to find playing time at Michigan. After redshirting in 2017, Anthony played in seven games in 2018, and then competed in nine more as a redshirt sophomore in 2019, although most of his action came on special teams. After recording just 14 tackles, one tackle for loss and one sack over his three years with the program, he announced plans to transfer in December. After graduating last month, Anthony hit the portal this week. He will now have two years of eligibility remaining and can play in 2020.
POTENTIAL LANDING SPOTS
This is another tough case because it's so late in the game, but perhaps Anthony will look at options in the Big 10 or Pac-12, especially given the likely attrition of players leaving early for the NFL Draft. Maryland would make sense as a match, but as with anyone transferring right now, it's all about making the numbers work.

FARRELL'S TAKE
" Anthony was an incredible talent coming out of high school, a prospect who could have played running back or linebacker or even play as a big safety. It's puzzling that he didn't make an impact at Michigan at all as he was perfect for that Jabrill Peppers role. There is talent still there but with little time left to make an impact and the uncertainty of college football his rating is low for a former 5 star."-- National Recruiting Director Mike Farrell
Impact Rating: 4.6 out of 10
IMPACT METER
The Transfer Portal continues to change the way college football programs recruit and mange their rosters so we here at Rivals.com continue to evolve our coverage. Each time a player of note enters the portal, we will examine their potential impact on the college football landscape and assign an impact rating, both when they enter the portal and when they choose a destination. The scale is from 1-10 and the description below explains the scoring scale.
1.1-4.0 — Not a big impact expected, likely a non-starter and down the bench depth player.
4.1- 6.0 — A solid impact can be expected in the right scenario and has the potential to battle for a starting job.
6.1-9.0. — A high impact player who won't change a program but will certainly be a very good contributor and starter.
9.1- 9.9 — A very high impact player who should start the moment he steps on the field and will change the outlook of a program immediately.
10 — A franchise transfer who has a chance to be an All American and one of the elite players in college football.