Transfer Tracker: Craig-Myers makes the move to UCF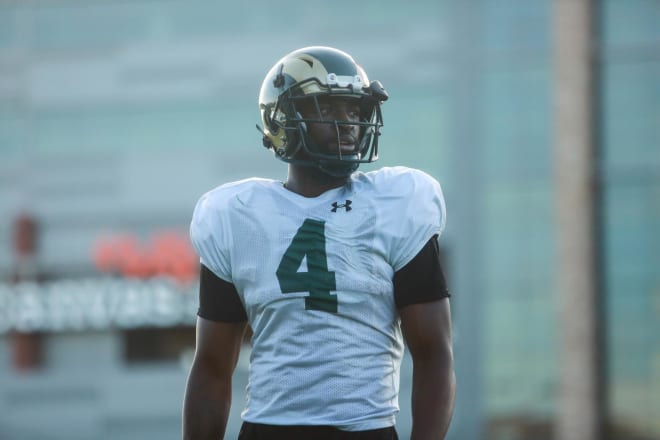 Recruiting: Craig-Myers was an early commitment to Auburn before re-opening his process and taking a closer look at Florida, Florida State and North Carolina. However, on National Signing Day he re-committed to the Tigers.
At Auburn & Colorado State: In 16 games at Auburn, Craig-Myers had 22 receptions for 394 yards and four touchdowns. During the 2018 season he announced his intentions to transfer and signed with Colorado State that December. In two seasons with the Rams, he totaled 29 receptions for 397 yards and one touchdown.
Farrell's Take: Craig-Myers is an intriguing prospect with great size. He has downfield speed but he's become more of a possession receiver at the college level. In UCF's offense I can see him moving the chains, working smaller corners on the outside and being a red zone threat. His hands have not been consistent so that's a worry but Gus Malzahn likes him enough for attempt No. 2 here and this could be a great fit.
Impact Rating: 6.4 out of 10
IMPACT METER
The Transfer Portal continues to change the way college football programs recruit and manage their rosters so we here at Rivals.com continue to evolve our coverage. Each time a player of note enters the portal, we will examine their potential impact on the college football landscape and assign an impact rating, both when they enter the portal and when they choose a destination. The scale is from 1-10 and the description below explains the scoring scale.
1.1-4.0 — Not a big impact expected, likely a non-starter and down the bench depth player.
4.1- 6.0 — A solid impact can be expected in the right scenario and has the potential to battle for a starting job.
6.1-9.0. — A high impact player who won't change a program but will certainly be a very good contributor and starter.
9.1- 9.9 — A very high impact player who should start the moment he steps on the field and will change the outlook of a program immediately.
10 — A franchise transfer who has a chance to be an All American and one of the elite players in college football.