Transfer portal blows up with regular season in the books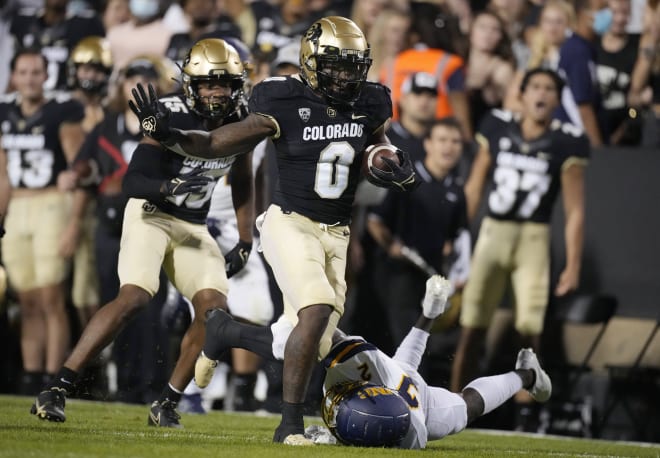 Long rumored to be a possibility, Colorado running back Ashaad Clayton, a 2020 four-star, finally made it official by entering the portal on Tuesday. After getting 27 carries in his two seasons this decision wasn't a surprise by most. Thought is that he will look for a school closer to his home-state of Louisiana to continue to career. With LSU in flux perhaps Texas A&M and Texas could be teams to watch.
*****
While not a total surprise due to his sharp drop in carries this season, the departure of running back Shaun Shivers at Auburn left many fans disappointed by his decision. This was more because he was a fan favorite, but considering he is a graduate transfer and the Tigers are stacked in the backfield it makes sense. Look for him to have a big 2022 season if he can find the right offense for his versatile, explosive skill set. He's a Florida kid, so he could land at UCF, where Gus Malzahn is the head coach. Malzahn recruited Shivers to Auburn. Auburn also lost wide receiver Elijah Canion and defensive lineman Caleb Johnson. Canion also hails from Florida, while Johnson is from Georgia.
*****
Another grad-transfer that has the potential to make a big impact at his next stop is linebacker Mohamed Sanogo. A fan favorite with Ole Miss supporters, look for Sanogo to have plenty of options, considering he totaled 209 tackles during his SEC career. One team that has emerged early is Kentucky but he hails from Texas so Big 12 schools will be interested as well.
After the disappointing 2021 season at Georgia Tech, seeing Jordan Yates and Jahmyr Gibbs enter the portal this week was another blow for the program. This is especially true with Gibbs, who is one of the more dynamic all-around offensive players in the country. Rumors immediately arose that Alabama would be difficult to beat out for him, but expect the Tide to face a fight in order to grab his commitment. As for Yates, it's too early to tell who he will be interested and if it will be as a quarterback or athlete.
Maryland also experienced its fair share of disappointment early this week when Terrence Lewis and Branden Jennings chose to enter the portal. The dynamic linebacker duo signed in 2021, and while Lewis missed his freshman season with a torn ACL and also had a torn labrum, Jennings showed a great deal of early potential, which had fans in College Park excited. This is also somewhat surprising because Maryland went 6-6 and is heading to a bowl, so a disastrous season can't explain these decisions. Jennings was a late flip from Michigan, while his father played at Florida State, so his decision to come to Maryland surprised many people from the start. As of right now it appears Florida State isn't interested in Jennings. Lewis was once committed to Tennessee and is apparently fully healthy now, but it's unclear whether the Vols are interested. Lewis had some off-field issues in high school that made some teams back off.
*****
TCU running back Zachary Evans had an eventful recruiting process, and now that he's in the portal he's being linked to Texas A&M, LSU, Alabama, Ole Miss, Tennessee and Ohio State already.
*****
Oklahoma is taking a massive hit, as expected with the departure of Lincoln Riley, as former five-stars Jadon Haselwood and Theo Wease as well as former four-star Austin Stogner are some big names that went in the portal. Stogner has a ton of early interest and Ohio State, Utah, Iowa State and South Carolina stand out. As for Haselwood, you have to look at Georgia first because he hails from the Peach State. As for Wease, a return to Texas perhaps at A&M or Texas could be interesting. Of course, if either ended up at USC that wouldn't be a stunner.
*****
Several schools saw multiple players enter the portal on Monday, Tuesday and Wednesday, including Maryland (7), UCLA (6), Vanderbilt (6) Auburn (5), Northwestern (5), Missouri (4), Ole Miss (4), Kansas State (4), Georgia Tech (4), Oklahoma (4) and Iowa State (4). However, with how the transfer portal is growing each year, this will likely become the norm. Plus this is just the start of what will likely be a frenzied November and December, so expect plenty of roster turnover at a majority of college programs.