Top five Brian Kelly signees from LSU's recruiting footprint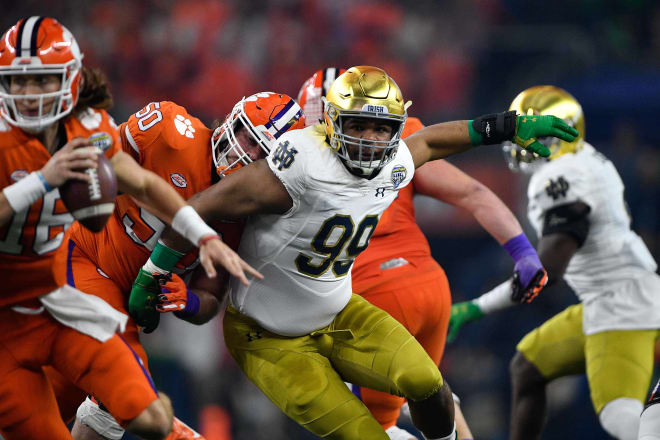 Major coaching moves are becoming the norm this year and Brian Kelly reportedly leaving Notre Dame for LSU is just the latest earth-shaking hire. Notre Dame signed a number of players from LSU's traditional recruiting footprint with Kelly at the helm but only six of them have been rated as four-stars. Here are the top five prospects Brian Kelly has signed from LSU's traditional recruiting footprint.
Notre Dame has gained a reputation as "Tight End U" under Kelly so it isn't surprising to see a tight end on this list. Kelly picked up Wright's commitment about a year and a half before the class of 2017 Signing Day and remained firm in his commitment all the way through his recruitment. Wright ended up not having as much success as other tight ends at Notre Dame. He finished his career with the Fighting Irish totaling seven catches for 78 yards and one touchdown. Wright is currently on the Detroit Lions roster.
*****  
Tillery was a big addition for the Fighting Irish and they worked hard to get him. The Louisiana native committed to Notre Dame in June of 2013, more than a year and a half before Signing Day for the 2015 class. Tillery ended up taking official visits to LSU and Texas A&M along with Notre Dame but the Fighting Irish held onto him despite a big push from the hometown Tigers. Tillery went on to have a stellar career at Notre Dame and was drafted by the Los Angeles Chargers with the 28th overall pick.
*****  
Notre Dame reeled in Watkins after an in-season official visit. Nebraska, Oklahoma and Arizona State were the other major contenders for his commitment. Prior to transferring to Houston, Watkins saw plenty of action in South Bend. He started 10 games but played in more than 30 during his Notre Dame career. At Houston, Watkins started eight games but never blossomed into the players many expected.
*****  
The Fighting Irish were hoping to help Spears get over some injuries he sustained in high school and turn him into a big contributor. Sadly, his career never really got off the ground. Spears saw a bit of time early in his career but injuries caught up with him again. He switched to offensive line but medically retired this past summer.
*****
Hunter was a highly touted receiver out of Texas and brought a large spotlight with him to South Bend because he is the son of former MLB star outfielder Torii Hunter. The receiver had a solid career at Notre Dame, racking up 28 and 38 catches in 2015 and 2016, respectively. In December of 2016, however, Hunter announced that he was retiring from football to pursue a baseball career after being drafted by the Los Angeles Angels.