Three-stars in the NFL Draft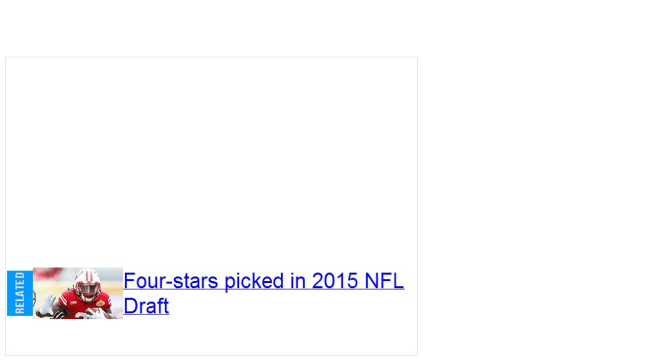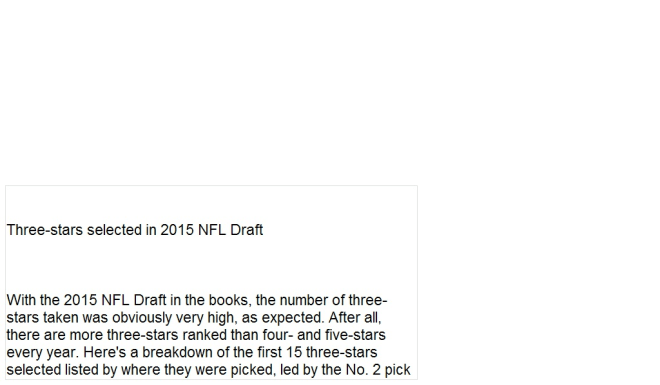 Brandon Scherff
Scherff was ranked as the No. 4 overall recruit to come out of Iowa and the No. 44 offensive tackle nationally in the Class of 2010. Oddly, Scherff actually played quarterback during a portion of his high school career, but quickly found his true home on the offensive line. The Hawkeyes traditionally produce top-level offensive linemen and Scherff definitely fits that mold. He plays with a nasty streak that should make Redskins fans very happy for years to come.
7. WR

Kevin White
Coming from the junior college ranks, White was the No. 56 overall JUCO recruit and the No. 9 wide receiver nationally in the Class of 2013. After being lightly recruited out of high school, White developed quickly at Lackawanna and then at West Virginia. Losing Brandon Marshall in the off-season, the Bears needed a replacement receiver to play opposite Alshon Jeffery and they likely found him with White. He'll definitely have the opportunity to have a big season as a rookie.
8. LB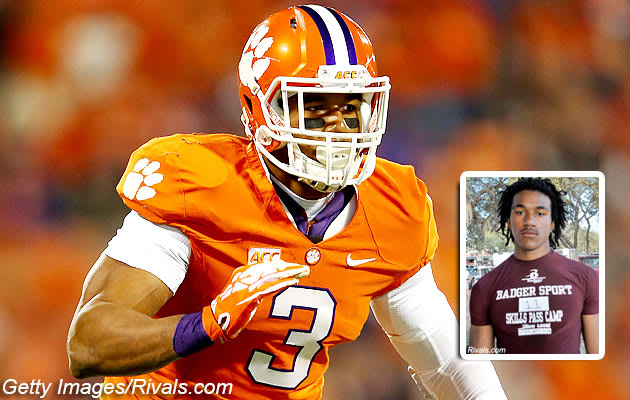 Vic Beasley
As an athlete, Beasley was ranked No. 37 nationally at the position and also No. 37 coming out of Georgia in the Class of 2010. Coming out of high school, Beasley always had a great deal of potential, but nobody really knew what position he would end up playing. After finally finding a home at linebacker, Beasley flourished and should prosper in new Falcons head coach Dan Quinn's defense.
14. WR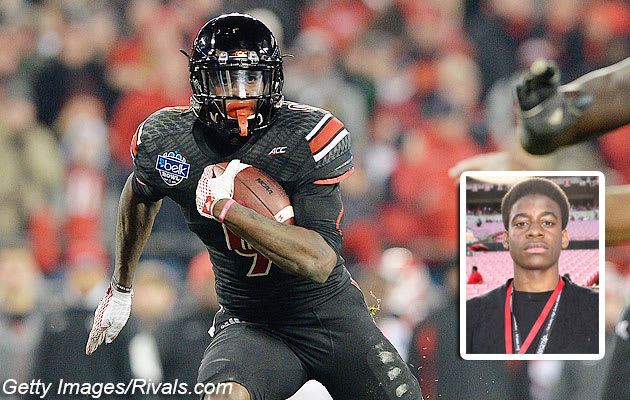 Devante Parker
Parker was ranked as the No. 77 wide receiver nationally and the No. 6 recruit in Kentucky in the Class of 2011. The Dolphins were looking for a top-level wide receiver in this draft after both Mike Wallace and Brian Hartline departed during the off-season. After dealing with an injury during his senior season at Louisville, Parker is now healthy and the opportunity will be there for him to make an immediate impact.
18. CB

Marcus Peters
Peters was ranked as the No. 30 cornerback nationally and the No. 43 recruit in California in the Class of 2011. This was another case of teams having to weigh a player's on-field talent with his off-field decisions. Because of some of these decisions, Peters' selection at No. 18 surprised some experts, however he did prove himself as a first-round talent during his time with the Huskies. If Peters can find the right path in Kansas City, this could be looked back at as a great pick a few years from now.
19. C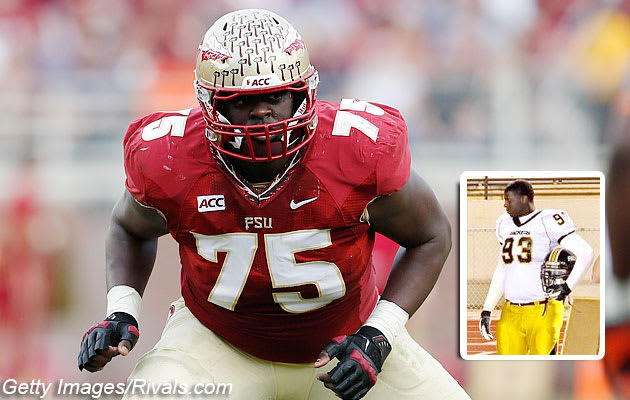 Cameron Erving
Erving was ranked as the No. 74 recruit in Georgia, but was not ranked nationally or at his position in the Class of 2010. Erving is an example of a player who needed some time to find a comfort level at a specific position. After starting off on the defensive line and then moving over to offensive tackle, he finally hit his stride at center. Look for Erving to actually start at guard for the Browns, but in the long run he is likely their center of the future.
22. LB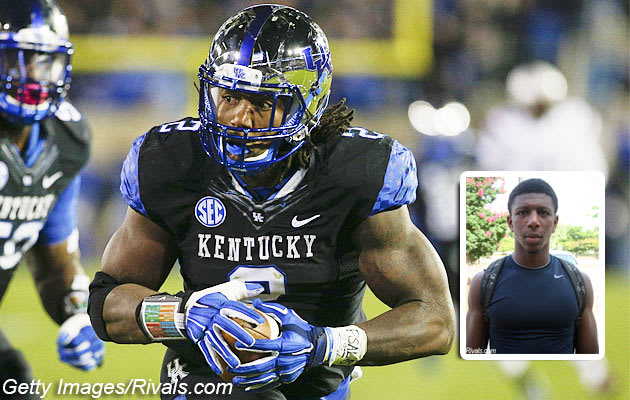 Bud Dupree
Dupree was classified as a tight end in the Class of 2011. He was ranked as the No. 59 recruit in Georgia, but he was not ranked at his position or nationally. Dupree was another recruit who didn't really have a position to call home coming out of high school. Credit has to be given to the Kentucky staff for realizing that he had the athleticism to excel at linebacker, which is exactly what he has done. The ceiling is still very high for Dupree, so this is another pick that might be considered a home run a few years from now. Plus, we all know the Steelers develop defensive players.
23. DE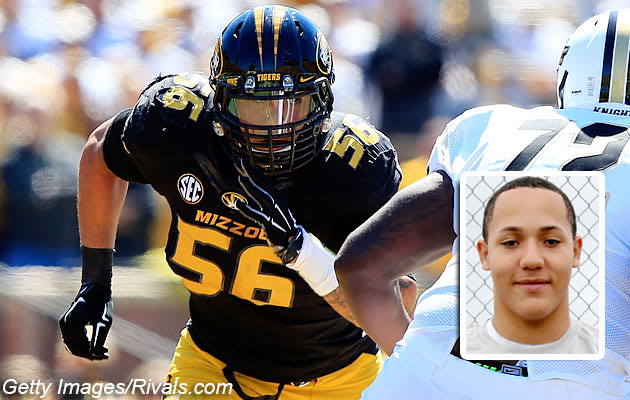 Shane Ray
Ray was the No. 3 recruit coming out of Kansas and the No. 17 weakside defensive end nationally in the Class of 2011. That Ray was arrested for a marijuana charge four days before the NFL Draft and still had Denver trade up to pick him in the first round says everything you need to know about what NFL scouts think about his potential. Going to a veteran team like the Broncos should also help Ray ease into the league, instead of being thrust into the limelight like most first-round picks are.
28. OG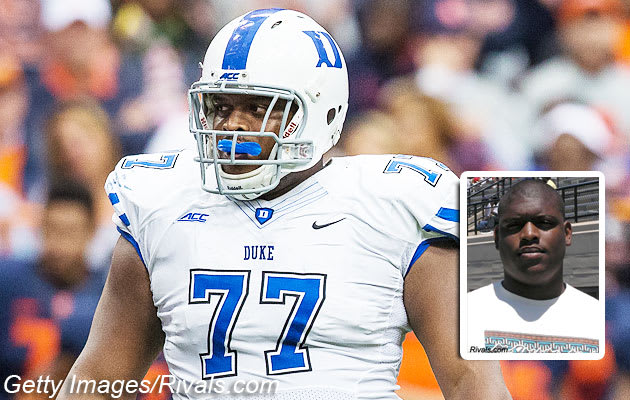 Laken Tomlinson
Tomlinson was the No. 29 offensive guard nationally and the No. 12 recruit in Illinois in the Class of 2010. He was considered the top pure guard available (depending on where you think Scherff will play) and with his high intellect, should pick up the Lions' offensive blocking schemes easily. There aren't many "sure things" in an NFL Draft, but it would be very surprising if Tomlinson wasn't a top-level offensive guard in the league for years to come.
29. WR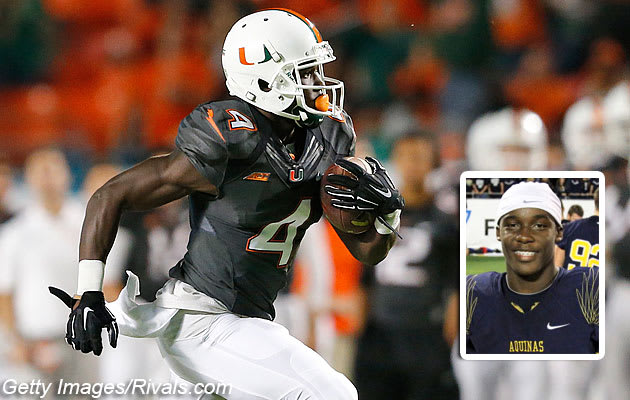 Phillip Dorsett
Dorsett was the No. 38 wide receiver nationally and the No. 57 recruit in Florida. This was considered one of the more odd selections of the first round and it is not because of Dorsett's abilities. The Colts were thought to be looking at ways to help protect their golden boy, Andrew Luck, and instead they gave him another offensive weapon. While this will also benefit Luck, it raised some eyebrows. Dorsett should be productive immediately in the Colts offense as long as Luck is upright and healthy.
30. S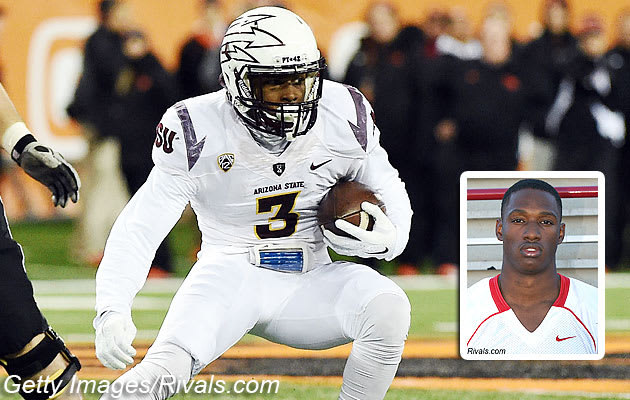 Damarious Randall
As a junior college recruit in the Class of 2013, Randall was not ranked nationally. Randall actually played baseball for a season at Butler J.C. before transferring to play football at Mesa. He impressed during his two seasons at Arizona State, finishing his senior campaign with a team-leading 106 tackles. Randall may actually slide over to cornerback for the Packers, which is definitely a position of need in Green Bay.
37. WR

Devin Smith
Smith was ranked as the No. 58 wide receiver nationally and the No. 21 recruit in Ohio in the class of 2011. After excelling in football, basketball and track in high school, Smith became a big-play threat for the Buckeyes. Now the Jets hope that he can continue to be that for them in the NFL. With the addition of Brandon Marshall in the off-season, the Jets definitely addressed their depth at the position, but now with the addition of Smith, they also added a deep ball threat that they were still lacking.
38. DE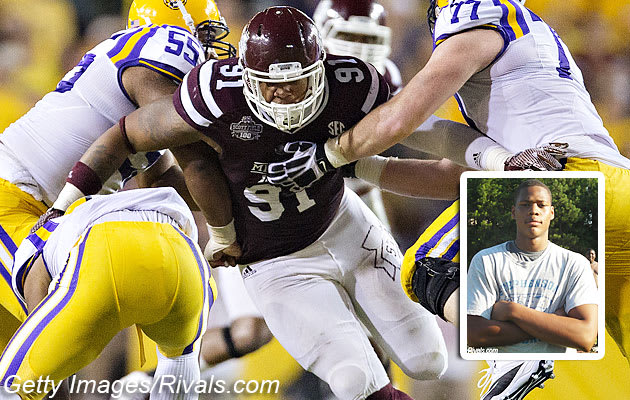 Preston Smith
Smith was not ranked at his position nationally or in Georgia in the Class of 2011. However, Rivals.com was the only service to rank him as high as a three-star. In Washington, it is likely that Smith will be moved from the defensive end position to more of a pass-rushing linebacker in the hopes of replacing Brian Orakpo. Don't expect huge production from Smith immediately, but as he develops into his new position he should make an impact for the Redskins.
41. WR
Devin Funchess
Funchess was classified as a tight end coming out of high school. He was ranked No. 14 nationally at his position and No. 9 in Michigan in the Class of 2012. Funchess did not make the move to wide receiver in Ann Arbor until the 2014 season. His production last season was also not consistent, but that could be attributed to the lackluster play at quarterback the Wolverines had all season. Funchess gives the Panthers another physically large receiving threat for quarterback Cam Newton, but it will be interesting to see if he is able to continue his improvement at his new position.


Mike Farrell
National Recruiting Director