Three-Point Stance: Williams Nwaneri, Hugh Freeze, five-star predictions
Rivals national recruiting director Adam Gorney has thoughts on Williams Nwaneri's commitment, the early success of Auburn coach Hugh Freeze and his picks for the remaining uncommitted five-stars in this week's Three-Point Stance.
NIL AND NWANERI'S COMMITMENT
The commitment of Williams Nwaneri to Missouri is the biggest defensive recruiting victory in Rivals history dating back to 2002 for the Tigers since he's ranked as the third-best player in the 2024 class – and has the potential to move to No. 1 if we decide to not go QB in the top slot.
Massive credit goes to coach Eli Drinkwitz and his staff for closing on the Lee's Summit (Mo.) North standout since Nwaneri has all the tools – every single one – to be elite in the SEC and beyond.
But there are some things to wonder about: How much did the state of Missouri's NIL law play a factor in Nwaneri's commitment to the Tigers over Georgia and Oklahoma and, quite honestly, does it even matter? Missouri's laws are Missouri's laws and why shouldn't the Tigers take advantage in selling the idea that Nwaneri could start collecting NIL starting Sept. 1.
Still, the thought has crossed my mind and many others whether Nwaneri will collect some big dough over the next few months and then flip closer to signing day especially if Missouri falters this season and Drinkwitz becomes even more on the hot seat.
There are two theories floating around the recruiting world right now: One is that Nwaneri is locked in with Missouri, the Tigers need edge help badly and he could make a huge impact and like five-star Luther Burden before him and five-star Dorial Green-Beckham before him, staying home was a bigger selling point.
The other theory is more cunning but might hold true: Nwaneri can collect NIL money as a Missouri commit starting Sept. 1, see how the season goes and then make a final decision whether to stick with the Tigers (with a little cash in his pocket) or flip elsewhere - especially as other NIL deals are presented closer to signing day.
Again, Missouri deserves all the credit in the world landing Nwaneri. But it might not be done just yet.
*****
DEFINING SUCCESS FOR HUGH FREEZE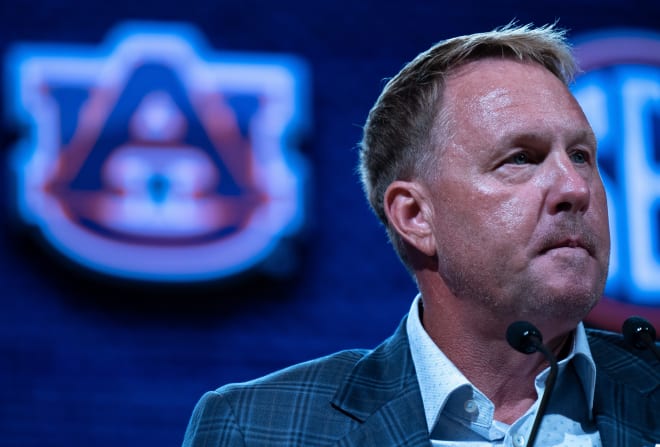 Nearly a month before Auburn hired Hugh Freeze, I wrote a column saying Auburn should hire Hugh Freeze. I'm not looking for credit or praise but it was definitely the right move after the Bryan Harsin disaster and recruiting has taken off since Freeze's hiring.
An argument could be made that nearly every pledge in the Tigers' class could have gone elsewhere as another team led at some point in their recruitment.
T.J. Lindsey loved Texas A&M. Jalewis Solomon was high on South Carolina. Perry Thompson was committed to Alabama and Demarcus Riddick was pledged to Georgia. Joseph Phillips had his choice of programs as did Jalyn Crawford, Kensley Faustin and others. Four-star QB commit Walker White said "ever since coach Freeze got the job," Auburn became a top contender.
Momentum in recruiting was the hard part. Keeping it might be the harder part.
That's because despite Freeze's very capable offensive mind and a very capable new defensive coordinator, Auburn might be, well, not so hot this season. For what it's worth, Athlon Sports picks Auburn dead-last in the SEC West and predicts only two conference wins. There are certainly major question marks (although some could have been answered with 22 transfer portal additions) at quarterback, receiver and edge – and those are pretty important spots.
No one is expecting miracles from Freeze in his first season especially with the mess he inherited but now with the No. 16 recruiting class nationally, keeping those prospects and convincing them the program is being righted will be the challenge. There's a saying that recruiting really starts once a player commits and that might never be more true than at Auburn this season.
*****
PREDICTIONS ON REMAINING FIVE-STARS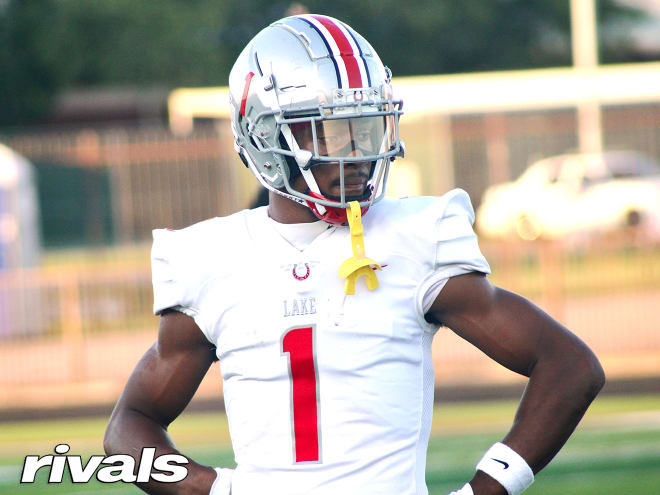 Here are my picks for the six five-stars who remain uncommitted:
Micah Hudson: We're waiting. It's been months since Texas Tech has been rumored to land the five-star receiver but Hudson still hasn't announced. Texas A&M is trying to make a run and others are involved but the Red Raiders still look best. Texas Tech should close soon.
David Stone: Six programs remain in Stone's recruitment but Oklahoma is the team to beat – and it's even more important for the Sooners to land some defensive line help after Nwaneri went to Missouri. It would be a stunner now if on Aug. 26 Stone doesn't pick the Sooners.
Kamarion Franklin: The Lake Cormorant, Miss., defensive tackle announces this weekend with Auburn, Ole Miss, Tennessee, Miami and Florida State as the finalists. Things have moved all over the place in recent months but it seems like the Tigers are trending heading into his decision.
Zaquan Patterson: This recruitment has taken some interesting twists recently because the rumor now is that there could be some pressure to commit early and that might benefit Florida State or Auburn. But Miami also holds a very significant grasp on Patterson as well. If he pops soon, there's no telling but if the five-star holds off longer, the Hurricanes look best.
Eddrick Houston: Ohio State remains the team to beat and there have been no indications recently that anything is different with the Buford, Ga., standout who looked great in a scrimmage last weekend. His commitment is even more important after fellow five-star Dylan Stewart picked South Carolina.
Ryan Wingo: There are some rumors Wingo could move up his commitment which could benefit Missouri because of its new NIL law that would allow him to start collecting Sept. 1. But the rumor is that Texas is still very strong here and the Longhorns could be the team to beat. If Wingo moves his date up, then the Tigers could be good. If not, Texas.